Spirituality – Meditation – Extraterrestrial Abductions / Collections – Metaphysics – Controlled Opposition Agents – New World Order – Zionism – International Jewry – Hitler – National Socialism – Usury
(I could probably write a book about all that I have experienced, and all that I have learnt, and the implications – but I am going to try to keep it simple, this is a simplified version, an overview.)
(I realise that I will have had a fairly unique awakening timeline. I do not encourage people to get involved with Ufology – I know from experience – through many years of research and some networking – that it is currently totally controlled and manipulated by a great many controlled opposition disinfo agents.)
(I know it can be difficult for people who have not had any 'otherworldly' experiences, like those I mention in this article, to believe them and relate to them. I am not someone who one day thought they saw a UFO, or just dreamed of an ET once. There has been a great many incidents and many other-dimensional occurrences in the night. I am not some dullard looking for attention. I am a very conscious, intelligent and self aware man. I know what I have seen and experienced. You sometimes get responses from people such as "Are you sure it wasn't all a dream" etc. I am sympathetic when people can't believe me, but I feel like saying, "Please don't insult my intelligence and level of consciousness.")
(I am letting people know there is more out there – But I am also using my ET experiences, in Articles like this, to attempt to get people who are mesmerized by the highly controlled Ufology to engage with the much more important information – such as who is really behind this New World Order Agenda.)
*******************************
Lets begin:
As a little boy I have vivid dreamscape / astral experiences with Earth animals – I vividly observe and interact with animals and creatures in my dreamscape. Some experiences were so real and vivid to me that I once believed chimpanzees lived in the local park. I had interacted with them there in the night. These experiences stop, or at least I am no longer conscious of them, as I progress through school.
A shift seems to occur in my consciousness in my late teens and I start questioning my motivations for each of my actions. I start standing back and observing the world more and contemplating what we are doing here? What's the point of it all? Why are we doing what we are doing? – I sense there's something wrong with the world. I feel disorientated.
Around the same time, In my late teens, I develop anxiety and agoraphobia (pretty much out of nowhere, no reason for it) – around the same time as I felt my consciousness change. Adrenal fatigue, hypervigilance etc
In my late teens I produce a series of unusual otherworldly paintings and drawings. Strange planets, UFO's, Surreal Environments. I just had to paint and draw them – a compulsion.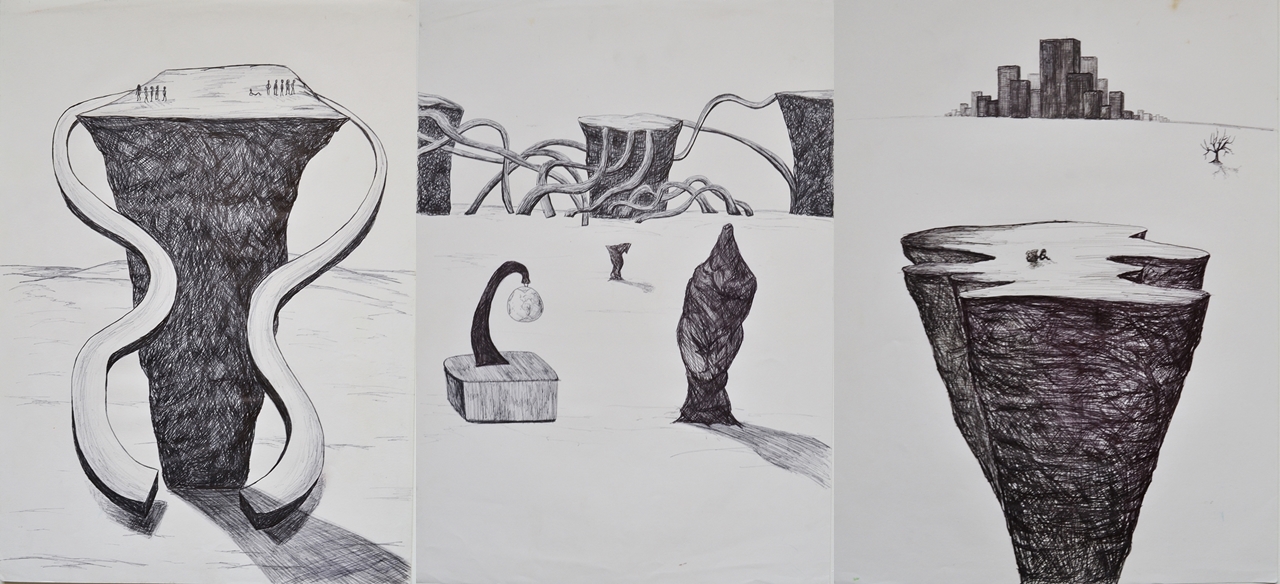 I go to university and get a degree – and try to get on with life.
In my early twenties I write a short novel about four children in their early teens getting abducted by ETs due to their abilities and unique characteristics… taken onto a spaceship and then placed on a wilderness planet to see if they could survive. (I had no interest in writing until then – but just had to write it.)
I eventually have to quit my teaching job as the PTSD, anxiety and severe adrenal fatigue gets so bad. I have no reason to have this PTSD (I didn't know it was PTSD until much later life). Every morning waking up with a racing heart. Nightmares – small glimpse of other worlds, other planets, strange creatures, wars in strange cities – just little glimpses. I take no real notice of them… I am not that conscious back then and still wrapped up in this insane world – I still don't yet understand that I have PTSD… you assume other people feel this way each morning and during their day.
In my twenties I obsessively write these short children's stories about a boy going off-planet on a spaceship and helping all the alien beings on another planet.
In my twenties I also paint and draw many more otherworldly scenes and environments straight from my imagination. Again, I am still not that conscious, not feeling the content of them is all that significant.


I also write a short novel about a guy befriending a 'small grey hairless monkey like creature' that takes up residence in his garden, which is gentle and kind… and turns out to not be from this planet. (Again, more subconscious / hidden memories coming through via my Art)
I try all sorts of counseling, and therapists – all sorts – none could do anything about this PTSD and hypervigilance and extreme anxiety….the cellular memories, the instantaneous body reactions to situations due to these cellular memories… the body doesn't forget even if the mind has been wiped.
I start reading every spiritual book I can get hold of: New Age, Nonduality, Buddhism, Hinduism, 'Chanellers' etc etc etc… I read many books about meditation.
I meditate every day – eventually around two hours a days, sometimes a fair bit longer. I sit with these incredibly intense energies… despair, trauma, anger, anxiety… transmuting these energies… over and over I sit with them following the breath and just feeling these emotions and energies – and I also do prana type breathing exercises – for a few years I do this every day… where did it all come from? I have not had a traumatic life. My levels of self awareness increase through meditation.
I continue reading spirituals books and begin to get a sense that something isn't right with many of these so called 'spiritual' teachers and their literature – some disinfo from them and some are very limited in their understandings of how the universe works. None of them seem to have any great metaphysical knowledge. I begin to realise the metaphysical significance of DNA.
In my early thirties I feel compelled to create huge amounts of new otherworldly sculptures and sketches – again, straight from my imagination… it becomes an obsession for a year or two. Various types of beings, strange otherworldly environments – my subconscious memories coming out through my Art. I did not realise it was my subconscious coming through when I was creating them. I also create many sculptures of large headed beings that are friendly with glowing hearts and waving. Lots of portals are in these landscapes and sculptures – I did not know they were portals when I made them.


(The amount of Art I created was phenomenal – it was like the guy in that movie 'Close Encounters' – I just had to make all these pieces – if you click on my Art Gallery section – on the menu above – you will see many more pieces… at least 95 percent of these were all completed before the ET and other dimensional experiences. I have just given you a small selection here to brighten up and break up the article. None of this Art is for sale – I did sell many smaller pieces and a few bigger sculptures – but then stopped when I realized how personal these pieces are – they are memories… hidden memories.)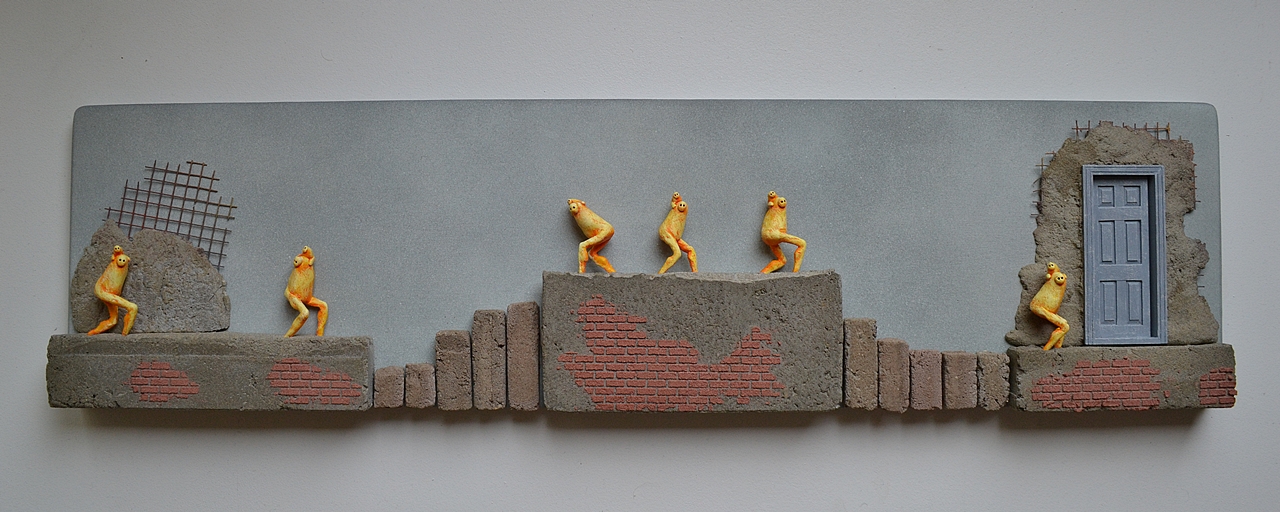 In my early thirties I begin to become fully lucid in the night and see framed screens in a void – perhaps downloading information – seeing otherworldly images and otherworldly movies in these screens that my 3D earth mind cannot always make sense of.
An ET then appears in my third eye on two consecutive mornings – it has vertical pupils / cat-like or reptilian like eyes. Greyish green hairless skin. This is most shocking – I told my open minded next door neighbor and a few family members about it.
A few weeks later I wake in the middle of the night paralyzed on my bed as two small ET's sit, or kneel, either side of me – they have rubbery dolphin like skin, about 3 foot tall – a vivid astral / other dimensional friendly experience with them occurs straight after, where I introduce my parents to these beings. This was a very scary experience – not that I think these beings wanted it to be scary.
A few nights later the small beings come to collect me in the middle of the night (not like the gray aliens you see on the internet – these were smaller and chunkier, and with smaller eyes, and with round pupils) – in a slightly different state of consciousness I hug one of these small beings (a bit like I am observing myself do it) – one holds out its arm out to me and I reach out to him – the next thing I know is that I am being examined in a strange room (I am still in this different state of consciousness, i.e slightly detached) after this examination by what appears to be a very strange octopus type being – or at least a being with tentacles – I am then walked through a ship or base – then taken to canteen area by a very human European looking man… who after a while seems to have pointed eyes and ears for some reason, not sure if this was a deception… we conversed in English it seems. Again a slightly different state of consciousness, vivid at times but also hazy – varying degrees of lucidity – to some degree it was like I was observing myself but I saw things from a first person perspective. I come too in my bed in the early hours my heart racing. My Paradigm has SHIFTED!! – somewhat freaked out I start sleeping with a night light!
I start having partially lucid out of body experiences in the night over the next few months – coming out of the body – the vibrating, then out through the roof etc
I have an experience in the night where I am collected in the street, in the night, by an ET craft with a group of people, all of us in a trance like state – perhaps in another dimension – not sure how it all occurred. But again, a little like I am the observer of this happening to me. I was taken to a different planet and to a large glass building.
Then I see lots of vivid astral experiences and other dimensional experiences in the night in the preceding months – I'm visited by ETs in the dreamscape / astral realm, that briefly communicate with me, and I continue to see these screens in a void in the night. Full lucidity as I briefly observe these strange scenes in a void that contain scenes, movies, or diagrams that I do not understand.
One night I become lucid during 'sleep' and experience myself going into a large square portal and observe two happy smiling human children riding on small otherworldly vehicles.
I have some involuntary remote viewing experiences in the night – One was where these screens were all around me and inside the screens Earthly scenes are occurring – like movies.
Then one day, not long after, I see a metallic saucer like UFO in broad daylight on a walk in the hills local to me. It appears to show itself to me.
Then come all the vivid, sometimes prolonged, flashbacks / recollections of otherworldly missions that I have been involved in – traumatic PTSD flashbacks in the night: Battles on other planets – I see advanced technology, drones, cyborgs, ET's. Incredibly vivid and accompanied by extreme emotions. Seeing and experiencing myself getting killed in battles – seeing other humans, my comrades, killed by ETs. Emotional and traumatic. Re-experiencing the emotions. Short recall and reliving these traumatic events.
I appear to be a war veteran of otherworldly wars and battles that I cannot remember taking part in…. This is all very confusing, to say the least – hard to process.
I research Ufology very extensively ( as you can imagine) – ET abductions, the Milab phenomena and Secret Space Programs etc
I also research all the 'Illuminati' material and the New World Order Agenda.
I go through all the well known alternative media personalities.
I continue meditating a great deal, releasing a lot of pent up and blocked energy from these incredibly intense experiences that I have somehow been taking part in… on other planets and perhaps in other dimensions.
I get lots of astral attacks occuring in the night, as well as energetic attacks. Entities attacking – seeing strange astral entities in my dreamscape. Beings, as well as humans (black ops guys at one point), coming into my dreamscape and attacking me. I get put into strange stressful scenarios at night – see myself trying to escape from strange creatures / beings, as well as unfriendly human astral operatives. Torture type scenarios as well. Become lucid during virtual reality scenarios. I realise that I haven't been having any regular human dreams for a long time.
I have brief experiences where I am being taken out of my body, or perhaps collected – forces taking hold of me in the night that I cannot resist. I realise that there is this unexplained popping / clicking noise in my bedroom ceiling that occurs fairly regularly, which is related to all this in someway.
More brief Flashbacks or brief fleeting lucidity in the night – in facilities and hooked up to equipment etc… recall of being in barracks with other humans – getting attacked by ETs – see myself training people with advanced equipment. I get some recall of a solo mission I did in an ET facility rescuing humans (which very much felt like it happened that night).
Then one night I briefly become lucid mid-mission. I observe myself taking part in a mission with other humans, alongside a river and perhaps a waterfall, I seem to be leading the mission. I am being used for missions in the night. Memory wipes, time dilation, age regression?… I am not sure exactly sure how they keep these memories from me. And how I can have these military skill sets activated in me. Like I am two people.
I continue to research all areas of the global conspiracy – incessantly. I eventually spend less and less time researching Ufology as I discover, through correlation of information and analysis that all these major personalities in ufology are obvious Controlled Agents. Corey Goode, David Wilcock, COBRA, Simon Parkes, Kerry Cassidy, Mile Johnston, etc etc… all these people are controlled agents – mainly half-truths and disinfo from them, and those connected to them…. Networks of Controlled Opposition backing each other up. Lots of pacifying info from them.
After contacting some well known people in the UFO field, and so-called 'seers' (fake seers, as it turns out). I realize they are all controlled… even James Bartley… all controlled creating a network of controlled opposition and limited hangouts. I know this through correlating information and comparing their intel with geopolitical and historical truths- and through my own direct experience with some of them (Skype and Emails) They are creating limited hangouts with networks of controlled people. All of it is controlled by these Alt media UFO 'researchers' or personalities – all put in place to control the narrative. All of it controlled by agents: Super Soldiers, Milabs, SSPs…all of this is heavily controlled.
I research a great many other areas of the Global Conspiracy, that you can actually find Real Truth about.
I discover that these major terrorism events are all fake. I spend a great deal of time analysing them all. Crisis actors are used, and sometimes CGI and even human dummies on occasions – all set up by the jews / zionists and freemasons who are looking to create this New World Order – jewish / freemasonic gematria is coded into the events. Nobody is being killed in them. E.g Boston, Orlando, Las Vegas etc … so many fake hoax terror events.
Begin to see that nearly all, the major personalities in the alternative media are controlled agents. David Icke, Jordan Maxwell etc etc – all clearly controlled opposition… Of course Alex Jones as well, but I worked that out very quickly.
I realise that we must take action against the system – all these spiritual psyops are there to pacify people. E.g about just 'raising your vibration' or just having 'loving thoughts' or trying to get rid of the 'ego'… all psyops – this will not save us from the New World Order. Action is needed.
New Age spirituality is one massive psyop, with pacifying information and metaphysical disinfo. I see all the 'ET saviour programming' nonsense and 'The Event is Coming' rhetoric for what it is – these are psyops… all there to pacify… all disinfo.
I no longer seem to be taking part in missions or operations in the night, I don't seem to be collected or abducted anymore – they seem to be leaving me alone… my PTSD and hypervigilance begin to calm down a little bit. (This is after writing on my website that I no longer consent to being used by which ever group was taking me: one, I was exhausted and ill – and two, I had no idea who this group were)
I feel like a variety or otherworld things have happened to me – perhaps both benevolent and malevolent ET contact. Was it just ET projects or also some sort of Secret Space Projects run by Earth group (But all these SSP whistleblowers are controlled agents – are the SSP whistleblowers trying to divert us from the Truth of what is really going on out there in our solar system? Yes. I think so)
I start to see this planet more clearly.
I find out that the New World Order is actually a jewish agenda – it traces back to them and their doctrines – the Talmud, the Zohar, the Protocols of the Learned Elders of Zion. Of course. And both Communism and Zionism come from Judaism. THIS IS A DEFINING MOMENT – it's a jewish agenda, a jewish conspiracy … now it all makes sense – they want to control every single part of the the 'awakening' narrative to try to distract us from this. NOW I AM REALLY WAKING UP. Of course – jewish people control the news media, western education, publishing, Hollywood, TV Networks etc etc.
It's not the 'Illuminati', it's International Jewry!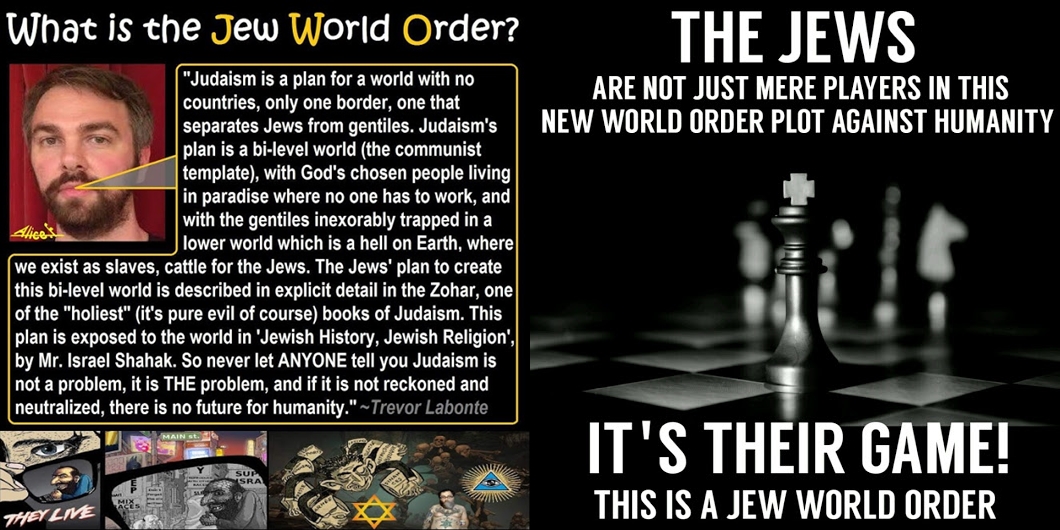 As I expose Zionism and jewish power and their NWO agenda, in articles and posts on the internet, I come across many Israeli Hasbara Trolls who try to divert me and misinform me – lots of them contact me to try and divert me, but I see through them – and I see clearly that there are a great deal of Israeli Sayanim agents and Hasbara working throughout the internet and they are monitoring people.
I realise that all these spiritual movements: New Age, channelers, non-duality etc – it is all run, or controlled by (((them))) – most of it is there to pacify us, distract us or a create limited hangouts – limited hangouts that keep certain Truths from you. Most spiritual information is very limited or pure disinfo.
On this planet Meditation should be used for raising our consciousness, finding balance, gaining insights into situations, releasing pent up stored energies, remaining clear headed and finding solutions… it is a tool for helping us to transform the planet… definitely not something to get lost in, and not something to be used merely for escapism… and merely just meditation will certainly not save us. Just thinking loving thoughts will not save us!
I find out that we have been lied to about WW2, Hitler and National Socialism: Hitler wasn't evil and Nationals Socialism was extremely successful, and was a family oriented, altruistic system , which eliminated debt slavery and the influence of the jewish banking cartels. War was brought against Germany mainly because of their economic and social transformation. ANOTHER DEFINING MOMENT … yes, things are really making sense now. YES, I AM STARTING TO REALLY FEEL AWAKE.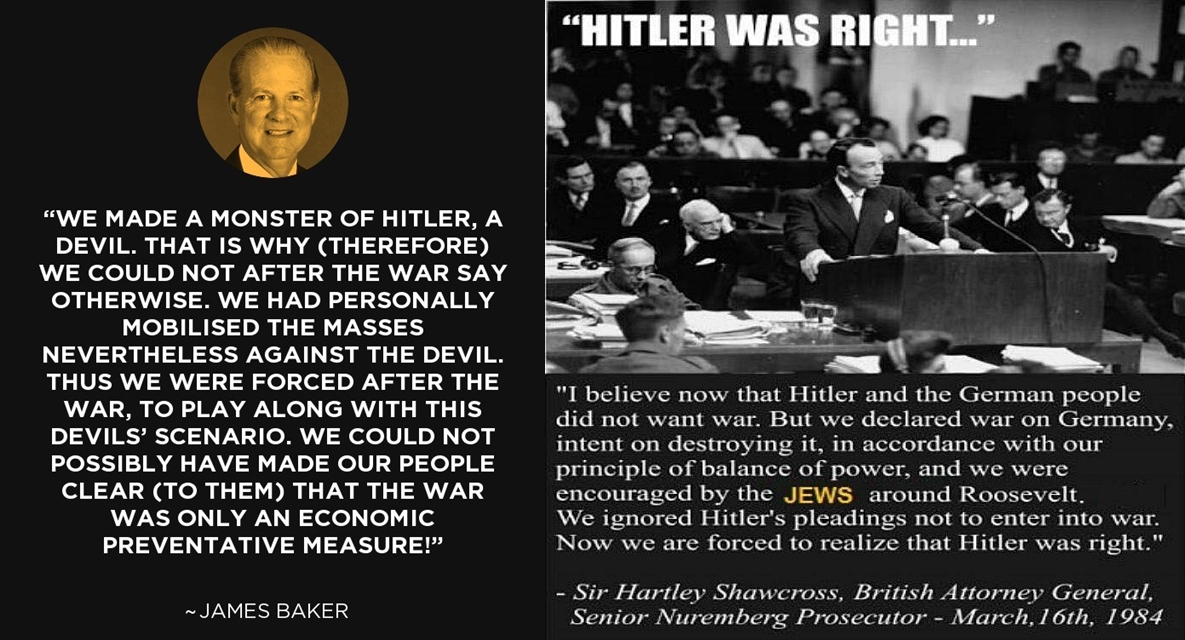 I find out that the WW2 jewish holocaust is the biggest lie ever told – an abundance of evidence shows that it do not occur. Another huge piece of the jigsaw.
I understand the enormous significance of WW2 – how the world took a drastic downward turn after it – WW2 was a victory for International Jewry. To understand the world you must understand the truth of WW2 and revisionist history can help you do this… the victors write the history.
I learn the depths of the jewish agendas and lies… the global domination agenda going back for many, many centuries. How deep this all goes is quite astonishing. I learn about the agenda to rebuild Solomon's Temple on the 'Temple Mount'. To rule the world from Jerusalem.
Understand that Israel controls America, and Trump is an obvious Zionist Puppet – I see that historically Israel is the only country exempt from nuclear missile inspections, that Israel attacked the USS liberty with no repercussions at all, and that Israel were behind 9 11. And just look at the terrible atrocities and abuse committed against the Palestinians by Israel.

I understand the Putin is controlled opposition and not our 'Saviour' – as is often pushed by the Alt Media. I see both Putin's and Trump's strong connection to Chabad Lubavitch, and other jewish groups and organisations.
I discover the White Genocide agendas, and how the jews want to eradicate the White European / Aryan Race, and also to mix all races and rule over them.
I begin to understand the significance of race on this planet. Of racial consciousness, the collective and genetic consciousness of the races – how our DNA and blood is spiritually and metaphysically significant… genetic memories – genetic predispositions. How we have connections to our ancestors. Our Soul Energy connected to our DNA. Soul groups, soul families. Incarnating in bloodlines compatible with our soul energy.
I understand that we – the white race – have been brainwashed to only see other cultures and races as 'spiritual' – all the jewish led anti-white propaganda and their erasing or suppression of our history. Now interested in Paganism and the ancient spirituality of Europe.
I understand that Usury is the powerbase of International Jewry. Usury and Debt Slavery – That NOTHING is going to change for the better unless we stop Usury and Debt Slavery – unless each country has a national bank that prints its own money.
I understand the huge threat we face from Artificial Intelligence and how this ties in with Israel and the New (jewish) World Order agenda. How this A.I technology will be used to control the 'goyim' (non-jews) in 'dystopian big brother smart cities.' I see this pushed heavily through Jewish owned and run Hollywood.
I understand that Diversity and Multiculturalism is actually a racist ideology – multiculturalism, diversity, open borders and globalization only leads to unique cultures and races dying out. All this immigration must be stopped.
I understand that National Socialism is anti-New world order. The New World Order is about globalization – which is open borders, race mixing, mass immigration, debt slavery etc etc
The New World Order is hugely threatened by Nationalism – Nationalism is intrinsically linked to ending Usury and getting rid of the Zionist puppet politicians that run our governments.
I understand that Adolf Hitler and National Socialism is incessantly lied about – so as to bring forth the Jew World Order – the National Socialists fought the international banking cartels and the National Socialists had the system that threatened their agendas.
International jewry are terrified of National Socialism and the Truth about what it was really like, and what it is really all about, coming out. That is why they incessantly lie about it – via jewish controlled media networks, jewish run western education systems, jewish run TV networks and jewish run Hollywood… the incessant propaganda.
I understand that National Socialism was the most successful 'system' in modern Europe – National Socialist Germany had the happiest population of people and the highest standards of living. Nationalists end Usury.
If a leader, or politician, is not looking to end Debt Slavery / Usury and is not looking to stop immigration into the country – then they are clearly puppets of the Zionist / International Jewry system.
I continue to post information on the internet.
************************
I still don't know exactly what all my otherworldly experiences were all about… I have some theories… I do contemplate it, to some degree, every day – but there are more important issues… and you will not find any answers from jewish controlled Ufology – I have an intimate knowledge of the workings of all the New Age and Ufology controlled opposition / limited hangouts / psyops.
I plan on creating an article analysing the implications of the otherworldly experiences I have had.
All the above is expanded upon on this website, in a variety of articles.
Sharing knowledge about the threats we face and possible solutions is more important than telling people about the ET experiences I have had. Real ET disclosure will only occur when we take back control of our countries – taking control back from the jewish supremacists and zionists that run them.
There is an old article I created about two and a half years ago on what I was experiencing. I kept updating it as I had more experiences. It got very long, and well, it is not my finest work – new bits of info were inserted into the article here and there. I created it as a page rather than a post, so it wont show up on my main site – but there is a section in this old article where I go more in depth about what I saw – It's me trying to make sense of it all. As mentioned, I plan on creating an up to date in depth article where I look at what I have witnessed with critical thinking and asses the implications of these experiences. And again ET experiences and Ufology in general is mostly used a distraction on this planet – to create a controlled and distracting limited hangout to stop people taking action against the system and making changes. Anyway here is that old article.
I usually put two or three related articles links under my articles – but all articles on this site are related to this one 🙂
I will just add this one, which has a lot of information in it about both International Jewry / Zionism and some Truth about Hitler and WW2: