Life on Mars: Lakes, Forests, Rivers, Animals, Civilizations…
Sections:
Introduction
Background information on the Mars images
Lakes, Rivers, Trees and Vegetation
Civilisations / Cities
Animals / Herds
Concluding Words
My Art Work
Additional Videos
Introduction:
Whenever I put together an article I always consider how much it benefits us in stopping this (((New World Order))) agenda. Will this article help as much as my others? No, probably not. But it will hopefully bring some people to the site that otherwise would not have made it here.
This is more of a companion article – to my articles called ,'Ufology Explained' and 'Ufology Explained: Part 2' – where I talk about The German Breakaway Group. From my research it seems that there is a very good chance that they would have gone to Mars with their advanced technology and attempted to settle there. (The original documents and evidence of this technology are in my 'Ufology Explained' article.)

Showing the large amount of evidence that people have discovered of life on Mars not only shows NASA and many Mainstream Scientists are lying, but also gives credibility to the narrative that The German Breakaway Group settled on Mars.
Some Truthers may say: "Why would they leave any evidence at all on those images released to the public from the Mars Global Surveyor Satellite?"
Firstly: There are massive amounts of images to be tampered and altered, huge amounts, things are missed – and some of the obfuscation techniques were not as effective as they thought.
Secondly: As long is it is not very clear and very obvious the masses will not take any notice. The images provided are either in black and white (many of the forest areas are only given to us in black and white) or the landscapes are often all orange. (The planet apparently has no other colours other than shades of orange and the white snow at the North and South Poles!) Just making an image a little more ambiguous is usually enough to fool normies… or at least allow them to dismiss it.
Thirdly: The 'Powers That Be' think people are so much in a trance and brainwashed that they will not pay much attention to the Mars images. Only if very large numbers of people believe there is life on Mars will it make any difference to them. And this is True: The vast majority will not look into the topic, analyse any images, or even care – and most are either too busy or too self-absorbed to even think about it. Only a very small amount of people analyse and show any interest in the images
Fourthly: NASA has to pretend, and make out, that they are actually of some use. They also have to give people a few crumbs every now and then.
There has been clear attempts to obfuscate and hide / blur so many areas of Mars. So we know they are trying to hide areas and details from us. If these Mars images were just totally fabricated there would not be so much evidence of tampering and obfuscation. And CGI is very easily exposed. The 'Powers That Be' have developed incredible cameras, very high definition, that could easily show a lot of detail. But we get blurry obfuscated images.
The Mars Images:
"Launched November 7, 1996, Mars Global Surveyor became the first successful mission to the red planet in two decades. After a year and a half spent trimming its orbit from a looping ellipse to a circular track around the planet, the spacecraft began its prime mapping mission in March 1999." – mars.nasa.gov
Images have been released to the public since that time. And in 2009 Google added an explorable Mars to Google Earth. Some people have been exploring the images NASA have been releasing – carefully looking for signs of life and anomalies.
We are told by Mainstream Media 'Experts' and 'Scientists' that Mars does not have a breathable atmosphere and that it is extremely cold, and that there is such a lot of radiation there… so nothing could possibly live there… And the masses just accept this as Truth, and get on with their lives… as they never question anything.
We all know that NASA is an extremely dodgy organisation that lies. Some folk think they lie all the time because the Earth is flat. (I am not going to get into the distracting Flat Earth psyop). Well, the real reason that they lie is because there is plenty of life out there in our Solar System.
There are some people who dedicate their YouTube channel to looking at images from the Mars Global Surveyor, images of Mars in Google Earth and from the Mars Rover. Some of these channels really do themselves no favours by continually looking at rocks shown to us from the Mars Rover, and comparing them to animals and spaceships etc… I am not a fan of these rock videos… they are rocks… if you look at enough rocks they can look like all sorts of things. I think these channels who pump out videos looking at these rock shapes from the Mars Rover images are very likely shills, placed to distract and remove credibility.
However, the landscape images from the Mars Global Surveyor show us much more… they show us clear signs of life.
The videos I am embedding and the photos I am sharing are showing images that show pretty clear signs of life… they are not just rocks that look a bit like alien faces, squirrels or tanks!
The people who seriously explored these images of Mars – images from the Mars Global Surveyor – found that most of the images from Mars have been tampered with and some had been heavily tampered with. Colours are changed and images are sprayed or painted over… and messed with in other ways… smudging etc. Some researchers were able to bypass some of the obfuscation and tampering that NASA have been using to hide the Truth of Mars.
(Everything looks so orange in most of their Mars images – it is so ridiculous when you see all the terrain changes – why would everything be orange?)
Of course, many people have seen the famous images like the supposed glass tubes / tunnels on Mars, the apparent face on Mars in the Cydonia region and also what looks like possible remnants of very old pyramids on the planet. These images do not show life. You have controlled opposition shills like David Wilcock and Richard Hoagland using these images, these images are widely known in the alternative media, and seem to be more a diversion than anything else.
Many of the images I have used in this article will be from a website called Mars Anomalies – this man has completed some amazing work scouring through images and categorising them – http://www.marsanomalyresearch.com/evidence-directories/main/main-directory.htm
Before we begin, here are some images of Mars that are much more True to the colours in the rocky desert areas of Mars. Mars has a light blue sky.
Lakes, Rivers and Forests:
NASA present so many images in black and white… and as you can see in one of the images they also employ blurring techniques. Much of the evidence of life can be found near the polar regions of Mars – many of these images were taken at the South Polar region.
These images below are from Mars Global Surveyor. These are lakes, you can even see the forest canopies in some of them surrounding the lakes – and in the second set you can see rivers / moving water: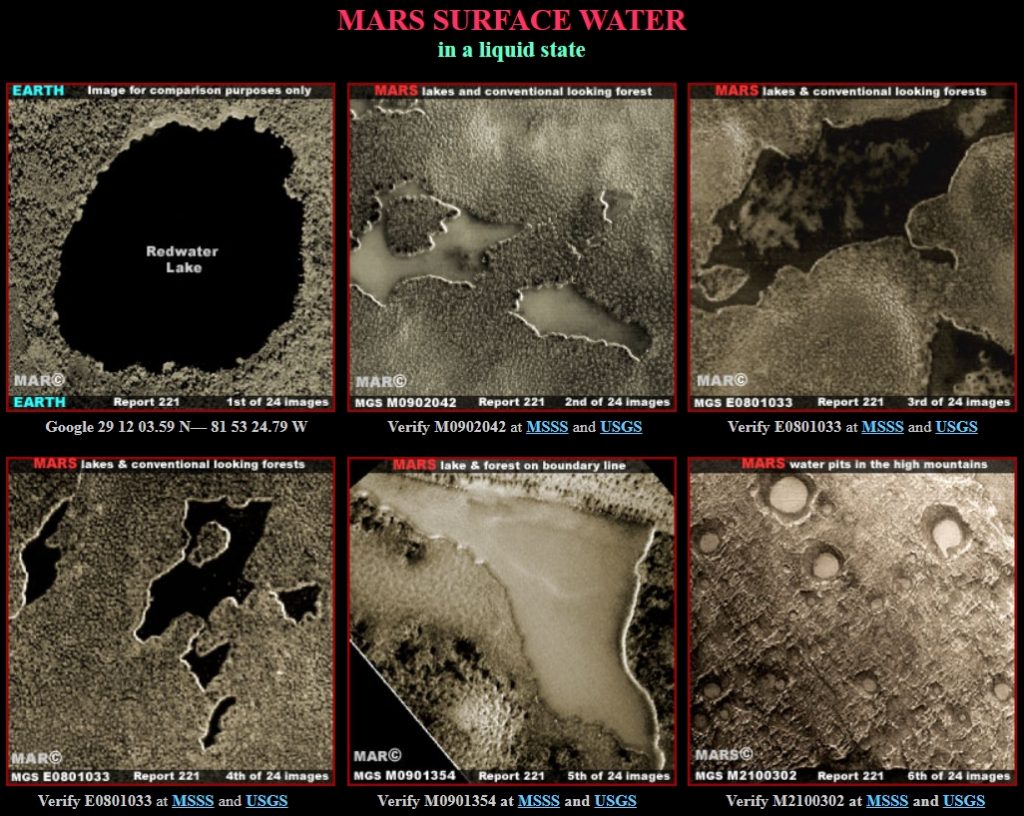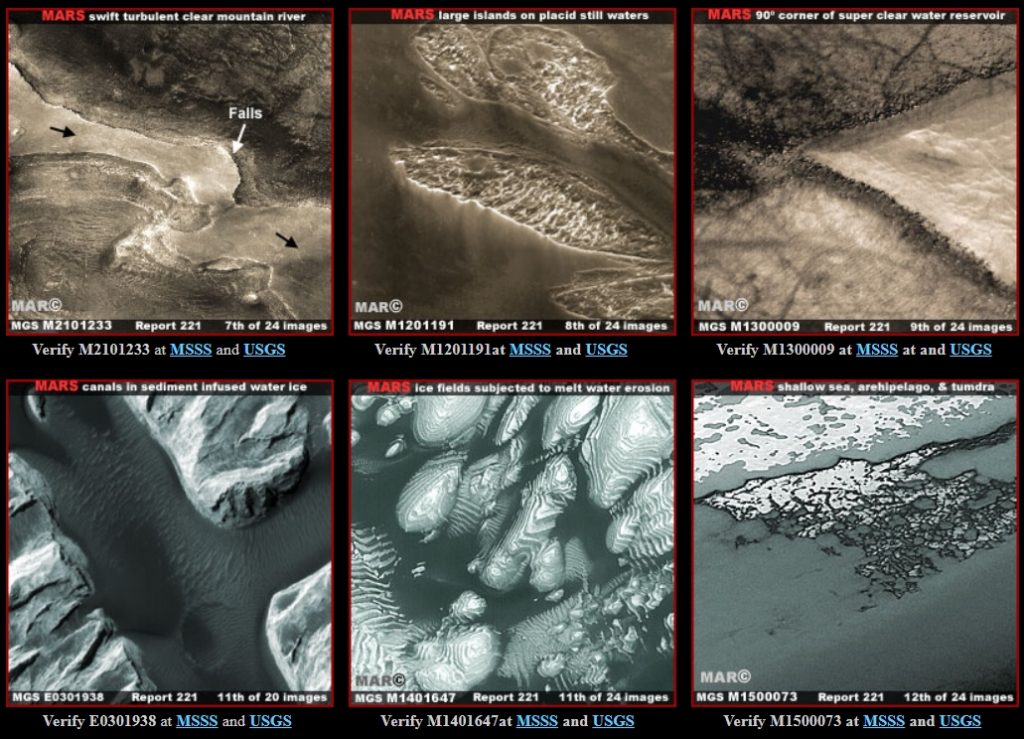 This image below is also from the Mars Global Surveyor. It is an image of an area that is just below the South Polar cap. It sure looks like a forest to me: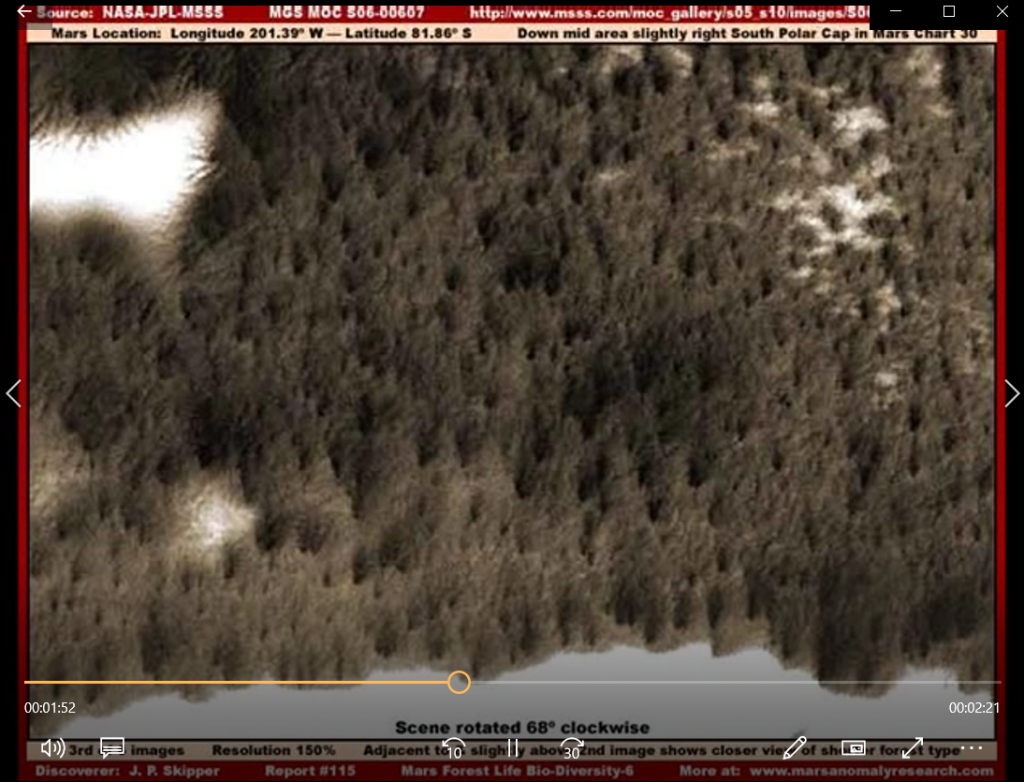 Here is a selection of more images showing water and vegetation, there are more. I am not sure much else has to be said. There is clearly vegetative life on Mars… there are forests and lakes on Mars. Which very strongly suggest breathable air and a climate that humans could live quite happily in. It is an image gallery, click to enlarge. Someone has added colour to one of the images to highlight what it is showing.
You can see more Mars images of Trees, Forests, Lakes and Rivers here: http://www.marsanomalyresearch.com/evidence-directories/main/main-directory.htm
Here are two images taken from this article, on this website – https://www.liveabout.com/the-most-mysterious-anomalies-of-mars-4123208 – that are accompanied by some text discussing some analysis of the images: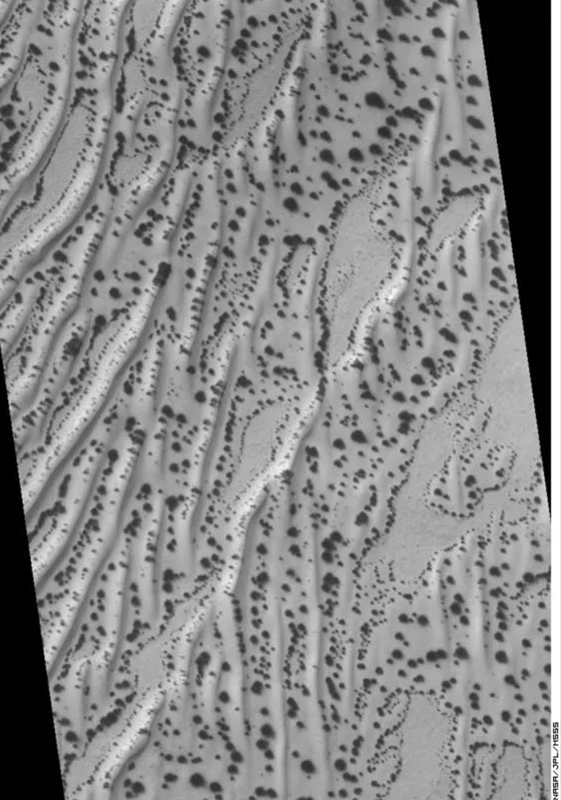 "This photo, taken by the Mars Global Surveyor (MGS) looks quite like aerial photos of an Earth desert dotted with shrub growth. But these sand dunes are in the southern hemisphere of Mars. A Hungarian research team, which has been analyzing the photos (and other photos of the same area over time), has concluded that the black dots are indeed living organisms.
"Each spring," writes David Leonard in an article for Space.com, "[the Hungarians] report, 'gray fuzzy spots' appear in the bottom of the ice cover. By the middle of the first half of spring, these spots become darker, are bounded, and grow in size. By early summer defrosting, the naked dark soil of the dune is visible, and surrounded by a lighter ring. Year after year, the dark dune spots 'renew' on the same place with almost the same configuration, or 'constellation' of patches. This repeat action, the team asserts, strengthens their suggestion of fixed, biological causes of spot formation."
The Hungarian scientists conclude that this strongly suggests the life cycle of some kind of plant life.
NASA and its associated research teams don't agree with this conclusion. Their theory is that the dark spots are "the result of springtime defrosting process on Mars, not signs of biology." A somewhat less dismissive opinion from Bruce Jakosky, a Mars researcher at the University of Colorado in Boulder, states that the conclusion for Martian biology is "premature… when other, simpler processes have not been ruled out." – https://www.liveabout.com/the-most-mysterious-anomalies-of-mars-4123208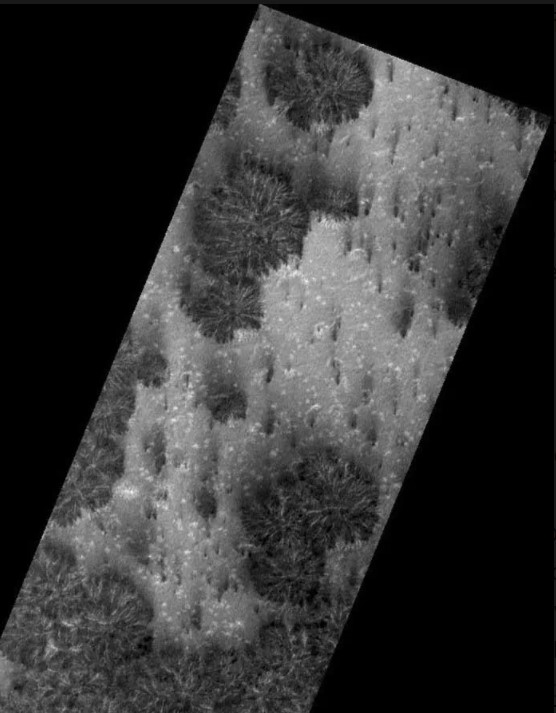 "Another controversial photo, shown here, reveals much larger forms that look like spreading trees as seen from above. No less a personage than respected author Arthur C. Clarke opined that they resemble Earth's Banyan trees. He too noted that these forms appear to change with the seasons, growing with the warmth and increased sunlight of Mars's spring season, just as vegetation would. But NASA has likewise explained these shapes as some kind of freezing/defrosting phenomenon or a part of the "bizarre geology" of Mars." – https://www.liveabout.com/the-most-mysterious-anomalies-of-mars-4123208
The 'Powers That Be' have released lots of movies and series over the years, trying to keep up the 'no life and no breathable atmosphere on Mars' narrative… they are still doing it to this day… the programming (e.g 'The Martian', 'The Expanse' etc etc). They also make a lot of video games with this narrative as well.
Civilisations:
Hale Crater:
NASA seems to have tried hard to eradicate from view the civilisation that is built in Hale Crater . I will very strongly suggest to you that there are functioning civilisations on Mars right now. Hale Crater is where the most obvious obfuscation has taken place. They appear to have attempted to blot out an entire city. You can find quite a few videos about this Hale Crater civilisation on YouTube, some of these I will embed in this article below.
Much analysis has occurred – researchers altered brightness, contrast, as well as others setting, so as to bypass some of the obfuscation.
I found these two comments by the same lady under two different Hale Crater civilisation videos on YouTube, saying how she saw the original images of Hale Crater at Goddard NASA, and that there was a very modern Earth like city there: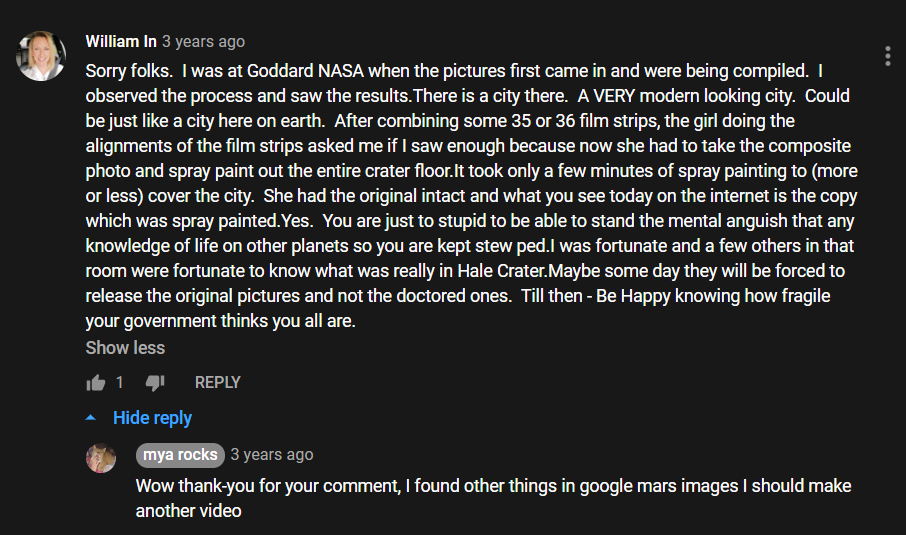 Here are the comments in text, from these screen grabs… for people using a translate app or who can't see the screen grab images clearly. The grammatical errors in the comments are included:
"Sorry folks. I was at Goddard when the pictures first came in and were being compiled. I observed the process and saw the results. There is a city there. A VERY modern looking city. Could be just like here on Earth. After combing some 35 or 36 film strips, the girl doing the alignments of the film asked me if I saw enough because now she has to take the composite photo and spray paint out the entire crater floor. It took only a few minutes of spray painting to more or less cover the city. She had the original intact and what you see today on the internet is the copy which was spray painted. Yes. You are just too stupid to be able to stand the mental anguish that any knowledge of life on other planets so you are kept stew ped. I was fortunate and a few others in that room were fortunate to know what was really in Hale Crater. Maybe someday they will be forced to release the original pictures and not the doctored ones. Till then – Be Happy knowing how fragile your government thinks you all are."
"I was installing equipment at Goddard (NASA) when the first pictures were downloading. I was called into a dark room by a technician and she showed me the film she was compiling. They were VERY HIGH RESOLUTION and I could see streets, doors, windows but NO vehicles in the streets. I could see two faces carved in the center mountain and a[n] arching temple with what was probably a woman's dress showing but nothing more. The shadow indicated a human statute, but no proof of sex or other specifics."
Below are images from the website Mars Anomalies of Hale Crater. There are also additional videos at the end of the article investigating this area. You even see in the starting images, where no clarification has occurred, that the ground seems to be floating, it looks unnatural. And like the lady above says – the original pictures were sprayed over. In this gallery you can also see that some type of track system was discovered near Hale Crater – as well as some craters nearby that contained water. These very zoomed in images, that have bypassed some of the obfuscation, clearly show some buildings. Click on images to enlarge.
This Hale Crater civilisation, they way it is set out, looks like a human one. There are other settlement areas that have been seen on Mars that do not look human made. I believe this Hale Crater civilisation could very well be The German Breakaway Group – their main city on Mars. Evidence suggests they had the capabilities to get there in the mid to late 1940's. My Ufology Explained article on this website documents this.
You can go to this page for more analysis of the Hale Crater evidence: http://www.marsanomalyresearch.com/evidence-reports/2005/084/hale-civ-evidence.htm
Two more videos looking at the Hale Crater civilisation evidence are at the end of the article. This one below has managed to move beyond some of the obfuscation techniques better than most.
The Hale Crater images were a part of some of the earliest Mars images released. Since then NASA seem to have changed and modified some of their obfuscation techniques.
A second Human looking city: This video below contains images from another region. Again, remember NASA employ different types of obfuscation techniques on the images. This also looks like a human city. Separated into blocks and streets. A dome type building can be seen. Is this a thriving city or remnants of one? I would suggest it is probably a current city and they have tampered with the images again. I have no idea why this person below called this an 'Atlantis City' – probably for views… it's layout is like a European city.
This image below looks like a group of housing created by a different species. These are fairly big. Not rocks and and not dunes. It looks like a non-human settlement of some kind: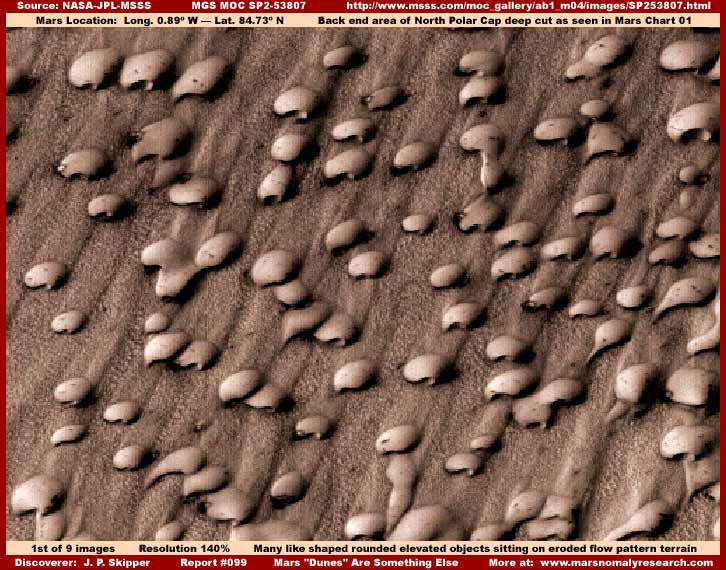 Below we have a dome inside a crater. Very unlikely to be a natural formation. Of course we cannot be sure exactly what it is, but it looks like a larger version of the glass domes that we create on Earth – and it looks to be strategically placed inside this crater. Below the image is a link to a video showing more of these domes inside craters on Mars:
The following pictures show some sort of large settlement, that is what it looks like to me. These are screen grabs taken from a video that I had downloaded from YouTube but has now been deleted for some reason, which is a shame as the video shows the settlement more clearly than these screen grabs. I have shown the images at different magnifications. The way the shapes are spaced out shows lines and rows and thought out spacing… clearly not just random rocks: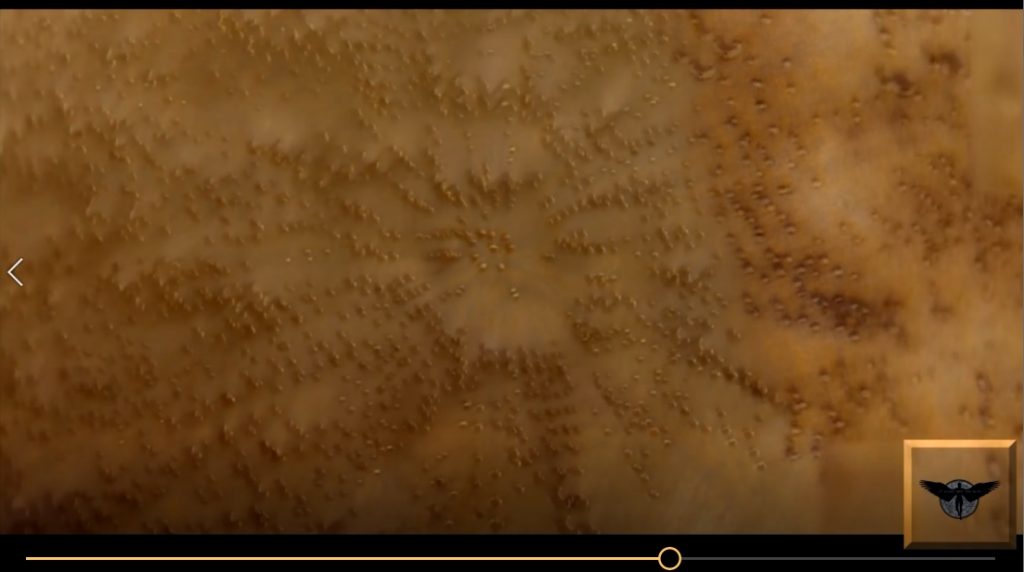 Some close up images of this settlement- click to enlarge:
Below is a video of another location that looks like settlements – look at how they are arranged and grouped… they are spaced and have some organisation to them, some are in lines… it does not look natural to me… and remember these images are sprayed over and tampered with so they look more ambiguous:
This video depicts a very unusual looking settlement. It looks like another non-human settlement to me.
I have been studying all the analysis of the images from Mars for a few years now. It looks to me like Mars has many different settlements on there. At least one, possibly two, look like they could be human cities. They tried hard to spray and smudge out as much evidence as they could but you there are so many images… and most people will just dismiss it all anyway, and find any reason to not believe it… so I am sure NASA are not too worried.
The image below is from – https://www.liveabout.com/the-most-mysterious-anomalies-of-mars-4123208… as is the text below it: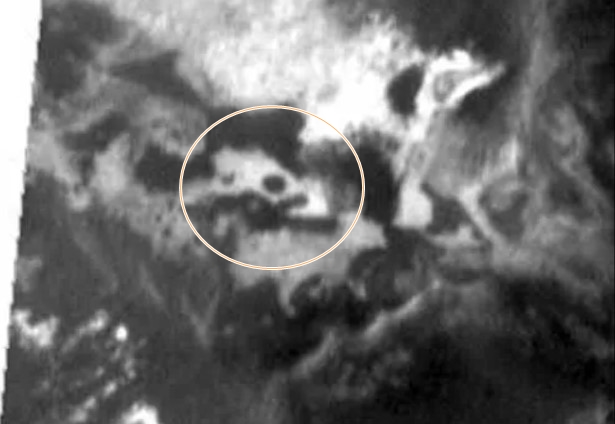 "This photo depicts the so-called "port," which has been examined in some detail at Mars Unearthed (no longer online).
This highly geometric structure, appearing on a Martian cliffside, looks like an artificially constructed two-story building of some unknown purpose. In the opinion of the article,
"the first-floor walls of [the port] are facing the camera and in shadow. The second floor is a well-defined square and is turned at a precise 45-degree angle to the first floor. Centered in the midst of the roof of that squared second floor is an abrupt, sharp circle… a 'landing pad' as for helicopters atop tall buildings and on decks of ships.""

Animals
This section displays 3 sets of images. Each set showing a different herd of animals seen in Mars images.
Herd 1:
This first set has a video to accompany the images. I am not a fan of the channel, as most videos are just of rocks from the 'Mars Rover' that he tries to compare to various objects, which is a waste of time… but this video is very good and shows a satellite image that clearly shows a herd of animals.
A close up of some of these animals: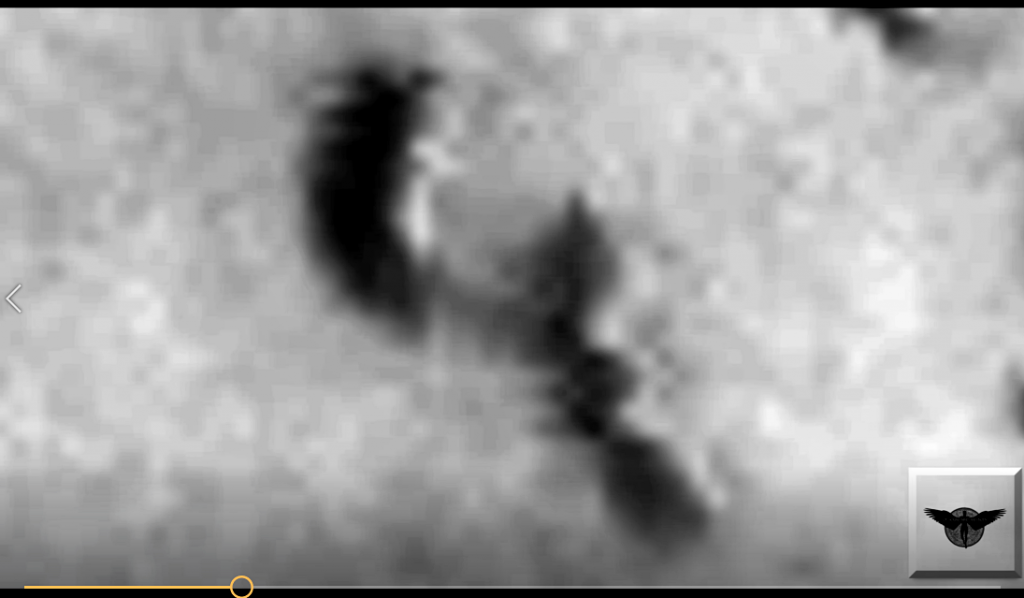 A screen grab image from another video showing this same herd, which has since been deleted from YouTube (from the now deleted Mars Mysteries channel).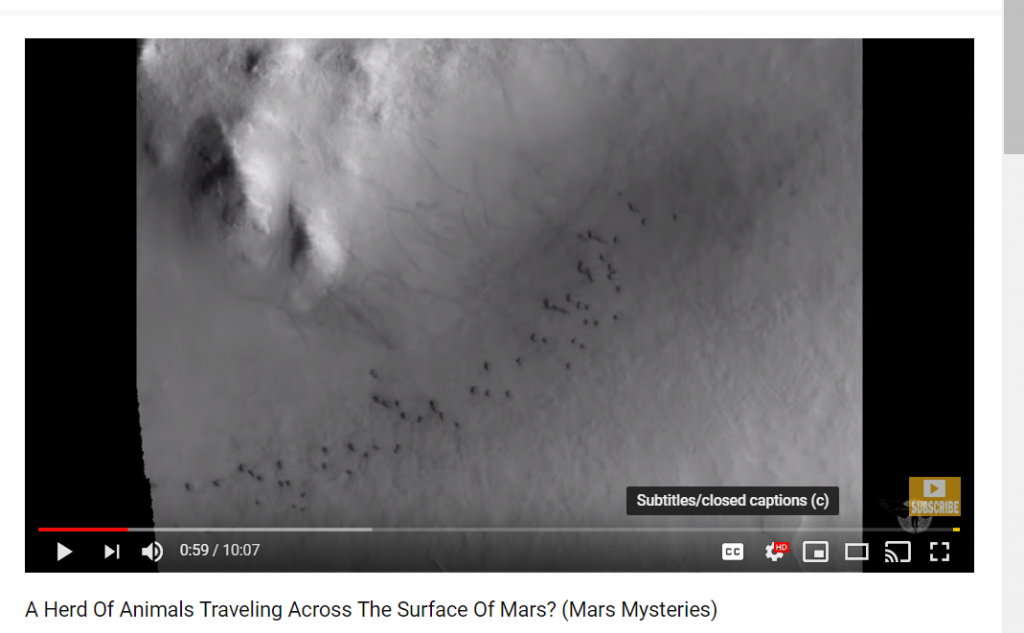 A close look as this image: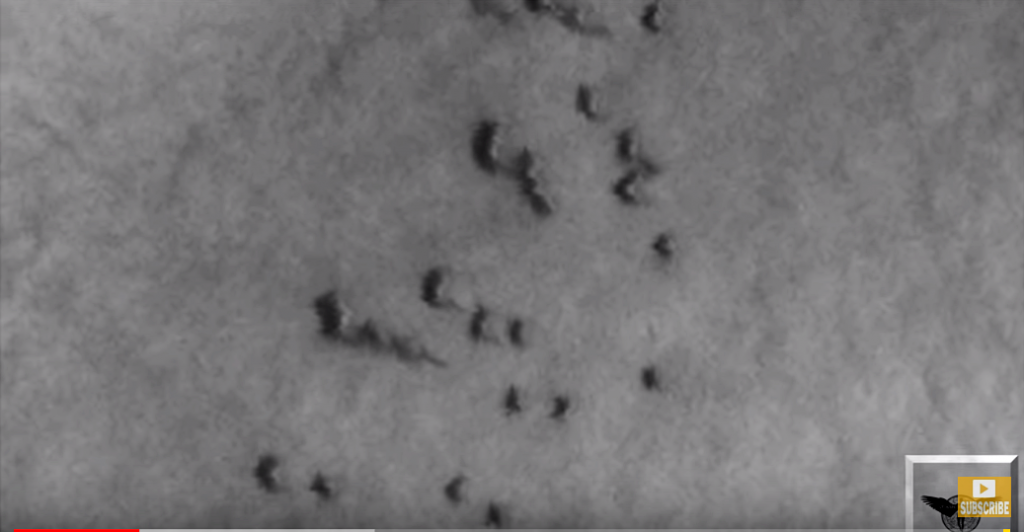 Herd 2:
The next herd I discovered was on this website: https://www.ufosightingsfootage.uk/2018/11/a-herd-of-animals-on-mars.html
There is a link to the official Nasa image on the website – and here it is: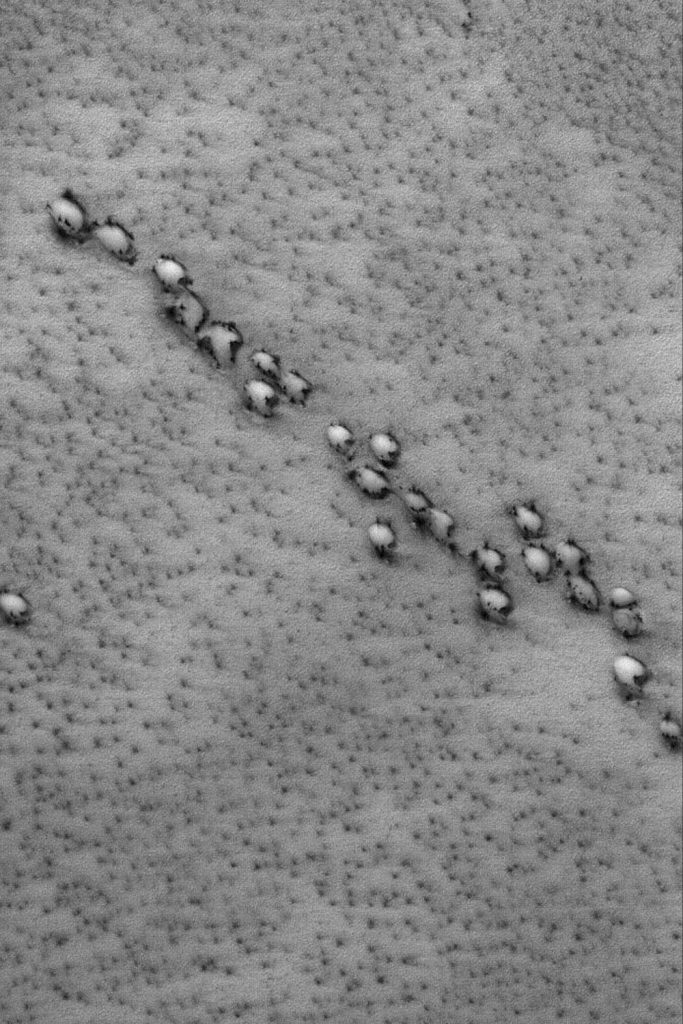 This is NASA official text that accompanied the image:
"This July 2004 Mars Global Surveyor (MGS) Mars Orbiter Camera (MOC) image shows a group of aligned barchan sand dunes in the martian north polar region. At the time, the dunes were covered with seasonal frost, but the frost had begun to sublime away, leaving dark spots and dark outlines around the dunes. The surrounding plains exhibit small, diffuse spots that are also the result of subliming seasonal frost. This northern spring image, acquired on a descending ground track (as MGS was moving north to south on the "night" side of Mars) is located near 78.8°N, 34.8°W. The image covers an area about 3 km (1.9 mi) across and sunlight illuminates the scene from the upper left."
(A totally ridiculous description from NASA)
Not only does this look like a herd of animals but it also very much looks like vegetation on the ground… tufts of grass.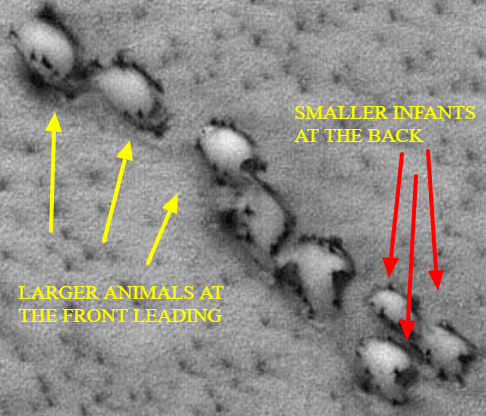 Herd 3:
This next set of images are from a video from the now deleted Mars Mysteries Channel – I have no idea why it was deleted from YouTube. These images below are screen-grabs from a video that I downloaded from the YouTube channel a year ago. It is a shame the video has been deleted as the images were clearer on the actual video. This is the only video in which I have found these particular images. To see this particular herd the video zooms into an area very close to one of the polar regions on Mars. All of these herds in this article were spotted near the polar regions, as were the forests and vegetation.
Remember, nearly all images are tampered with and or sprayed by NASA. To give them less clarity.
I will show the images in order of magnification. The first image shows you that the animals are descending from an elevated area of landscape. The sand has built up against the higher ground to create dunes, or deep sand. The two other photos, that are zoomed in, show the animals leaving trails in the sand as they make their way through it. Small animals appear to be following the larger ones. These animals are very big by the way.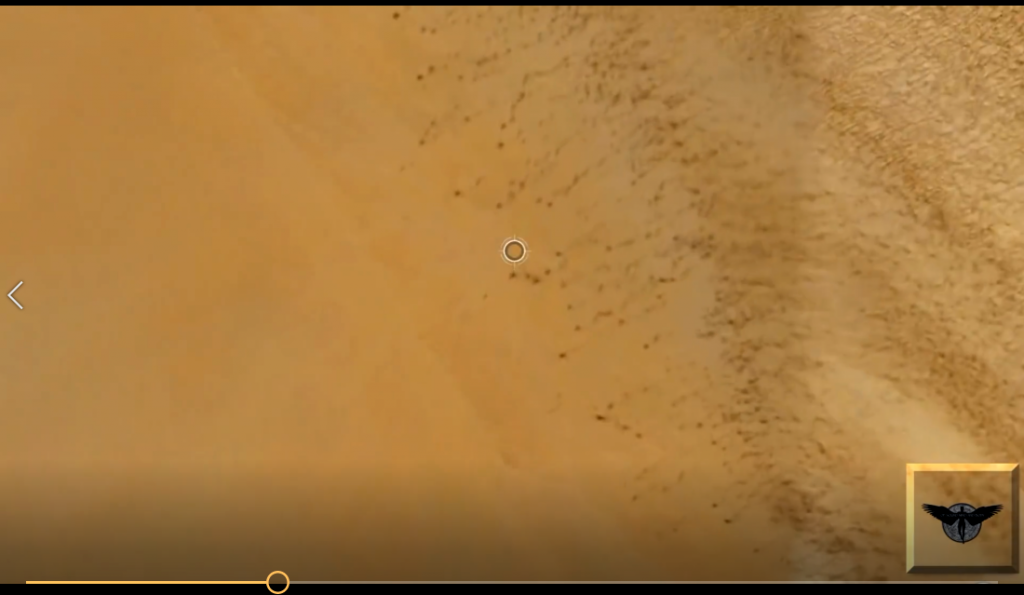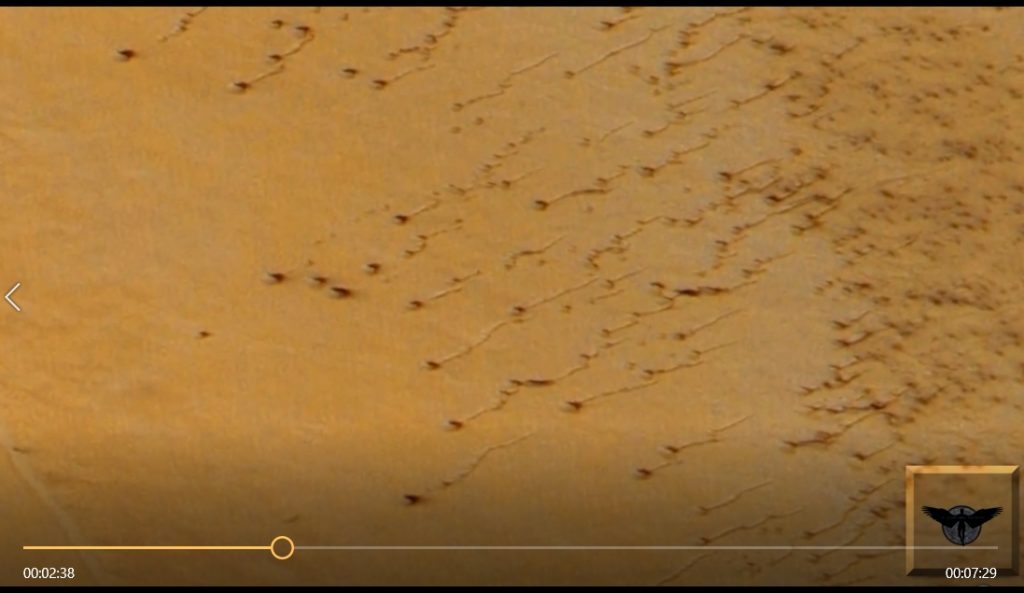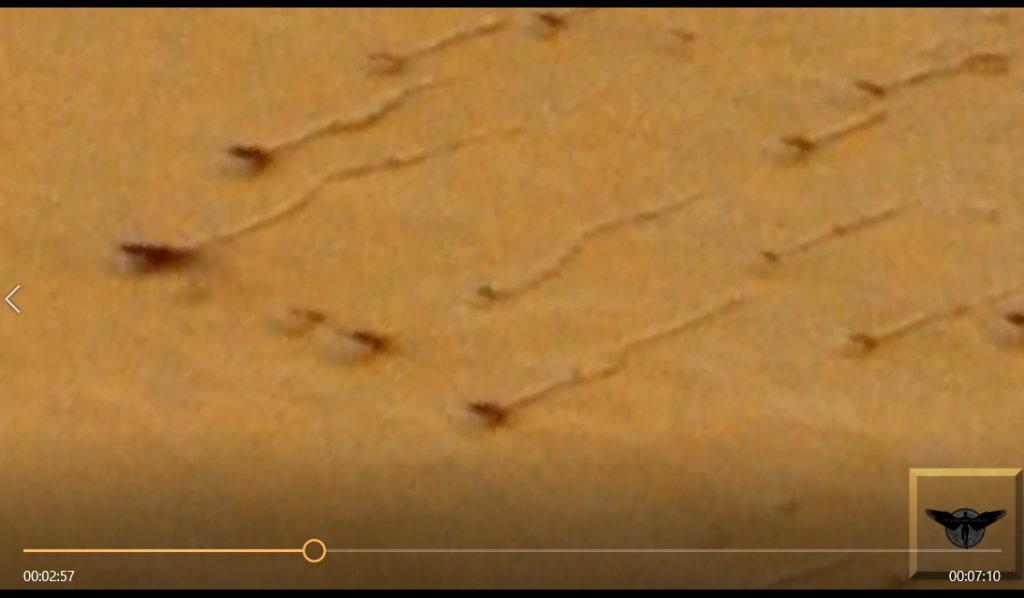 I have now found another video documenting these – what I believe are large animals – that is still on YouTube… showing them from different angles.
All three herds very much seem to consist of different types of animals. All look like large herbivores.
***************
We did have this image below used in some of Mainstream Media a while back – with the headline 'Huge alien herd of animals found in space probe images of Mars':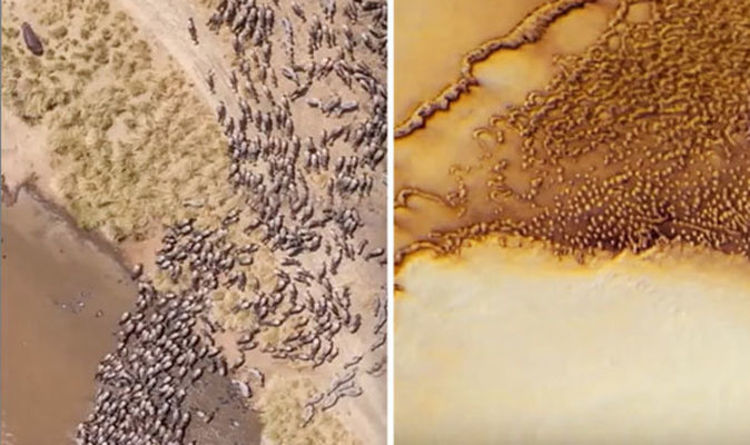 You can see why MSM used it. Obviously the image from Mars is the one on the right, and the left is from Earth. A terrible image from Mars. Clearly heavily tampered with – it looks like it has been sprayed over. Colours distorted and no clear shapes, with no definition. It could well be a herd near some water, but with the distortions they have implemented it makes you look ridiculous for claiming this image shows evidence of life in Mars. It was an image used to discredit those who claim there is life on Mars.
Concluding Words
As mentioned in other articles on this website, I have memories of living on a planet that looks just like Mars. But not taking those memories into consideration, what can we deduce from these images above? I think they show that Mars has a breathable atmosphere – that it has rivers, lakes, trees, forests and vegetation – herds of large animals – and some settlements and cities. That it has a thriving ecosystem.
Most people pay no attention to all of this of course. They have succeeded in obfuscating so many images to make them look ambiguous. People see one image and dismiss it. But if you see a variety of images, that suggest there is life, it is much more compelling.
NASA's explanations for these signs of life are embarrassingly bad.
It does not change much for us down here though. The only way we can get any Truth is to take back control of our Nations that are controlled by International Jewry and to stop this (((New World Order))) agenda.
It does however give more credence to this idea that the German Breakaway Group has settled on Mars. Which I think can be very inspiring.
My Art Work
On this website I have also spoken about my own very vivid metaphysical experiences that occurred in the night, which suggest to me that there is plenty of life on Mars. It did not occur to me that this rocky, desert like planet, that also had forests, lakes and large unusual animals, various hominids, settlements and cities, that I was seeing in the night, was Mars, until one day I came across a website called 'Mars Anomalies Research', which analysed the satellite images of the Mars Global Surveyor. This sparked my interest and I researched further. That is when I found all the evidence of life on Mars, and my middle of the night recall of living on another planet made more sense to me. (And this notion of there being different non-human settlements on Mars, as well as a 'European type' city, correlate with my flashback memories of this planet I lived on) I was almost certain that I had created much art work depicting Mars and the creatures that live there – in my late teens and twenties in sketches and paintings… this was before I had had any metaphysical experiences, or any memories come back to me in the night. Some of this art work is in my Art Gallery section.
Below are some related images. My art has been in these galleries on my website for many years. All my art was from my subconscious – straight from my 'imagination'. I would just sit down sketch, paint and sculpt – no copying of anything at all… I could show you many more depictions / sketches and practice sculptures of these large herbivore type animals I kept creating… I was trying to get them 'right'.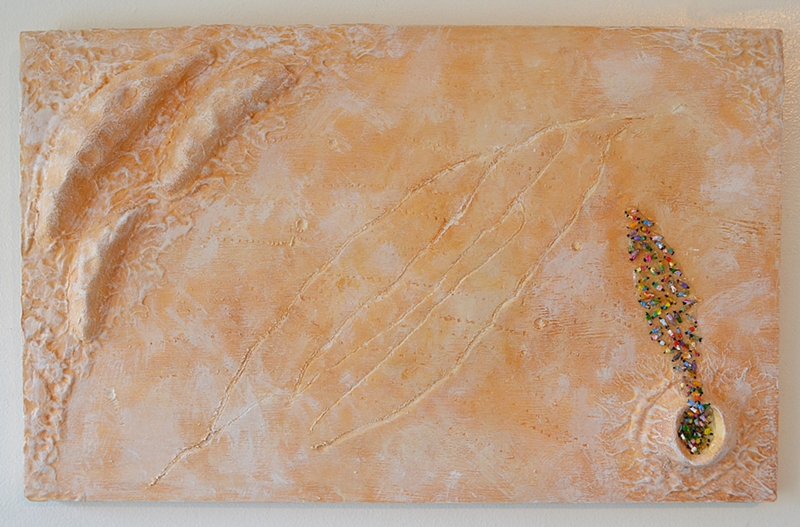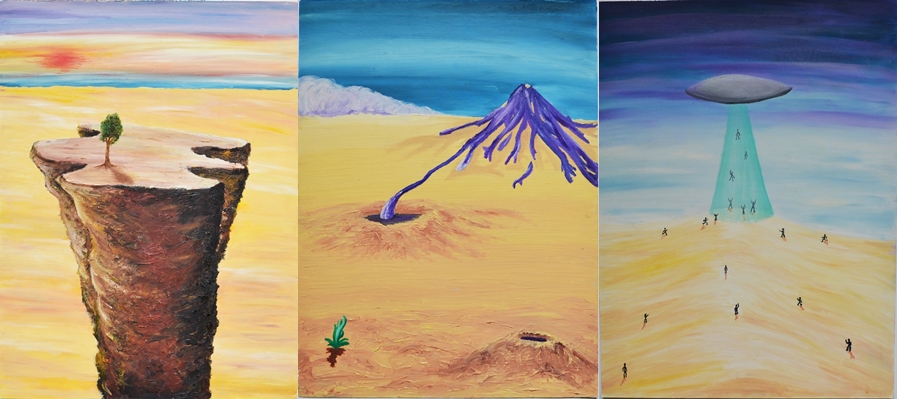 You can look at more of my sketches, sculptures and paintings in my Art Gallery section.
Additional Videos:
(By the way this Art Alien TV guy is one these people that obsesses about rocks most of the time… which seems to be a discrediting technique to me… they are just rocks. But I looked through his videos and he had a few videos with signs of life.)
These images below could possibly be cities and settlements, but the images have just been heavily tampered with. They use all sorts of techniques to obfuscate. Cities or civilisations being built inside rocks / cliffs correlates with some of what I have seen in my memories. Who knows? … But in the 2nd image below you can clearly see the blurring and obfuscating applied… they have very advanced HD cameras that can show great clarity from very far away, so this blurriness is not logical. It is important to note that J P Skipper – who put together the 'Mars Anomalies Research' website – could see the images in more detail, as he could see the non-compressed images that first came out. The images he provided on his website are lower resolution and compressed – as he was creating his website quite some time ago when then internet was much slower.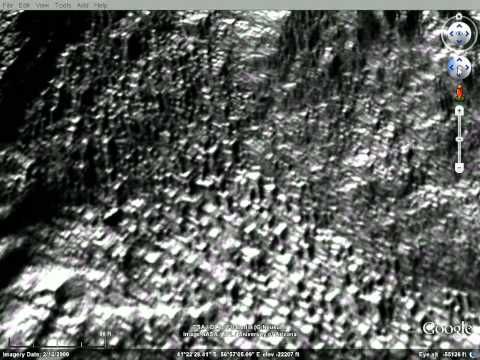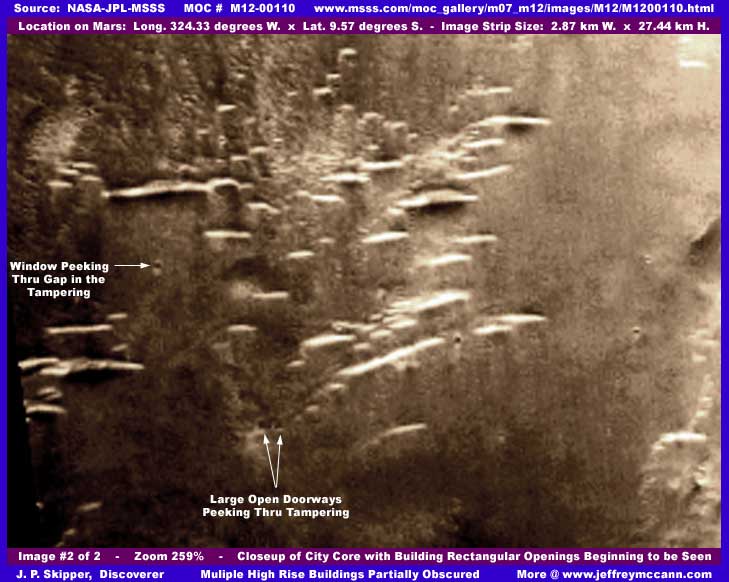 End.
Related Articles: