Who is on The Moon? – Ufology Explained, Part 3
Sections
UFO activity on The Moon – videos and photos
Signs and evidence of settlements / buildings on The Moon – videos and photos
The 1959 plan to 'nuke' The Moon – by both the USA and the Soviet Union (To explode a destructive bomb – as there are no 'nuclear' bombs)
Admiral Byrd's testimony – Operation Highjump
Ernst Zundel's book extract – testimony from a Professor
The numerous failures for both the US and Soviet Union (as well as other Nations) attempting to get to the Moon and Mars
Reinhold Schmidt testimony on satellites
Concluding Thoughts
Additional Videos and Images
Recommended Books – with links
********************
Recap:
You could read my other Ufology Explained articles before this one, but they are not essential for you to benefit from this new one. But if you haven't read them I recommend you read them afterwards.

What I show in these previous articles: The highly controlled and subversive Ufology is essentially all about misdirection… and is mainly about directing you away from the Truth of the German Breakaway Group and their strong presence in our solar system. If you read those articles above, as well as this one – and then perhaps do some further research by reading the books I recommend (links to free PDFs at the end of the post) – you will be in no doubt about it either… that all the disc-shaped craft, orbs and cigar-shaped craft that are being seen (and very likely a few other types of unidentified craft) belong to the German Breakaway Group. The (((PTB))) want you to believe that it is aliens.
In those previous posts I mention how after studying Ufology for many years I strongly believe that the Germans are now on Mars, and possibly also Ceres… and that they could possibly also be on The Moon. If they are on those two celestial bodies, and had – or have – some sort of base in Antarctica, it would make sense that they are on The Moon as well? This article will look at some of the evidence we have regarding The Moon.
I know many people are somewhat obsessed with the 'Greys' (grey aliens), and believe they are on The Moon. This is by design. But the small Greys work for, or perhaps with, the Germans. They were mainly involved in sample collecting and DNA analysis in the 60s and 70s and 80s. That is pretty much all they did, scan and collect samples – and they did it for the German Breakaway Group. The 'Greys' are not malevolent. People have just bought into all the propaganda about them – the many lies from numerous fake whistle-blowers, controlled opposition UFO personalities and fake channelers that came out in the 90s and 2000s… Reading my 'Ufology Explained, Part 2' article will help you to see this clearly. If you do genuine analysis of the abductions is in the 60s, 70s and 80s you can work this out for yourself…. well, if you possess some analytical skills and critical thinking skills. (Since I made these conclusions regarding the 'Greys' I have discovered that the researchers Gilbert Sternhoff, John Carpenter and Jenny Randles also came to this conclusion)
---
Introduction:
With the increasing affordability of high quality microscopes and HD cameras the activity on The Moon cannot be hidden as readily as it used to be. Much of the official NASA images we get – just like they do with the Mars images – are obfuscated / tampered with / blurred… certain areas of the images are often greatly tampered with… (and NASAs cameras are also capable of much higher levels of detail and resolution). I have a video below demonstrating clear evidence of this tampering occurring. Some type of structure was seen by a researcher, and then when he went back to look a while later NASA had completely smudged / cut it out. So amateur astronomers are very important.
In this article I will present to you some of the best videos and images I have come across – as well as further information which indicates who is responsible for the activity on The Moon. (Not the fake CGI images, such as the very fake CGI swastika shaped moon base that shows up at the top of Google searches) What makes the visual evidence below so compelling is that the vast majority of it is not from NASA, but from a variety of independent amateur astronomers. Only the Tycho and Zeeman crater images are connected to NASA, as they are from Google Earth.
Not many people realise that The Moon is colourful. It has some large very reflective areas so it can look all white, or light grey, when looking at it from Earth. But there are brown, green and blue areas on The Moon if you can nullify, or bypass, the overpowering highly reflective areas. There are apparently even some type of clouds on The Moon (whether it is steam, smoke or genuine clouds it is difficult to tell). These amateur researchers / astronomers, that are not connected to any organisations, have uploaded some incredible photos and videos. It is difficult to know the exact shades and exactly how deep the colours are, but The Moon is much more colourful than the 'Powers That Be' show.

Some of these amateur astronomers testify that the colours on some of The Moon terrain seem to change colour or shape throughout the year.
The Flat Earthers suggest that The Moon is just a holographic image that is being beamed into the sky to deceive us (for some reason?). How can people believe this? Where is it being beamed from? Who is beaming it? The Moon with moving clouds, changing terrain, expanding settlements and craft flying around just above the surface is a holographic image? Are they suggesting it is a movie being beamed into the sky – that the whole of space is like a movie being beamed into the sky? This is so incredibly far fetched. I understand it can be confusing on Earth with the multitudes of lies we are fed but The Flat Earthers that suggest The Moon, and all of space, is a hologram or movie are… shall we say, somewhat desperate with these assertions.
Another one for the Flat Earthers: If NASA are showing you some structures on purpose so that you believe in space, planets and aliens why are NASA going back into the images after they were published and erasing parts that they do not want you to see? Parts that they missed when they were implementing their smudging, extractions and obfuscations. Surely they would leave them there so you believed in it all – If they were trying to deceive you and wanted you to believe in their space movie that they are supposedly projecting into the sky! They smudge them structures out as they don't want you to know that there are settlements on The Moon. Settlements created by a group of people that the (((powers that be))) really don't want the masses to know about.
I previously created my 'Life on Mars' article, which collated some of the best images on the web for showing signs of life and civilization on Mars. This one here is called 'Who is on The Moon?', as The Moon is much smaller than Mars and I think there is only one group on there. Whereas Mars has clearly defined regions and it looks like there are various civilizations on there… I should imagine there are borders and 'no go' areas on Mars. But with The Moon it is very likely just one group on there, from looking at how all the settlements are similar – all the angular, spaced out and connected buildings, and from looking at the UFO activity… fleets of the same flying saucer UFOs, sometimes in formations, and large cigar-shaped craft.
I strongly suggest that it is the German Breakaway Group on The Moon. Below I also display images of what look like an agricultural area with fields… yes, fields. If The Moon has some clouds then there is some type of atmosphere. The angular buildings / settlements you see look like they would be built by humans. Some of the settlements look Like mining colonies. As well as this, the craft being seen flying over the surface of The Moon are the same shape as the ones the Germans were building in the 1940's… diagrams were found.
---
Craft flying around The Moon:
These amateur astronomers are looking at The Moon from some distance of course, so the craft are very small. These images below can give you a feel for what you are looking for in the videos. You can see them more clearly in the videos. Sometimes you can only really see them when the footage is slowed down, as some of them move so fast. The fact that so many different people are seeing these flying-saucers and cigar-shaped craft suggests very strongly that there is a civilisation on The Moon…
Screen grabs from some of the videos embedded in this article:






Footage from independent amateur astronomers:
This first video is an excellent piece of footage. It has been mirrored by many others, but this video here is the original. Three huge cigar-shaped craft in this one:
'Jean-Michel Tenac – OVNI sur la Lune , 2020-03-26':
A YouTuber called Bill Bryson (obviously not the famous author) – a friendly American amateur astronomer – uploaded some incredible footage of the Moon showing the colours on the surface and the great amount of UFO (flying saucer) activity. He has not uploaded a video in 7 years – no one knows why. He often calls the UFOs 'slow-movers'. He is clearly not some government agent trying to deceive, but a man who is genuinely excited, surprised and intrigued. You can watch through his videos, he sees these craft all the time. Pretty much every video I watched of his has some, sometimes there are over 20 sightings of them in one video. Sometimes in formation, sometimes following each other, sometimes a single UFO at a time. He mainly sees the disc shaped flying saucers. As Bill explains – the type of telescope and HD camera make all the difference when trying to see detail and colours on The Moon. I included 2 of his videos here, and there is another at the end of the post, in the 'Additional Videos' section – all three are live from The Moon on different nights – highlighting how often he saw the craft. The often whizz past pretty quick but Bill usually lets you know when one went by, you rewind and slow the video down if you missed it and there it is, or there they are.
'073 Moon Musings – Fleet of UFOs on moon? Or swarm of bats?' (At 3.20 mins in – a surface UFO fleet):
'075 Moon Musings – Supermoon UFOs' (You see a fleet right at the beginning):
'Bruce Sees All' is a channel on YouTube that is still currently uploading. He also catches UFO activity – although his speciality seems to be highlighting the structures, facilities and cities on the Moon… as well as clouds and smoke. He has a powerful telescope – it looks like he may have received some funding. I have embedded his best videos and images in this article. Below are two of his videos. In the 'Additional Videos' section at the end there is another video called 'Live UFO Activity Under The Clouds On The Lunar Surface'.
This video is one of his best showing the UFOs – these ones look like flying saucers (go to 7 mins in, if impatient).
'Massive UFO on The Moon' – Skip to 3.39 mins on the video below:
A huge cigar type UFO launched from the moon from 'masamon 2005':
Three huge cigar shaped craft (Added to this post in May 2021) just above the surface of The Moon – filmed in portrait mode by someone on Tic Toc – another brilliant sighting (filmed on, May 14th, 2021). The Moon is clearly not that far way from Earth. The craft are at the very top of The Moon. (This area where the light-side meets the dark-side of The Moon, was apparently the zone that the US and Soviets wanted to 'nuke' in 1959 (Project A119):
'Cigar shaped UFO crosses moon 04.01.2020':
(As always – flying saucers and cigar-shaped craft.)
I have included some more cigar-shaped craft videos at the end of the post in the 'Additional Videos and Images' section – there are also some more flying saucer / disc videos.
---
Settlements and Buildings on The Moon
Some images taken from the below video footage: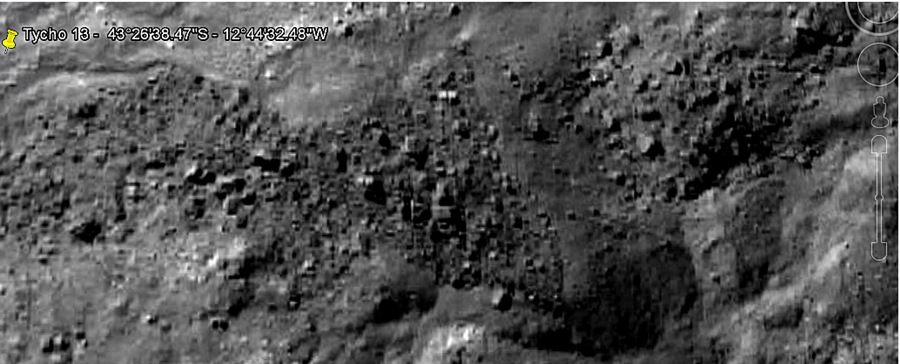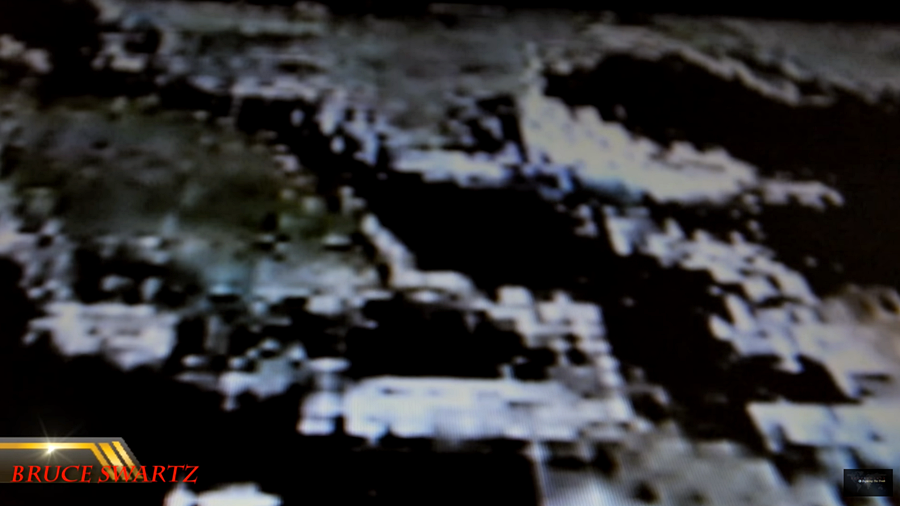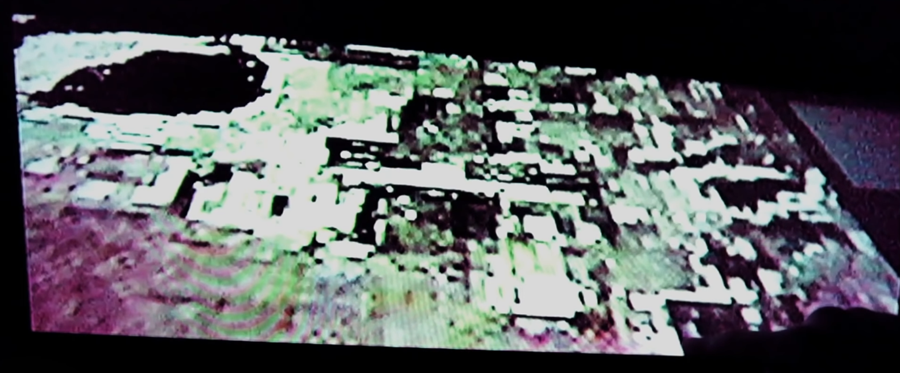 Tycho Crater:
'Real reason NASA never went back to Moon 'Alien' cities on the Moon Tycho crater populated':
There are plenty more videos at the end in the 'Additional Videos' section looking at Tycho crater.
Zeeman Crater:
This video is by a channel on YouTube called 'WhatsUpInTheSky37'
'Amazing Five Mile Entrance To Zeeman Crater Lunar Base! MUST SEE!':
Sinus Iridium and Plato Crater:
New Cities Of Sinus Iridum Fully Exposed:
Sinus Iridum & Plato Crater Exposed:
If you watch these videos about Sinus Iridum you will see on the floor of the crater, what looks like, a patchwork of different shades of green, with a little brown or yellow as well.
To me this looks like an agricultural area – they are fields. Look at a birds eye view of an agriculture area on Earth, somewhere in Europe perhaps, and it looks like this – a patchwork of shades of green, yellow and brown. Remember this is being viewed from a telescope many thousands of kilometres away.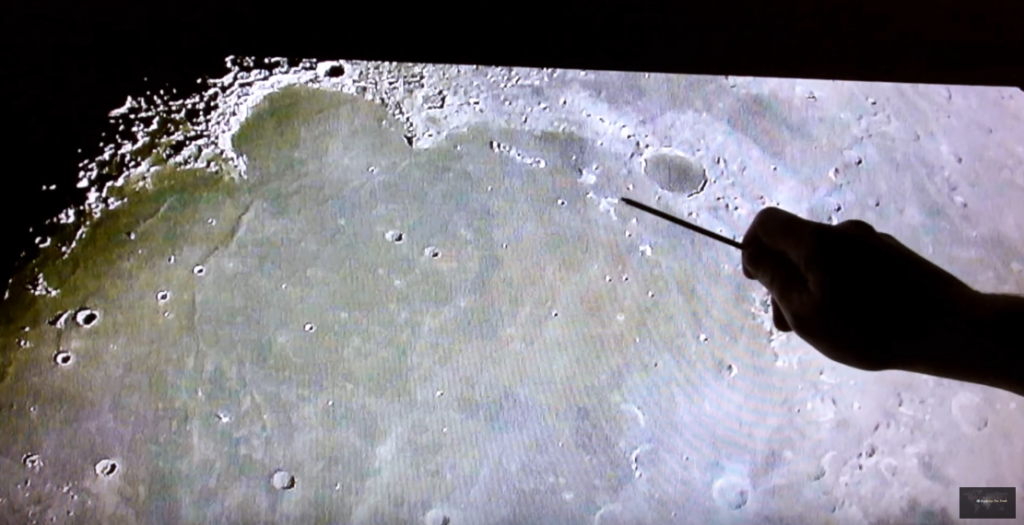 This one is again from 'Bruce Sees All'. As well as taking video he takes HD photos, blows them up and analyses them. 'One Of The Biggest Constructed Objects On The Lunar Surface Exposed' (Skip to 8.12 minutes to see the image of the installation featured above)
We must also remember that we cannot see large parts of The Moon – the dark side. The Moon is also extremely likely to be hollow. As well as this, our view of The Moon does change – so some locations may sometimes be in slightly different places: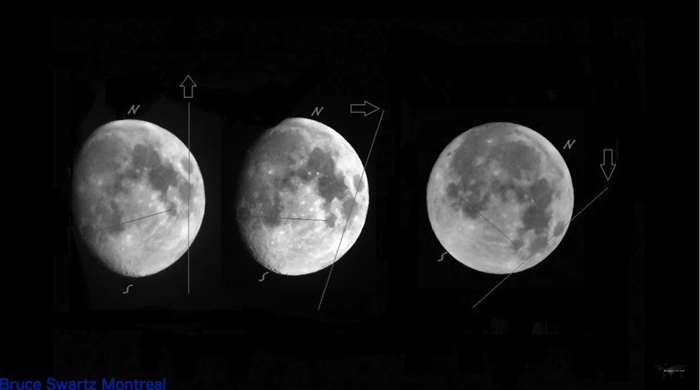 By the way, 'Bruce Sees All' says that all the structures and craft are built by aliens. Many people believe this.
The propaganda, fake whistle-blowers, controlled agents and misdirection in subversive Ufology (controlled by networks of agents) has worked on most people.
The vast majority of these popular YouTube UFO channels are run by controlled opposition agents. Some may have a powerful telescope, or access to lots of the general public's footage – and are promoted in the algorithms, so they have lost of followers… but you should be aware that they are extremely likely to be subversives, with some misdirection for you.
---
Plans to Nuke the Moon (1959)
(Edit: I have since studied the electric nature of our universe, so I know 'nuclear' weapons don't exist. But they certainly wanted to explode a very destructive bomb on The Moon.)
This was actually a plan by both the United States and the Soviet Union. Both had the same plan around the same time in 1959. Though we have a lot more information about the United States plan, as there was a freedom of information request made.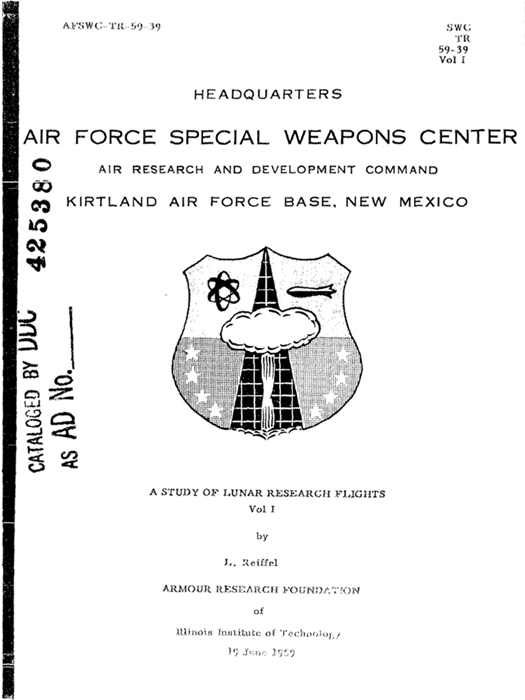 Yes, this is absolutely true. They wanted to nuke The Moon. The closest celestial body to us. The Moon that has such an affect on our planet – on the animals, insects, birds, tides, plants, agriculture… and humans… all sorts of cycles that occur in Nature on our planet are effected by The Moon – it even gives us light at night. They wanted to nuke it!
This insane and illogical plan was said to be for research purposes, and another supposed reason for it was also apparently to intimidate the other side in the supposed 'cold war'. The main pretence throughout though was that the plan was for an assessment of the geology, and to learn more about the composition of The Moon. To be done in the name of scientific research. Anyone who believes these reasons is completely brainwashed and has lost all ability to think critically.
This abandoned project only came to light by accident through some research by an author who was writing a book on Carl Sagan's life. From some information that he discovered, about a project Sagan was a part of, a freedom of information request was made and a document was released showing this insane plan. Their absolutely illogical and nonsensical plan.
Well, in Truth, it is only illogical and does not make sense unless if you do not factor in that the targets were almost certainly the German Breakaway Group who are on The Moon.
Some may say, 'Well, they may be trying to destroy aliens on there'. Why? Had aliens recently been at war with the United States and Soviet Union, or at any time – have they caused them any harm? Is there a another group these two Nations were attacking not long ago? If you read my other articles on Ufology you will see it is almost certainly the Germans on the Moon that these two super powers wanted to destroy.
What does this tell us? One, it tells us that there is definitely something or someone on the Moon (((they))) want to destroy – both the United States and the Soviet Union. It very much looks like that 14 years after WW2 these two were still trying to destroy the National Socialist Germans. Did WW2 ever end? Only the Wehrmacht surrendered, as far as I am aware.
Do people really think that it was a coincidence that both the United States and Soviet Union had the same plans at the same time? It shows you that they communicate and work together. They are both obviously controlled by The Banking Cartels / International Jewry.
It also tells us that the United States and Soviets had no real plans to colonise the Moon – you certainly would not plan to detonate a nuclear bomb on somewhere you planned to colonise. They very clearly knew they had no chance of getting on there with whoever was on there. It was a group who they saw as an enemy, a group they could not negotiate with or form any alliances with.
This also very strongly suggest that the people at the very top of the United States and Soviet Union knew the Germans were on there before the attempt at landing on The Moon in 1969. Though there would have obviously been much compartmentalisation, and only those at the top of the pyramid knew who they might come across on there. This was probably why those involved in the Apollo landing attempt had codewords given to them to use if they saw UFOs.
A video overview of this 'Nuke the Moon' plan:
If you factor in that the World Powers knew since the end of WW2 – well, at least after Admiral Byrd's failed 'Operation High Jump' 'expedition' in Antarctica in 1946/1947 – that there was an advanced, technologically superior, German Breakaway Group then the world, and especially the geopolitics, will make much more sense. After this failed 'expedition' The World Powers had to deal with not being able to get anywhere near the numerous elusive advanced craft flying around their airspace – and the United States had to deal with some mass flyovers of German UFOs, in formation, over their nation.
Eventually, using expensive telescopes, or perhaps a satellite the Germans allowed them to get into orbit, they could see that the Germans had developed settlements on The Moon. Amateur astronomers with their telescopes in their backyards are seeing cities, settlements and craft – imagine what the United States government could see from the enormous telescopes in their observatories, even back in the mid to late fifties. They obviously saw something that they did not like as they wanted to nuke The Moon! When United States attempted to land on The Moon in 1969, after abandoning their 'nuke the moon' plan, they then saw how the German technological advantage had increased even further, when they were greeted by their huge craft, and warned off.
If The Moon is occupied by the Germans, then just like with any unoccupied / unclaimed land, they landed there and claimed it legitimately. The land is owned by them. So when nations on Earth send their craft up, and attempt to land there, they are essentially invading another groups territory.
When President Reagan spoke of 'aliens' and a threat from outside bringing the world together in that fairly famous speech, he was really talking about the German Breakaway Group. The United States formally set up a mutual defence alliance with the Soviets.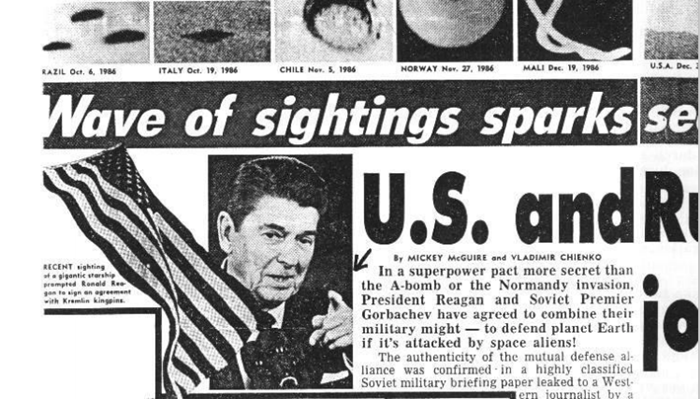 "In a superpower pact more secret than the A-bomb or the Normandy invasion, President Reagan and Soviet Premier Gorbachev have agreed to combine their military might – to defend planet Earth if it's attacked by space aliens."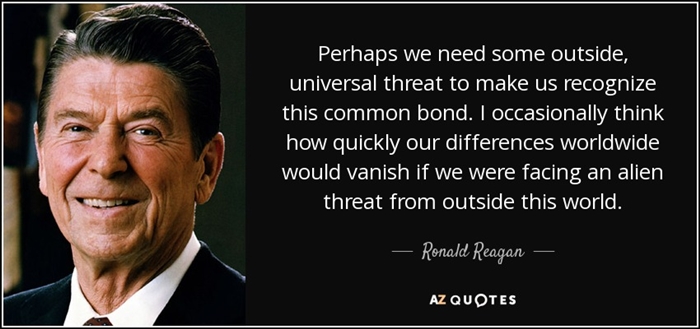 ---
Admiral Byrd's Testimony:
The evidence that a base was established in Antarctica by the National Socialist Germans is very strong when you read the correct books on the subject. For example: UFO: Nazi Secret Weapon, by Ernst Zundel… German Flying Disks and Submarines Monitor the Oceans 1 & 2, by O Bergmann… Secret Miracle Weapons, by D H Haarmaan…. The Third Power, by Gilbert Sternhoff . (Links to the books at the end of the article) The documents, reports and testimonies are all there in those books. We can also see from the Allied Forces reactions, and actions, that a base was established there. There is no doubt from Admiral Byrd's testimony that he was scared. The convoy left the region very quickly – suggesting that the German's were way too advanced for them. What is the next logical step for an advanced group on Earth? Exploring and colonising The Moon is the next step.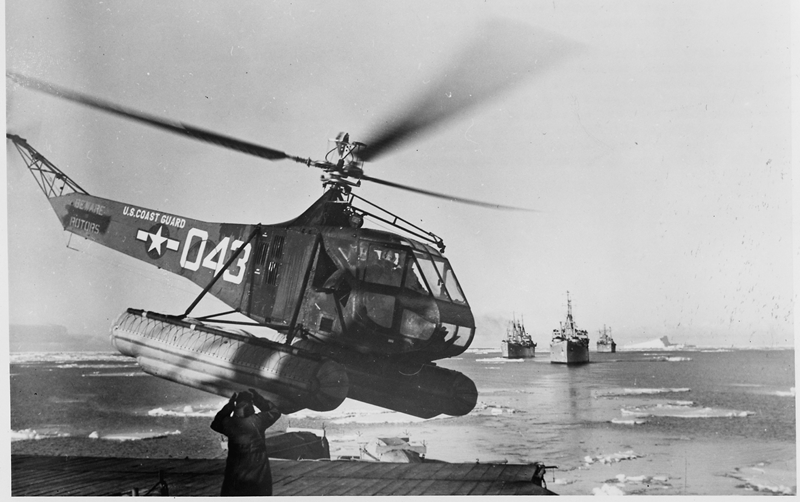 Operation Highjump Background:
From 'UFO: Nazi Secret Weapon?' pages 98 – 99:
Washington, Moscow and London then decided to really "get into the act"; in fact, eight countries in total decided to do some "scientific" work and in Antarctica, of all places!! A large expedition, lavishly financed was quickly put together. It consisted of over 4,000 specially selected elite U.S. navy troops along with an eight month food supply. Thirteen ships under the overall command of Admiral Byrd made up this purely "scientific" expedition, composed mostly of military-types and very few scientists.
The U.S. Antarctic battle fleet left Norfolk, Va. on Dec. 2, 1946 — three distinct battle groups, comprised of the Mount Olympus, Admiral Byrd's command ship, the ice-breaker, "Northwind", the catapult ship "Pine Island", the destroyer "Brownsen", the aircraft-carrier "Philippines Sea", the U.S. submarine "Sennet" and the two support vessels, "Yankee" and "Merrick", as well as the two tankers "Canisted" and "Capacan", an additional floatplane carrying ship, "Currituck" and the destroyer "Henderson".
At the same time it was announced officially that a similar English-Norwegian force was operating in a support capacity in Antarctic waters around Bahia Marguerite. A Soviet contingent was also reported to be participating in the "research".
The general public was told that the "RESEARCH" mission was interested in locating uranium and studying the weather.
However, it was soon learned that as well as the scientific jobs, the mission had the task of "observing the activities of a foreign power in the South Pole Region". Questioned further on this part of the expedition's activities, Adm. Byrd reportedly replied "To break the last desperate resistance of Adolf Hitler, in case we find him in his Neuberchtesgaden inside "New Schwabenland" in the Queen Maud Land region, or to destroy him".
What Admiral Byrd said after his failed Operation Highjump 'expedition' to Antarctica: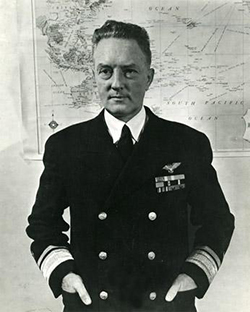 From Ernst Zundel's book 'UFO: Nazi Secret Weapon?' pages 98 – 99
"It has been reported by papers and sources previously mentioned here, that Admiral Byrd had located the Secret Nazi Base and was approaching it when the above incident took place causing abandonment of the flight, but not before he is reported to have dropped an American flag (some reports mention a bomb) on the approximate spot of the base. Undoubtedly this was done to warn Hitler he was not entirely safe even in his "New Berchtesgaden" or, as one writer calls it, Hitler's Shang-ri-la.
Vengeance was apparently swift and it seems the Fuhrer was not to be humoured. Within 48 hours, four of Byrd's planes had been lost, some without a trace and others without any survivors. (See crash sites marked on map). Adm. Byrd hastily abandoned all his efforts and disembarked, with all his force, for home.
On board his flagship "Olympus" he gave the following startling interview, translated from the Spanish as it was reported in the paper El Mercurio, Santiago, Chile on March 5, 1947. It appeared on the front page under the headline "On Board the Mount Olympus on the High Seas". Apparently Adm. Byrd granted an interview to Lee van Atta. "Adm. Byrd declared today that it was imperative for the United States to initiate immediate defence measures against hostile regions. The Admiral further stated that he didn't want to frighten anyone unduly but that it was a bitter reality that in case of a new war the continental United States would be attacked by flying objects which could fly from pole to pole at incredible speeds. (Earlier he had recommended defence bases at the North Pole). Admiral Byrd repeated the above points of view, resulting from his personal knowledge gathered both at the north and south poles, before a news conference held for International News Service".
During this press conference the Admiral also stated that in a quickly shrinking world the United States could no longer derive any sense of security from its isolation or on the geographic distance of the poles or oceans. The Admiral affirmed once again his belief that the entire Antarctic continent should be closely watched and surrounded by a "wall of defence installations, since it represented the last line of defence for AMERICA". (These defence measures have since been taken).
Admiral Byrd further stated that no one could give a more accurate accounting of the true significance of the situation than he could, since he had had occasion to employ the latest scientific developments and from what he had learned he could make comparisons. (Meaning he had encountered the effect of the secret weapons?)
When Admiral Byrd had arrived in the United States and the significance of his findings had found their way into the press, he was hospitalized. No hard information was ever unearthed but it seems his frank statements to the press in South America and on board the Olympus were not appreciated by the powers that be in Washington. Was he thus the first victim of a long string of prominent people "removed from circulation" for their honest belief in Unidentified Flying Objects, flying at incredible speeds from pole to pole? (And specifically because he knew who they belonged to)
---
A Professors Testimony – Ernst Zundel Book Extract –
Another interesting extract from Ernst Zundel's book 'UFOs: Nazi Secret Weapon?'
"The American astronomer, Prof. Dr. James Greenacre and four of his colleagues made an astounding observation from Flagstaff, Ariz. Observatory and reported it to a Conference on "Moon Problems" in New York City in May of 1964. Because of the UFO cover-up policy still in force by the U.S. government, Prof. Dr. Greenacre was only able to give his report verbally to colleagues who were present at the Conference. Here is roughly what he said "On 29th Oct. 1963 we observed several colourful spots on the Moon, the spots moved in formation across the motionless face of the moon. One month later Prof. Dr. Greenacre observed the same phenomena. The May 1966 issue of "UFO Nachrichten" Vol. 117 reproduced what Dr. Greenacre had stated he had observed . . . "Prof. Dr. Greenacre saw on or close to the moon at least 31 space craft of gigantic size. Some were from 300 metre to 4.8 kilometres long. They were in motion while being observed through the telescopes. Also, clearly discernible were numerous smaller craft approximately 150 metres in diameter, which moved past or alongside the huge craft, the "mother craft" occasionally changing colour, as in the often-reported, pulsating style." (The distance from the earth to the moon is 384,000 kilometres). End of report.
The American Professor thought at first the Russians might have beaten the Americans to the punch but as it turns out, the workers' paradise has not managed to land even a man on the moon — last report was that they were seen improving the brand barbed wire used in their more than 1,000 slave labour and death camps on earth, not on the moon. So, who is out there in the wild blue yonder? Prof. Dr. Phillips of Berlin, Hitler's wartime comrade claims he knows! He even sent the author of this book some charts and times tables of his flights. They match!!" – Ernst Zundel – UFOs: Nazi Secret Weapon?
Note: Of course The Moon is not actually 384,000 kilometres from Earth. It is a great deal closer than that. NASA, and related organisations, lie to us about how far away The Moon is.
---
Failures at getting to Mars and The Moon
It is of course very significant that we have not had any official successful attempts to land any humans on The Moon since Aldrin's and Armstrong's. The Moon is not that far away. It is not difficult to get there. Not one nation on Earth has managed to get any humans onto The Moon, because, of course, Aldrin and Armstrong did not get on there either.
(Except for the Germans, of course, who very likely got there in the 1940's)
The numerous failures of various missions to go to the Moon and Mars are also significant.
Apparently NASA's fact sheet states that more than 40 per cent of missions to Moon have failed so far in the last 60 years. But we know NASA lies for a living – it is what they do. So I should imagine the numbers of failures are higher than this.
And remember, a successful mission for them is either getting a small satellite to orbit at a distance for a period of time to take some photos, or getting a little stationary lander or small very slow moving rover on a remote area of The Moons surface. Not very impressive at all!
"Out of 109 lunar missions till date, 61 have succeeded while 48 have failed."
Can we believe much of what is said about these missions? Where are these rovers and small landers really?
The Soviets had a lot of trouble and suppressed information about their numerous failures.
"… the Soviets were virtually unable to get a probe to Mars or keep it there. The Russian space agency longed to be first, whether to Mars, Venus, or the Moon. But it quashed knowledge of the failures, many not coming to light until much later." – Source – article below.
Some articles discussing and highlighting some of the numerous failures from various nations: https://www.geektown.co.uk/2010/06/11/apollo-13-and-other-famous-failed-space-missions/ – https://www.popularmechanics.com/space/moon-mars/a17407/mars-mission-failures/ – https://www.opindia.com/2019/09/moon-missions-in-60-years-the-success-stories-and-many-many-failures/ – https://www.realclearhistory.com/articles/2019/03/08/10_worst_space_disasters_in_history_420.html#!
Is there a force interfering and stopping any real exploration of The Moon or Mars? Sabotaging some from a distance and strategically allowing some through. Reinhold Schmidt's testimony suggests there is.
(Schmidt was treated really terribly by the authorities. His testimony is probably the most credible UFO contact testimony that exists.)
---
Reinhold Schmidt on Satellites – The Kearney Incident: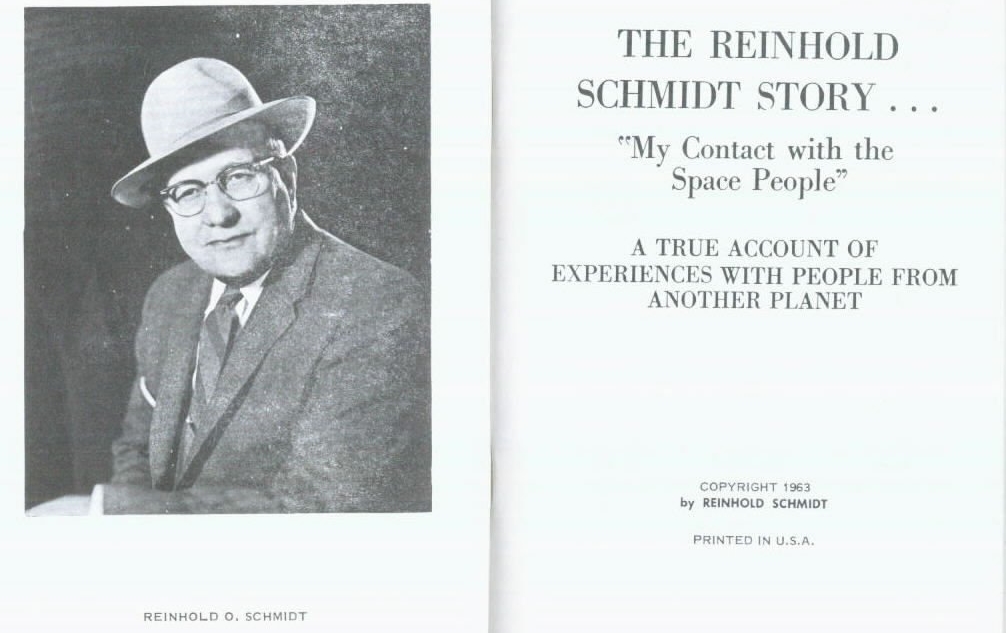 In Schmidt's testimony of his contact with a German speaking UFO crew in 1957 there is a clear suggestion that the German Breakaway Group are monitoring all that happens on Earth, especially regarding the Earth's 'superpowers' attempts at space exploration. It also suggests they are having some influence on what happens. When talking about his conversation with one of the crew Schmidt relayed that:
"He also asked me if I knew anything about the U.S satellite program. I said I did not. Then he said, "Yes, they're planning to send some up, but the first two will never leave the ground and the third one will go up, but won't send back much data. "
This prophecy has since proved itself.
They all spoke to me in the English language with what seemed to me to be a German accent. Among themselves they talked high German which I could understand as I graduated from a school where they spoke and taught German as well as English, and I was able to speak, read and write German at that time. I can still understand it and speak it fairly well.
After being inside the ship about 30 minutes, one man said to the other, Wir sind fertig. Translated, this means, 'We are finished'. So the leader told me, "You will have to leave now." I was glad to hear this, for I wondered if I would ever get off that ship again."
---
Concluding Thoughts:
It is not, 'Is there anyone on The Moon?' But, 'Who is on The Moon?' And everything points towards it being the Germans. If the flying saucers and cigar-shaped craft in our waters and sky belong to the Germans, then who are going to own the flying saucers and cigar-shaped craft flying around The Moon? It is obvious that after establishing themselves in Antarctica the next step for the German Breakaway Group was to go to The Moon.
---
Additional Videos:
Cigar shaped – Tic Tac UFO – 1.45 mins in:
Another cigar shaped craft' UFO Cigar Shape Crosses Moon' . At the 24 second mark a cigar shaped UFO crosses in front of the very top of The Moon): :
071 Moon Musings – Slow movers all over the moon tonight! Or Bugs?':
Another from 'Bruce Sees All' – 'Live UFO Activity Under The Clouds On The Lunar Surface' (some good close up footage at at 3.09):

Video below – watch the left side of The Moon closely at 1.32 mins and 1.57 mins:

An image take of one area in Sinus Iridum – it looks like some sort of wild vegetation.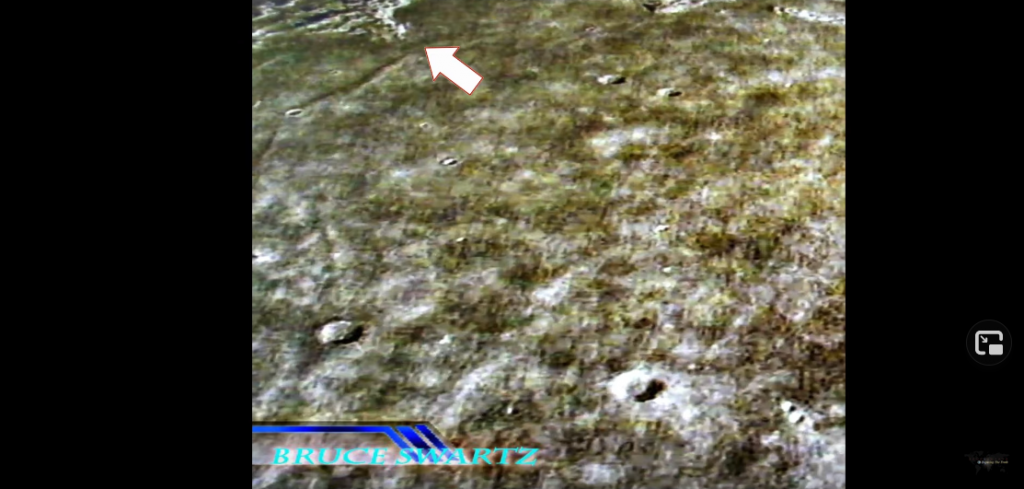 ---
Additional Reading – Book Links:
UFO: Nazi Secret Weapon?, by Ernst Zundel – https://archive.org/details/UFOsNaziSecretWeapon1974/mode/2up
German Flying Disks and Submarines Monitor the Oceans (Deutsche Flugscheiben und U-Boote überwachen die Weltmeere) – Book 1 and Book 2 – by O Bergmann https://archive.org/details/BergmannO.DeutscheFlugscheibenUndUBooteUeberwachenDieWeltmeere11988101S.– https://archive.org/details/BergmannO.DeutscheFlugscheibenUndUBooteUeberwachenDieWeltmeere21989104S./mode/2up
(If you download the version 'PDF with TEXT' of O Bergmann's books then you can also copy and paste the text in the embedded articles, which is incredibly useful when using a translate app.)
Secret Miracle Weapons (Geheime Wunderwaffen), by D H Haarmaan- https://archive.org/details/Haarmann-D-H-Geheime-Wunderwaffen-1– https://archive.org/details/Haarmann-D-H-Geheime-Wunderwaffen-2 – https://archive.org/details/Haarmann-D-H-Geheime-Wunderwaffen-3-Text
The Third Power (Die Dritte Macht), by Gilbert Sternhoff – https://archive.org/details/DieDritteMacht
The German Weapons and Secret Weapons of the Second World War and their Further Development (Die deutschen Waffen und Geheimwaffen des Zweiten Weltkrieges und ihre Weiterenwicklung), by Rudolf Lusar) – https://archive.org/details/lusar-rudolf-die-deutschen-waffen-und-geheimwaff/mode/2up
The cover art for these books:


End.
---