Censorship – Hasbara Trolls – Sayanim – Zionism – Ufology – Fake Terrorism – Holocaust
Introduction:
"To learn who rules over you, simply find out who you are not allowed to criticize." – Voltaire
When you become very awake, when you're getting to the bottom of the rabbit hole… you will know it – as if you are actively sharing Truths online you will nearly always come across some censorship – and you will come across Hasbara Trolls on the internet and you will see through the Sayanim agents… all are working for Israel.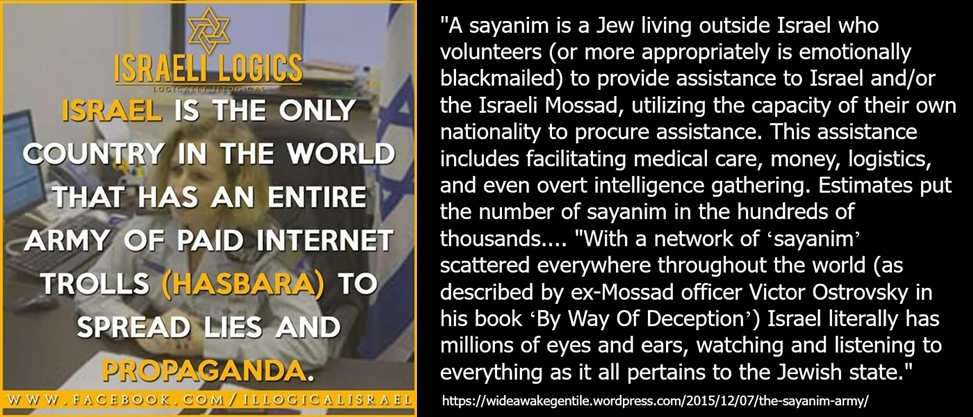 Some people will not know the depths of the global Jewish Zionist conspiracy – how hard they work at attempting to bring about their New World Order / One World (jewish) Government – their global domination over all non-jews. But I have first hand experience of how far they are going – how organised they are.
It is often said that the Jewish Agenda for World Domination is the only real problem facing the world, all other problems are symptoms of this…
I have been posting on the internet for a long time, on various platforms and websites, about many different controversial and fringe subjects, and I will tell you the subjects I have got censored for:
– Exposing the nefarious Jewish Supremacist and Zionist activities and agendas.
– Exposing what really terrible things Judaism's 'religious' books say about Non-Jews (Goyim).
– Exposing all the phony fake hoax terrorism set up by the Jewish Zionists and Freemasons.
– Telling the real Truth about WW2, exposing the Holohoax, and how Hitler was right, and how the Zionist controlled allies were the instigators and aggressors.
– Exposing the Zionist controlled Allied Forces war crimes against the German people (e.g the Rhine Meadows Death Camps and the Dresden Firebombings)
– Exposing Israel's numerous crimes and agendas.
(I have not been censored for anything else – only these things)
I actually had both my pinterest accounts deleted by 'them' about six months ago. Tonnes of information on them, plenty of followers and they deleted them. First they deleted my board on Zionism – then my board on Hitler WW2 and holocaust Truth… then it was boards on The Karlergi Plan, and jewish run Freemasonry… and then they just deleted both my accounts. The boards and pages just had too much truth on them – I had collected such a lot of information – it was too good, exposed them too much – so they shut it down. Just like that… gone. They also blocked my website from interacting with pinterest – they made it impossible for anyone to pin anything from my website. Jews own all these major social media platforms.
I also had this jewish guy start writing all these obscene and very aggressive messages under my pins… incessantly – I just deleted his comments and then blocked him. But it was an eye opener for me at the time – as this guy was nuts… so aggressive, threatening and puerile… and another Zionist started writing lots of comments as well, a few weeks after this one… And as I said in the end 'they' just shut my accounts down.
Different social media platforms do seem to have different levels of censorship… and platforms like Facebook, Twitter and Youtube are some of the worst for censorship – all jewish owned.
You will face Hasbara Trolls or Sayanim Agents when you get far down the rabbit hole – when you really become woke.
Hasbara Trolls are all over socials media and using a variety of tactics on them, sowing seeds of doubt, putting out disinfo, personal attacks, causing arguments on purpose etc…
When I started exposing Zionism / Jewish Supremacy, and sharing Hitler and WW2 Truth on my own website, I started getting contacted by a lot more people, just random people would email me, when this first started I didn't realize what was happening… I had had people contact me occasionally before – but it was sporadic and mainly related to the artwork I have displayed on my website. But when I started posting articles about Zionism and Hitler truth…. that's when lots of internet Hasbara Trolls working for Israel contacted me.
How these Hasbara Trolls / Agents work when they contact you via your website:
First they give you a compliment about your website, then they agree with something on your website… then they try to put doubt in your mind about some key points you have made in some of your articles. It is like these agents have a formula they are supposed to use: general praise, then specific agreement on something – then trying to sow some seeds of doubt in your mind. Some try different tactics… some try to befriend you, in the hope that they can then eventually sow some seeds of doubt. Some just try to distract you and get you interested in some other areas… with me they tried to show me articles on some New Age rubbish (as I also have some information about meditation, ET abductions and metaphysics on my website). I see right through these Hasbara Trolls. I have had quite a lot of them – it shows you they are monitoring websites and how many of them are out there.
I also exposed a Sayanim agent who traced back to Israel – she was pretending to have ET experiences and pretending she was doing 'Channeling' – saying some ridiculous things. She was very aggressive and threatening when she found out I knew she was an agent – her name is very rare so I easily found out that all her family came from Israel – she pretends to be all lovely on her youtube channel… but expose them and you will see their true colours.
Ufology – A Controlled Opposition Limited Hangout
I will tell that almost the whole of Ufology is controlled by Jewish or Zionist Sayanim Agents – and they have Hasbara Trolls backing them up with comments on their YouTube channels, the Hasbara Trolls have multiple accounts. Because of my ET abductions I researched this area heavily for quite some time – and it is totally controlled. The 'Secret Space Program' narrative, Milabs, all the recent ET testimonies – pretty much all of them are disinfo agents (there are some old ET abduction testimonies that I feel are genuine, there are going to be some genuine ones, but they are lost in a sea of disinfo). And all the major ufology personalities are totally controlled and just full of disinfo – and you wouldn't believe the amount of political, geopolitical and historical disinfo they spout in the ufology 'community'… and sometimes the lies they make up are just plain ridiculous and embarrassing…
I have a high I.Q – and I am very conscious… I see patterns and correlations and my memory is excellent – I see all the anomalies and inconsistencies in their testimonies. There are groups of them all backing each other up, promoting each other on their channels and blogs. I don't even listen to them anymore – it's networks of agents – it seems to be pretty much all agents, Sayanim and Hasbara Trolls backing them.
Ufology is being used as huge distraction and a huge limited hangout – catching people like a net and distracting them so that they don't go to the bottom of the rabbit hole and become a Real Truther.
Regardless of this, you are not going to transform this planet by sharing ET stories! The only way to get any disclosure about what is really happening in our solar system and our galaxy, and answers as to why the general population is cut off from it all – is to take the power away from these Jewish Supremacists and Zionist Bankers. And it seems the key to all this is getting rid of their power base – their insane and immoral debt slavery powerbase – and as well as this, to stop our countries being dictated to by Israel and carrying out their agendas for them.
ZOGs: A 'ZOG' is a Zionist Occupied Government… there are a great many of them. We must come up with alternative systems and implement it in our countries and take their power away.
YouTube Censorship
So many people I followed on YouTube are being censored: Hitler Truth videos, Holocaust Truth videos… you can only watch many of these videos in certain countries – it's the same with videos exposing Zionism and Jewish Supremacy – censored in certain countries — or sometimes completely taken down. Hasbara Trolls will often repeatedly report and flag these videos, bringing them to the attention of the YouTube censorship team and therefore helping to get them censored. Some people are getting strikes left right and centre – some have to create backup channels or start new channels.
The greatest level of censorship I have seen occur – and still occurs – is when people expose the fake hoax terrorism events, all the crisis actors, CGI, illogical logistics… etc – If you prove it was a hoax, then nine times out of ten they are going to take that video down and give you a strike. These events are of course set up by the Jewish supremacists / Zionists / Freemasons – their gematria is coded into it. And many of the crisis actors will be Sayanim.
There was a community of people on YouTube brilliantly exposing all the fake terror events – suddenly Jewish owned and controlled YouTube seemed to decide that too many people were working out that these terror events were fake – so within the space of about a month about 15 people who I was following had their channels terminated. One person I still follow is on his 15th YouTube channel, as they keep giving him strikes and terminating his channel – why? Because he is excellent at highlighting how these terror events are fake – he simply questions them and shows the anomalies and fakery in the footage. He is a calm mild mannered guy – but he is good at exposing these 'events'. It shows you clearly, and confirms, that myself and this community of people are correct – they are faking these terror events, otherwise they wouldn't take them down.
Maybe what we need is tech and internet savvy non-jews to create some good quality video sharing platforms like YouTube and other social media platforms that allow free speech – I know there are alternative video sharing sites out there – but they use some censorship as well and will be mostly Jewish owned.
153 news.net was set up recently, started by people who were fed up at being shut down by youtube for exposing the fake terrorism – some good fake hoax terrorism videos on there… have posted some on there myself… but who knows how that site will evolve?
Illegal to question the Holocaust
Who rules over us is very clearly demonstrated by the fact that it is illegal to question the holocaust in many countries: Austria, Belgium, the Czech Republic, France, Germany, Hungary, Israel, Liechtenstein, Latvia, Lithuania, Luxembourg, Poland, Portugal, Romania and Switzerland – and Russian President Vladimir Putin signed for a law making Holocaust denial illegal in Russia as well.
This is outrageous when you think about it — why is it illegal to question a so called historical event?!
'The Truth Does Not Fear Investigation!'
The only reason it would be illegal question the validity, or the official story, of something is if the official story doesn't hold up to investigation. You would only have these laws if you were hiding something.
Can you think of any other historical event where it's illegal to question it, and where many people have been put in jail for it? Just for questioning the official story of a historical event! It is clear the huge influence the Jewish Zionists have on our planet if they can make it illegal in so many countries.
Concluding Thoughts
So this quote is brilliant:
"To learn who rules over you, simply find out who you are not allowed to criticize."
Who are you not allowed to criticise? Who rules over us?
The Jews / Israel / Zionists. It is the only conclusion that you can come to.
Sometimes when you expose them too much you may well get contacted or trolled by a manipulative Hasbara Troll – we must be wise to their ways… and we most certainly can't let that stop us from spreading Truth… never stop… people need to get as organised and motivated as they are.
End.
Related Articles:
Zionism – Judaism – Freemasonry – New World Order – Satanism – Kabbalah – Israel – Palestine – Holocaust – Hitler – Second World War – National Socialism
'Spirituality' and 'New Age' psyops and deceptions – false philosophies and pacifying modes of thinking. The New Age Movement is mind control – that is run by the Zionists
False Flags – Fake Shootings – Fake Terrorism – Psyops, Hoaxes – Zionists, Freemasons, Secret Societies – Politics
Half Truthers, Controlled Opposition, Limited Hangouts, Shills – How to spot them. What aren't they telling you?
Harold Wallace Rosenthal and The Protocols of the Learned Elders of Zion – The Dangers Humanity Faces – Zionism – New World Order