'Meteors' / Fireballs – Saved by UFOs. What is happening in our skies? A secret battle in our atmosphere? – Ufology Explained, Part 5
Sections:
Blue / Green Fireballs – Chelyabinsk, Russia and Gloucestershire, England case studies
Slow Falling Objects Trailing Fire and Smoke
UFOs at the Fireball Explosions
Additional Information, Images and Videos (more testimony – hypersonic missiles and unmanned jets – embedded fireball and debris videos)
Update 1 – Update 2 – Update 3 – (April 18th, 2021): Some more events, images and information. UFOs seen near falling flaming / smoking objects. Update 4 (April 29th, 2021): Blue glow = radioactive / irradiated air. Update 5 (May 24th, 2021) – The 'Starlink Satellite' Hoax. Update 6 (May 24th, 2021) – More UFOs near disintegrating fireballs.
Introduction:
This topic came to my attention after seeing videos of two recent events in our skies. One was of a very bright, fast moving, fireball above England, seen by many people in various counties – and the second was a video of something slowly falling in the West Virginia sky in the United Sates – it was on fire, and leaving a trail of fire and smoke.
I investigated this topic of fireballs, and large objects falling from the sky that were on fire, and was amazed at what I found. The implications are hugely significant.
My findings relate to my Ufology Explained articles, and support some of my conclusions and assertions made in them.
It is important to note that there are two different types of events: The slow moving object with fire trailing from it and the blue or green fireballs that explode before they hit the Earth. The objects falling from the sky leaving a trial of fire are significantly different from the glowing blue or green fireballs that have been appearing in our skies.
I researched and found 35 incidents of these flaming objects falling from the sky – which sometimes leave a smoky trail (videos, photographs and testimonies). All in different locations – note, San Antonio has two separate incidents and Florida has four. They all occurred between 2008 – 2021.
A selection of images of these slowly falling, smoking and flaming, objects… there are more images later on in the article, in one of these other images, presented in a later section (from Peru), you seem to be able to clearly see the silhouette of a craft in the flames:



There was also one incident of three fireballs descending, side by side, at a faster speed, but that one was not included, but was surely related.
I found 72 instances of blue / green fireballs which then exploded and disintegrated just above the Earth. The first appears to be in 2009, and then there was a significant occurrence in 2013. In the last 15 months there has been a big increase in incidents. It is important to note that some of these events are recorded from a variety of people from different angles – some of the footage shows a green fireball and some shows blue. Sometimes the fireball is blue or green and the explosion causes a very bright white or yellow flash. All these fireballs are almost identical in shape. They often seem to be a round glow with a very short trail. All seem similar in size and have an almost identical explosion / flash when it disintegrates / vaporises… however some explosions seem to be brighter than others and some explosion / flashes are more orange, some more white, and some more blue – but all very similar. It is important to note that load sonic booms always accompany the explosions and tremors are often reported.
A selection of images from the Blue / Green fireball footage… more later on in the article:






Important note: 71 percent of the Earth's surface is water – 29 percent is land – much of that 29 percent is desert and wilderness. I have also seen the statistic that says half the planet's population lives on just 1% of its land. It is difficult to get any real verifiable statistics on human coverage on Earth. But overall, we get a very skewed view of our planet, as so many people live in dense cities and towns surrounded by other people – and particularly as the media's portrayal of Earth and it's population has various agendas. Our planet is big and largely uninhabited. So these events mentioned in this post are the ones that happened over areas inhabited by humans, and areas where humans had mobile phones or cameras to record or photograph the events. There are no organisations filming these events for us – they are coming from footage recorded by member's of the public.
Very interestingly 33 of these blue / green / yellow fireball events were in 2020 – and 22 were in the first 3 months of 2021.
55 out of 72 fireballs occurred in the last 15 months.
My searches were using English phrases, such as: 'meteor', 'fireball', 'fireball lights up the sky', 'meteor falling from the sky' 'object falling from the sky'… as well as a few other similar variations using these same words. I did searches on google and duckduckgo, where I found some articles – but the easiest place to search for them is on YouTube – this is where I found most of the blue /green fireball instances…. though with the trailing fiery objects falling from the sky I found half of the images from web articles. If you search for these phrases in different languages I am sure you will find more of these events. This is certainly not some sort of definite list below, there will certainly be more incidents.
In some of these mainstream media reports we get so called experts saying that witnessing one of these events was extremely rare – and how privileged you are etc… I would suggest they are not actually that rare.
(More images, as well as embedded videos, appear later on in the article)
The data I collected from my searches:
Trailing fire or smoke from a large falling object:
2008 – Winnipeg.
2011 – England. Peru.
2012 – Texas. Arkansas. Australia. Peru. Idaho. New Zealand.
2014 – England.
2015 – Sweden. Arizona.
2016 – San Antonio. Florida. England. California. Utah.
2017 – San Antonio (2nd time). British Columbia.
2018 – Florida (2nd time)
2019 – Oregon. Florida (3rd time).
2020 – New Jersey. Florida (4th time). England (Hull). England (Cambridgeshire). California. Iceland. Iowa
2021 – Russia. West Virginia. San Francisco. Brazil (Para, 18th March). Canada (18th March). Washington (25th March)
35 in total. 22 in 11 years – and then 13 in the last 15 months.
(The California, Utah and Washington events were more like debris from a destroyed craft that were traveling more horizontally through the sky, so they were slightly different, but I have included them.)
Blue or Green Fireballs:
2009 – Texas (Feb) (The earliest one I could find)
2013 — Chelyabinsk, Russia (Feb)
2015 — Thailand (Nov) – East Russia (Jan)
2016 — New England, USA (May)
2017 — Finland (Nov)
2018 — Michigan, USA (Jan) – Texas, USA (Nov) —- (7 in 6 years)
2019 — Arizona, USA (Dec) – Latvia (Sept) – Missouri, USA (Nov) Wisconsin, USA (Nov) Florida, USA (Apr) Brazil (April) – Ireland (Oct) – Australia (May) – China (Oct) —- (9)
2020 — Columbiana USA (Oct) – New Mexico, USA (Aug) – Russia (Feb) – Japan (Dec) – New York, USA (Dec) Pacific Ocean (Nov) – Arizona, USA (Feb 26th) – Arizona, USA (Feb 26th) (Note: two events on the same day in Arizona on 26th ) – Mexico (Oct) – Australia (June) – Croatia (Feb) – Yavapai Count, USA (Feb 16th) – Norway (Nov) – Lebanon (Jan) – Belgium/ Netherlands (Mar) – Spain (Feb) – Washington. USA (Mar) – China (Dec) – Japan, Sakurgima Volcano (Nov) – Norway/Sweden (Nov) – Turkey (May) – Pennsylvania, USA (Nov) – Brazil (Nov) – Rome, Italy (Nov) – Japan, Hiratsuak (Nov) – Alabama, USA (Dec) – Lake Michigan, USA (Dec) – Puerto Rico (Jan) – Florida, USA (Jan) – Italy, Loiano (Jan) – Madison Wisconson, USA (Jan) – Poland/Germany (Jan) – Cyprus (Jan) —- (33)
2021 January to March 31st — Alberta, Canada (Feb) – Vermont, USA (Mar) – Turkey, Istanbul (Feb) – England (Feb) – Queensland, Australia (Feb) – Yakutia, Russia (Mar) – Bali, Indonesia (Jan) – Texas / Illinois / Oklahoma etc – seen in 6 US states and Toronto, Canada (Feb) – Melbourne Australia (Feb) – Tokyo, Japan (Mar) Brisbane, Australia (Mar) Fano, Italy (Feb) Dorset, England (Mar) Pennsylvania, USA (Mar) Sau Paolo, Brazil (Mar, 21) Sulawesi, Indonesia (Mar) Cuba (Mar) Norway (Mar) Channel Islands, UK (Mar) California, USA (Mar) Poland (Mar) Spain (Mar) (22)
There were 5 places that experienced powerful sonic booms and strong tremors in 2021, but no fireball was sighted (sonic booms accompany these fireballs and tremors are often felt) : Spain (Jan) – Manchester, England (Jan) – North Carolina, USA (Jan) – Western Kentucky, USA (Jan) – North West Georgia, USA (Jan) —- (22 + 5 just sonic booms and tremor incidents – so perhaps 27 in total, but I have not included these sonic boom and tremors incidents in my data)
55 out of 72 fireballs occurred in the last 15 months.
The official story is that these blue / green fireballs are small meteors that get so hot they explode. There is no 'official story' for the flaming and smoking falling objects – mainstream media does not seem to cover them much.
You can get some stats about meteorites entering the Earth's atmosphere from government organisations, but you cannot trust one word they say – just like how you cannot trust NASA. I assess what is happening from the videos and photographs posted by the members of the public – this is how I get a feel for the frequency of these events.
You will be able to find information on all these incidents above – you have the place, year and the search terms I used – there is information provided on many of them below. I could continue with variations of the search terms, and use different languages etc.. but the main aim is establish that we are being lied to, and that there is something very significant occurring in our atmosphere that we are not being informed about… and I found more than enough information to prove that.
I will now look more closely at two of these fireball events that received a fair amount of mainstream media coverage, and then we will look at some testimonies regarding the objects that are on fire and slowly falling to the ground.
---
Blue / Green Fireballs Case Studies:
Chelyabinsk, Russia Feb 2013 – and Gloucestershire, England Feb 2021
If we look at both of these events and the official story, and the reports / photos they provide, we can see that the Powers That Be are covering things up – they are lying.
Chelyabinsk, 2013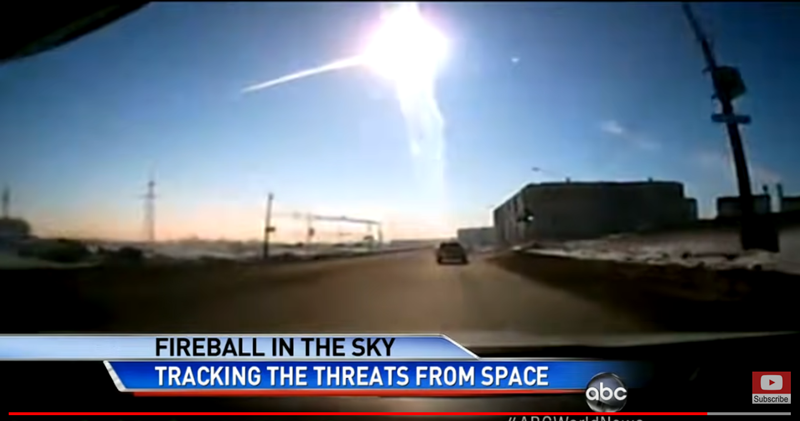 Lets start with a quotation from this article – https://astronomy.com/news/2017/12/why-do-meteoroids-explode :
"On February 15, 2013, a near-Earth asteroid with a diameter of 66 feet (20 meters) entered Earth's atmosphere travelling at around 40,000 miles per hour (60,0000 km/h). Within a few seconds, the cosmic projectile detonated 12 miles above the Chelyabinsk region of Russia, releasing as much energy as about 30 Hiroshima atomic bombs. This created a gigantic fireball — known as a superbolide — that caused shock waves to propagate outward for dozens of miles, damaging several thousand buildings and injuring 1,500 people.
Though the progenitor of the explosion had an initial mass of over 10,000 metric tons, only about 0.1 percent of that mass is believed to have reached the ground, indicating that something in the upper atmosphere not only caused the rock to explode, but also caused it to disintegrate much more than expected."
( At least this article was more truthful about how much of the 'meteor' would have reached the ground – other articles, or so called 'experts', were very disingenuous regarding that aspect )
Important quote / information: "Commercial aircraft typically fly between 31,000 and 38,000 feet — about 5.9 to 7.2 miles — high and usually reach their cruising altitudes in the first 10 minutes of a flight, according to Beckman." – https://time.com/5309905/how-high-do-planes-fly/.
Which means they are lying about the height that it detonated / exploded. We can see this for ourselves in the footage… how low it is. Other websites, such as wikipedia, say the 'meteor' exploded 18 miles high. Nearly three times higher than what commercial aircraft cruise at. Look at the image of the smoke and the explosion – does it look that high to you?
12 miles = 19.3 kilomertres or 63,360 feet. 18 miles = 28.97 kilometes or 95,040 feet
These diagrams below should help us to get a feel for the height and distance above Earth: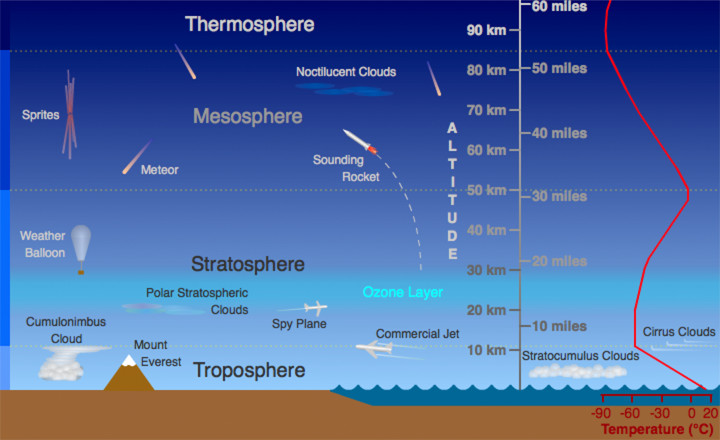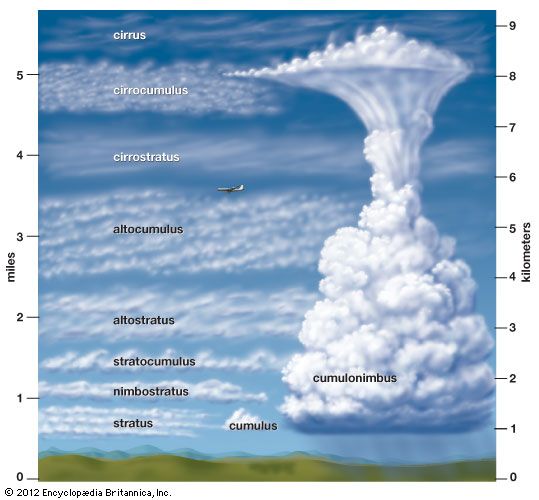 They are very clearly lying to us about the height that the Chelyabinsk 'meteor' detonated – massively lying – not even close to being that high. It was below the lowest level of clouds.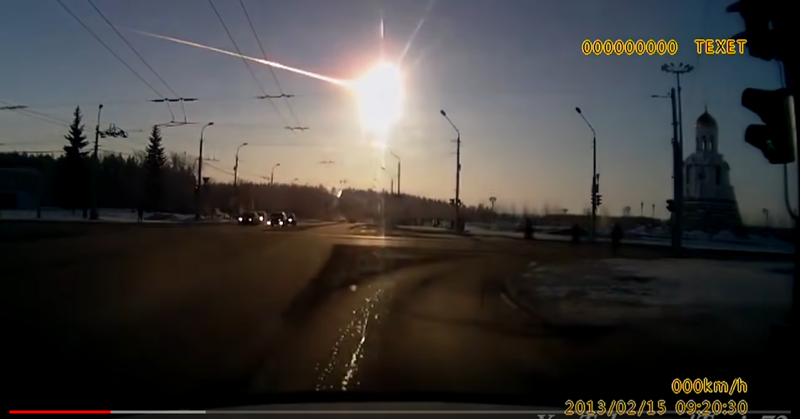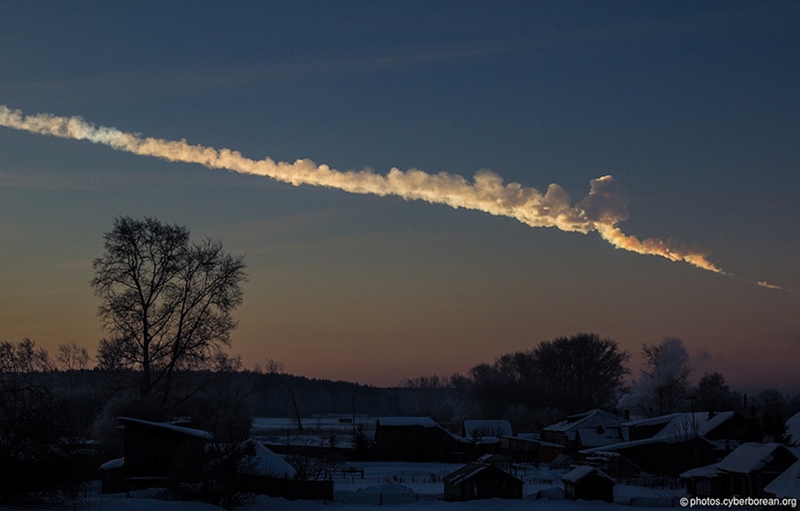 Important to note: The daytime fireballs do not look very green or blue – it is the night-time ones where we really see the blue or green colour. And in this particular event a fair amount of smoke was left after the explosion. Whereas, not as much smoke is seen at many of these more recent fireball events – but no other fireball exploded as low as is in Chelyabinsk, most appear to have exploded higher – and most others occurred at night, which perhaps means less chance of seeing any smoke.
Because of this Chelyabinsk event researchers had to try and discover ways of explaining this occurrence – mainly explaining the explosion and compete disintegration / vaporisation of whatever it was. This below is from the same article linked above:
"Today (2017), a team of researchers published a study in Meteoritics & Planetary Science that proposes a new and previously overlooked mechanism for air penetration in meteoroids, which could help explain the powerful breakup of the Chelyabinsk meteoroid.
According to the paper, as a meteoroid hurtles through Earth's atmosphere, high-pressure air in the front of the object infiltrates cracks and pores in the rock, which generates a great deal of internal pressure. This pressure is so great that it causes the object to effectively blow up from the inside out, even if the material in the meteoroid is strong enough to resist the intense external atmospheric pressures."
I am not buying that explanation – it is pure speculation and not logical to me looking at the explosions from the videos and photos.
These fireballs exploding just above Earth are not normal – but the mainstream media when reporting on these events (these events that have mainly been occurring in the last 8 years, and the vast majority were in the last year and a half) try to convince us that it is normal. I don't know about you, but growing up I was NOT taught that meteors exploded near the bottom of our atmosphere, close to the ground, as they get 'too hot'… and that they were bright green or blue. And just because something gets hot does it mean it will explode? They may melt and change form slightly perhaps, but a rock exploding with an extremely bright light, which lights up the sky and the town or city below it? This is not Hollywood, you need to have a reason for a rock exploding like that – and at the time they didn't have one, and as far as I am concerned they still don't. This is an explosion which seems to lead to a vaporisation of the supposed rock. Many meteors impacted the Earth without vaporising in ancient times, before we had the technology to monitor space surrounding Earth – there are craters left on the Earth.
There was no warning regarding this large and dangerous incoming 'meteor' – and the official reason for them not detecting this meteor was that… 'It was entering the atmosphere with the sun directly behind it – so they couldn't see it' (paraphrasing). That is a ridiculous explanation. So the only equipment monitoring space and our atmosphere was situated on the surface of Earth, directly in front of the meteors trajectory? What happened to all the numerous telescopes around the world, all the satellites, advanced cameras and the weather balloons?
It is interesting, and significant, that the Chelyabinsk event seems to be one of the first of its kind (I found one in Texas 2009 but zero between this date and Chelyabinsk) – exploding fireballs – and it was the one that caused damage, injuring roughly 1500 people and destroying buildings. After this, nothing like this sort of damage has occurred – and there have been at least 69 more since Chelyabinsk. The fireballs are now exploding a little further up in the atmosphere, and causing no damage or injuries. Though many do create tremors, shake buildings and create loud sonic booms.
If we look at the trajectory of the Chelyabinsk fireball it is moving across the sky diagonally – more horizontal than vertical.
The MSM reported that a large part of this meteor smashed into a frozen lake. We are presented with a photograph of an almost perfectly round circle in a lake – a large circle. No cracks in the ice, just an almost perfectly round cut out hole.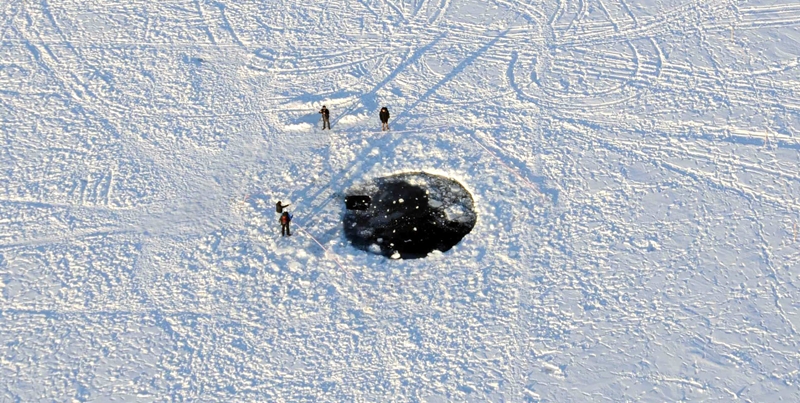 Then we are presented with images of them dragging a boulder out of the lake – which must have been a lot later, as the lake was no longer frozen when they did this. The rock is much smaller than the hole. I would say this hole is at least 20 times bigger than the rock.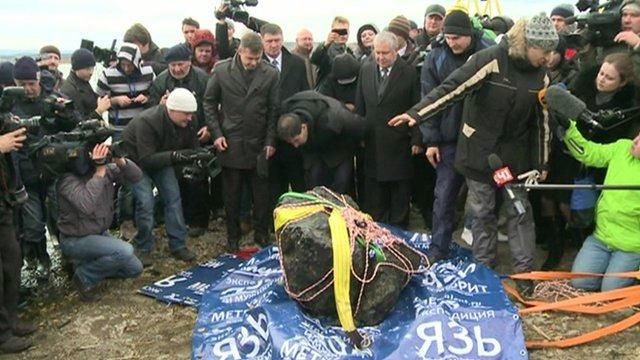 It is ridiculous to suggest that this jagged small boulder could have created this huge, almost perfectly round, circle in the ice – especially with the trajectory of the fireball. Even if this rock that they showed us somehow miraculously flew right up into the sky and then came perfectly vertically down from the sky it would not produce an almost perfectly round hole like this.
All of these fireball explosions result in disintegration, and what essentially looks like some sort of vaporisation. As the quote above says "the explosion had an initial mass of over 10,000 metric tons, only about 0.1 percent of that mass is believed to have reached the ground". I would suggest even less than that reached the ground.
If the rock was that hot when it exploded you would see a glow from all the supposed remaining pieces of rock that would carry on towards the Earth – but you see nothing. The smaller parts of the rock are not going to suddenly and instantly get cold, they will be just as hot as they were previously – so you definitely should be able to see them. This is the case for all the exploding fireballs. They explode and everything pretty much instantly fizzles out.
There are articles and videos online proposing that this object descending towards Chelyabinsk was destroyed by a UFO. That a UFO vaporised it and saved the region from far more damage. I will discuss this more in a later section and display the related images / evidence.
Gloucestershire, England 2021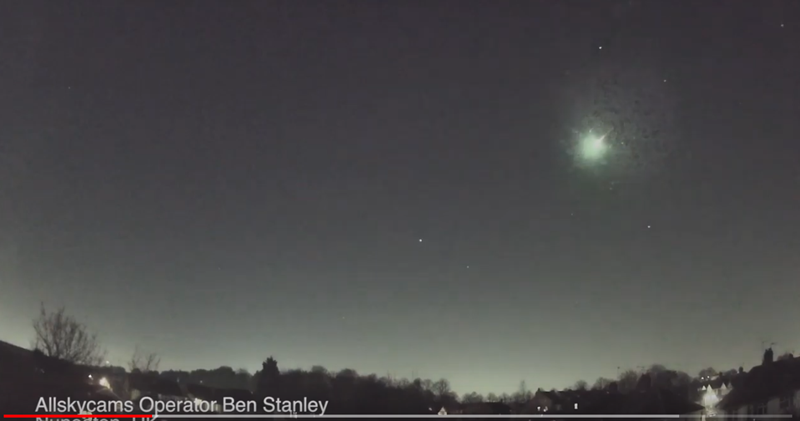 There is also plenty of the lying and misdirection regarding this event. There are always these so called 'experts' they bring out with lies and misdirection. If you have researched all the fake terrorism and fake news stories we have had over the years you will know how easy it is for them to pay people off in various organisations, and how they use paid crisis actors.
"At 9.54pm on Sunday, February 28, a meteoroid is believed to have entered Earth's atmosphere, creating a spectacular yellow-green fireball in the skies over Gloucestershire… The meteoroid appeared to fragment several times as it entered the atmosphere, and was visible for about six seconds… Though the meteor mostly vaporised during these initial seconds…" says Dr Luke Daly of the University of Glasgow and UKFAll –
https://www.imperial.ac.uk/news/216073/last-nights-recordbreaking-fireball-have-dropped/
We assume here that they are talking about where space starts, when referring to our atmosphere. Different organisations can give us slightly different measurements, but apparently the general consensus is that space starts roughly 62 miles above Earth, or about 100 kilometres. Please refer back to the diagrams embedded above if needs be.
There is no evidence of the object mostly vaporising during these initial seconds in our atmosphere. You cannot see that high with your naked eye – you would not be able to see it enter our atmosphere – and there is definitely no footage of it that high… there is also no evidence that it fragmented several times as it entered our atmosphere. The only footage of it is in the lower parts of the troposphere, and it was in the lower part of our troposphere for about 6 or 7 seconds without fragmenting and then it exploded and vaporised. Even if this so called expert was referring to 'our atmosphere' as somewhere just below the ozone layer, or somewhere in the stratosphere – where the highest clouds start – you would not be able to see the meteor there. This shows these so called experts are lying. They are attempting to down play the whole event – this object and explosion was dangerously close to Earth, and if it did not disintegrate / vaporise it could have caused death, injury and a lot of damage. Look at what happened at Chelyabinsk – and that did not hit the ground but disintegrated / vaporised in the sky… but the Powers That Be don't want people to know the dangers these fireballs pose.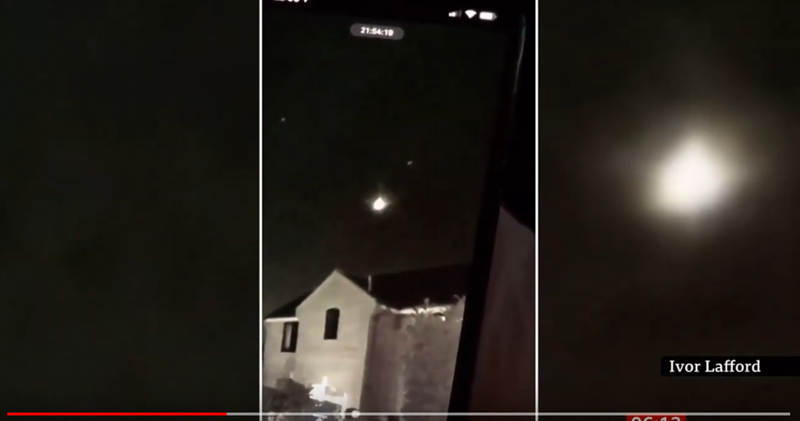 We see footage from many members of the public – almost a thousand people reported seeing this particular fireball. This fireball looked like the Chelyabinsk fireball, and all the other glowing blue / green fireballs we have seen. We see it travelling diagonally across the sky towards Earth and not fragmenting. It vaporised / exploded higher up than the one in Chelyabinsk, but it was still low in our atmosphere – certainly greatly lower than what commercial aircraft cruise, and like most others it seemed to detonate somewhere below the lowest cloud level – below the cumulus and stratus clouds. The people in the area could still hear a loud sonic boom, but the explosion did not damage buildings.
'As it entered the atmosphere' … and regarding the atmosphere, there is not some type of dividing line where there is suddenly all this air. The atmosphere very gradually gets thicker. It would have gradually been exposed to more and more air as it proceeded through the atmosphere. If this object had come from space then all these others monitoring devices we have in space, and on Earth – as well as weather organisations – would have about 60 miles of it travelling in our atmosphere to spot this 'meteor'… if they hadn't spotted it in space already that is, with their cameras and satellites. We are seeing these 'meteors' travel a very short distance in the videos, we are seeing them in the troposphere – it would have come through the thermosphere, mesosphere and stratosphere before becoming visible to us.
All this suggests that these are not meteors coming from space and, whatever they are, they are coming from our own atmosphere, possibly from somewhere in the stratosphere.
Again, we see no extremely hot glowing fragments flying away from the explosion – nothing. But they have to stick to this narrative of exploding rocks – so they create some fake stories about small rocks being found. I still smile about this next family and the photo of the supposed splatter on the driveway of their house. It is so obviously fake and their story is not convincing – and their 'duping delight' smirks are very evident when they tell their stories on camera. Here is the family and the dust on their driveway.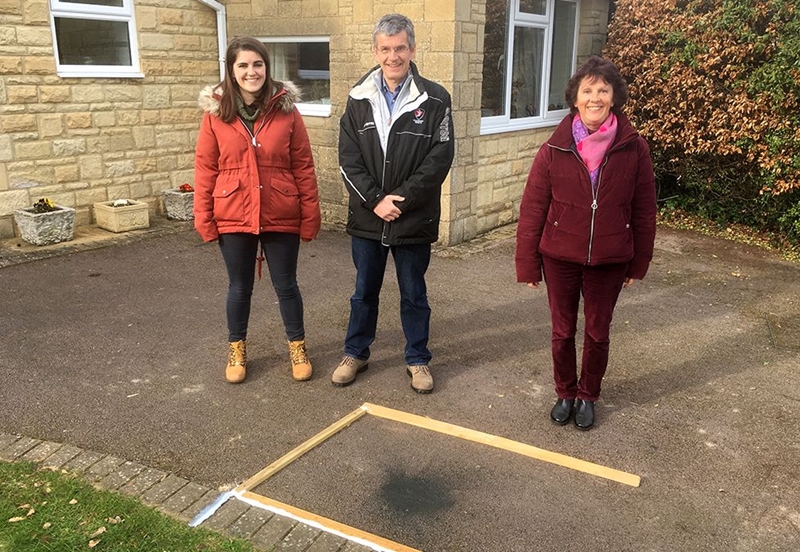 The supposed 'meteor' was travelling very fast across the sky diagonally, so any rocks, we would assume, would hit the driveway at an angle. This round splatter on the driveway looks like coal dust, or some type of charcoal dust. If a rock hits a hard surface with such force that it will make dust it will also break into lots of smaller pieces. You would not just be left with all that dust, and one lump of rock. The small lump of rock shown to us (looks like coal in one image) is not scarred and does not have any scuff marks. Even if this small rock had gone directly vertically into the air and then fell vertical to the ground it would still not have made a splatter of dust like this. And if the 'meteor' was like coal, and as fragile as it appears, then surely it would have broken up into many pieces much higher up in our atmosphere. To hold together all the way down to the very bottom of our atmosphere surely it would have to be very dense and not fragile like the rocks they present to us.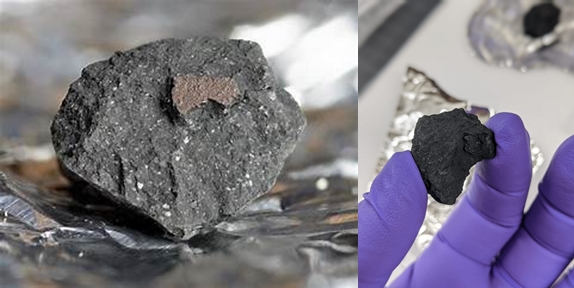 We also have another story from the mainstream media here in the UK. ITV is almost as bad as the BBC for their lies. This lady apparently found this rock, which she apparently suggests must have come from the 'meteor. Which is a very different looking rock – it is smooth, shiny and has some round some holes in it. There is no explanation given for this. The article is merely a short story which says this lady found a rock in her garden – with a picture of this woman, and picture of a rock. Two separate photographs – a rock and ladies face – with nothing that ties them together. Not very convincing and very easy to fake.
If these large fireballs were actually exploding rocks then there would surely be huge amounts of fragments raining down on all these numerous cities and towns where the fireballs have occurred. But they are not. You can look for reports of found 'meteors' after all these 72 fireball events for yourself, there very much appears to be no genuine discoveries at all, only a few fake little stories like these ones above. And these only occur when the fireball has a large amount of sightings. Nearly 1000 people reported seeing this particular fireball above England – and obviously many more people were affected by the one at Chelyabinsk – so they had to create some fake stories.
**********************
Below are three sets of 'before and after' photos from other locations. The first city is in North East China. The fireball occurred in the night, when it exploded over the city the light was so bright it looked like daytime there for a few seconds. The second set is of Toronto. These images are from the CN Tower there. Here the fireball occurred in daytime – you can see the brightness of the light and how it made the city appear. The third is showing you the fireball light up the sky over Melbourne when it exploded. People actually believe that small rocks that can fit in your hand are exploding and causing this?! Humans are so gullible. (That is what many of these experts have said in the numerous videos I have watched. Suggesting that the rocks causing these fireballs can fit into your hand, or are the size of a grapefruit. They did suggest the Chelyabinsk one was bigger than that, but that appears to be because it got closer to the ground and caused damage – so they could not get away with saying it could fit into your hand.) Videos of these three events are in the last section of the article.



---
Objects on fire falling from the sky:
Now we can look a little more closely at some of these flaming object descending from above – which, again, are significantly different to the blue / green fireballs, but must surely be related in some way… and then, after this, we can move onto the UFOs seen at some of the fireball explosions. I will share some testimonies from members of the public – there will also be some more links, testimonies and images in the Additional Information section. These below are all different events to the 8 images featured at the beginning of the article:
England, Cambridgeshire -17th April 2020: "People in Cambridgeshire have been left scratching their heads over a mysterious plume of smoke that appeared over the county. A large flaming object was spotted spiralling in the sky at around 8pm by Gerry Underwood, 55. He was sitting outside his canal boat in Stretham, having a little fire, when he spotted the trail. He said: 'It looked like a very thick chemtrail to start with. It looked like a short, skinny cloud. It wasn't moving quickly at all. I'm pretty sure it wasn't a meteorite, because they are gone in seconds. 'We have seen hundreds of shooting stars, but this definitely wasn't that either. This was coming down very slowly and spiralling. It started to glow orange as you can see in the pictures." – https://metro.co.uk/2020/04/17/mystery-burning-object-flies-uk-skies-leaving-trail-smoke-stayed-20-minutes-12569019/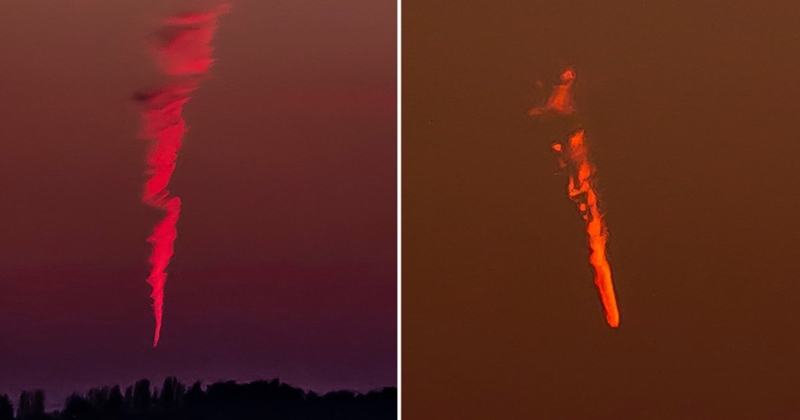 "Peru. In the city of Juliaca, Puno region – southwest of Peru, Tuesday, June 12 (2012) – at five o'clock in the afternoon, a tourist, captured in video the fall of an object on fire. Apparently, the object was a meteorite but it may be the fragment a spacecraft (earthly or not) or other device – as a probe or a disabled satellite" – http://brazilweirdnews.blogspot.com/2012/06/flaming-object-fell-in-peru.html
(The footage of this event appears on YouTube on more than a few occasions with no description and details, and I have seen the image appear in an article and the author did not know the source. But I found the origins of the footage and photo – as you can see from the article above (Peru 2012). Here is a screen grab from the video. You seem to be able to see the outline of a craft at the front of the flames. A video of the event is in the Additional Information section.)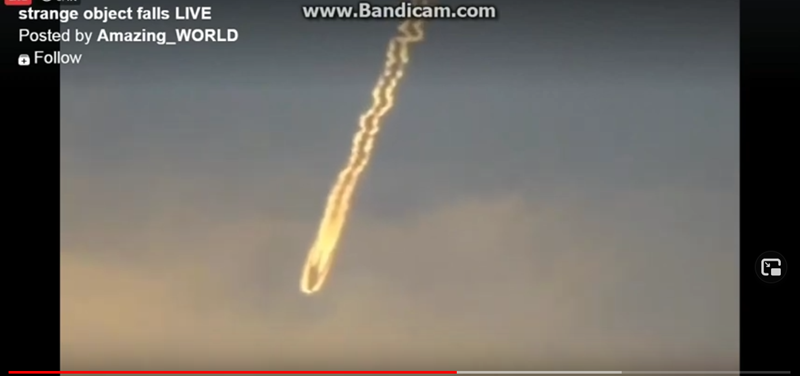 "A burning trail lit up the sky over Western Australia (2 July 2012) for 20 minutes after an object suspected to be a meteorite plunged into the sea, leaving a burning orange trail that mesmerised local residents. Beachgoers in Perth debated what could have caused the strange burning line in the sky, which persisted for 20 minutes. Most meteorite trails are only seen briefly – and seeing an object plunge into the sea is rare." – https://www.dailymail.co.uk/sciencetech/article-2167631/Burning-meteor-trail-lights-Australian-sky-20-minutes-rock-plunges-sea.html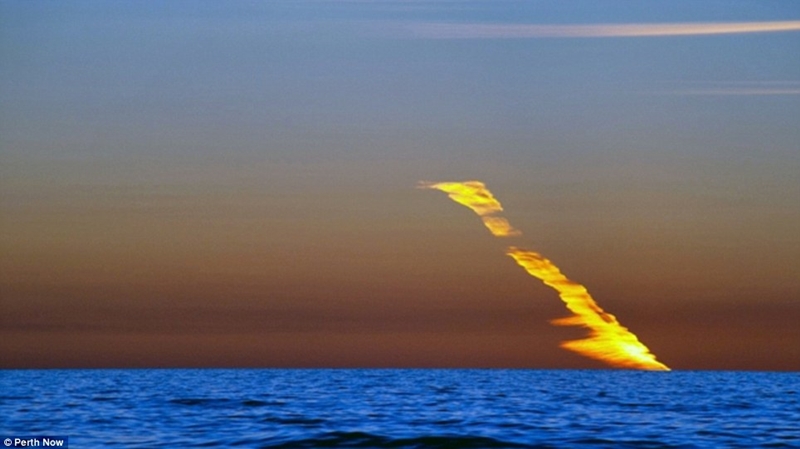 England, North Devon, 31st March 2016: "Photos have surfaced of what appears to be an object falling from the sky. Gudrun Limbrick posted the photo in the Facebook page. These photos were captured by Gudrun Limbrick this evening… People have been coming up with possible explanations including a meteorite, plane entrails or a strange cloud. It was seen from all over North Devon including in Combe Martin and Braunton." – https://www.sott.net/article/315587-Strange-object-spotted-falling-from-the-sky-over-South-West-England
Gudrun said: "I live in Woolacombe and popped my head out the door to have a look at the post-sunset sky about 8pm. I watched it for about 20 minutes as it moved down the sky and changed shape."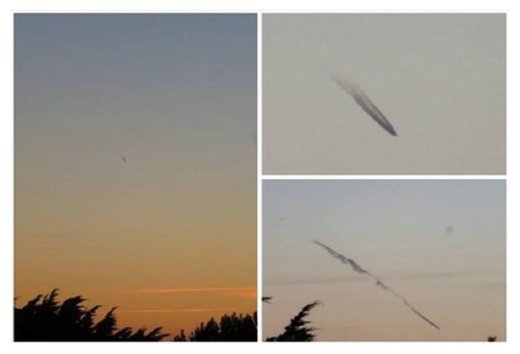 "Slow moving bizarre fireball spotted over Hull, UK On Sunday evening (April 19, 2020), a mysterious burning object was spotted traversing the sky over the northern part of Kingston-upon-Hull, East Yorkshire, England. Eyewitnesses suggested that the object moved too slowly to be a meteor.
Rebecca Holmes saw it from her garden in Bransholme, near Kingston upon Hull and said 'It was weird it looked like either a plane or a rocket or something.' " – https://beforeitsnews.com/paranormal/2020/04/strange-slow-moving-flaming-objects-fall-from-the-skies-2548371.html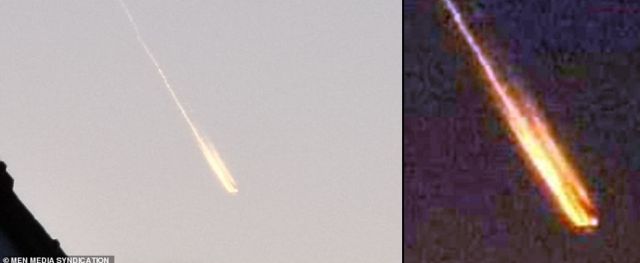 As mentioned previously, in my searches I found 35 of these flaming or smoking falling objects in total. 22 in 11 years ( 2008 – 2020) – and then there has been at least 13 in the last 15 months. (2020 – 2021, March 29)
(This one below seems to be unique, as the craft seems to recover somewhat, and fly off)
"Well, here is a new one captured in the sky over Tracy, California on April 23, 2020. The photographer, who reported the sighting to Mufon, stated that he just got off work driving home when he saw a strange object in the morning sky.
Experts will say that it was a meteorite, but have you ever seen a meteorite turning into something with two burning trails behind it, which then, before hitting the ground, changes course abruptly before it continues its flight. This object was certainly not a meteorite, but rather something that is equipped with a technology unknown to us." –https://www.disclosure.pw/2020/04/25/ever-seen-a-meteorite-that-changes-course-abruptly-well-this-one-does/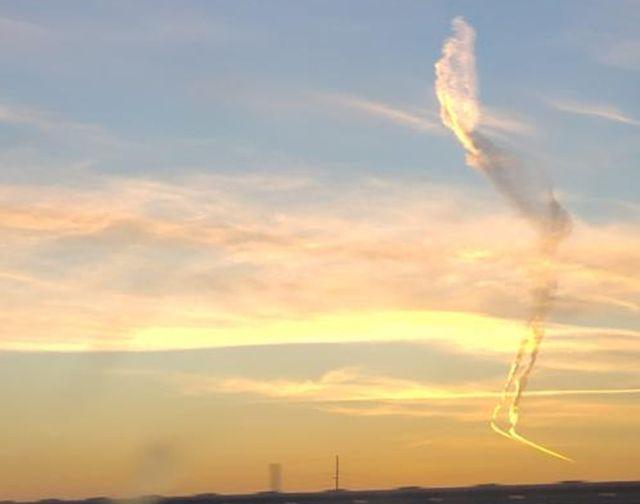 However, these objects seem to fall all the way to the ground on most occasions, as we do not see them explode. They always seem to be heading into remote rural areas or into the sea – never over cities. Which may explain why these are not vaporised. Has something projected the trajectory and seen that they will not cause loss of life or damage? The question remains though, 'Why do we not hear of people finding charred remains / debris of these burning objects?' Do they burn up so significantly that they are not recognisable. Do the authorities in the countries get to the scenes and clear up before anyone find them? Can they pay people off and cover up any discoveries? – Yes, of course they can, very easily. Recently I have seen a story in the UK media of two pilots apparently ejecting from their military jet – and apparently there is some sort of clean up occurring up in the woods in Cornwall. A suspicious story that makes little sense. Very possibly a cover up of something that has crashed landed there. (Though there was one confirmed incident where some flaming debris coming from high up in the nights sky did cause a small fire, it was in Peachland, Canada, 18th March 2021 – video in the Additional Information section).
When the media can't ignore one of these falling flaming debris occurrences they will get often paid and bought for 'experts' to say that it is the sun lighting up the contrails of a plane. I saw one ' expert' say one of these incidents was re-entering debris from a Chinese rocket which had been sent into space a year before the occurrence – and this for was one of the incidents were the debris was many small pieces all grouped together – which meant his statement made even less sense. As well as this, the people in that location would be warned if they were expecting re-entering parts of a rocket – all these things are carefully monitored.
In the Additional Information section I have included 6 more testimonies and reports, with corresponding images.
---
UFOs at the Fireball Explosions:
Videos of all these events are in the Additional Information section at the end of the post – they will be in order and clearly labelled. I am using screen grabs here in this section.
North West Australia, June 2020:
Multiple UFOs at this event. Two large cigar shaped craft, and two smaller craft that are more round. A cigar shaped craft flies up past it on the left – and there are two small round craft observing. One directly in front of the fireball and one to the left. Another cigar shaped / cylindrical craft flies in from for the top right corner then swiftly changes direction and flies up. Three screen grabs from the video in order. You can see one of the smaller UFO stays in front of the fireball until it explodes.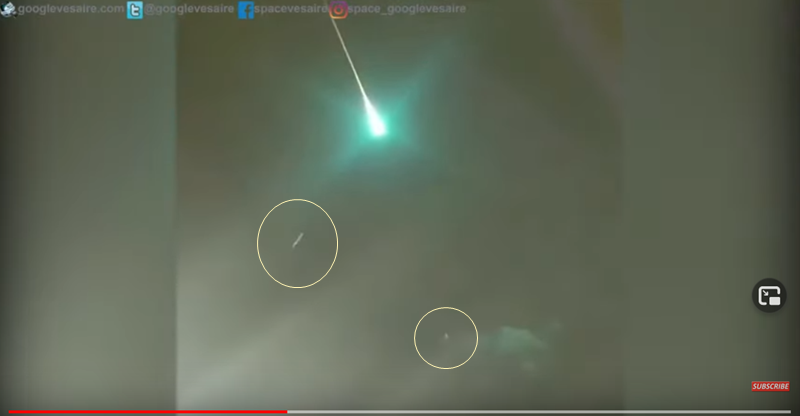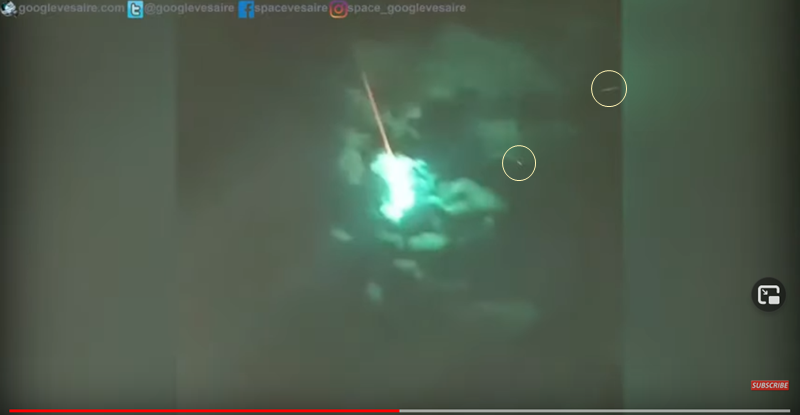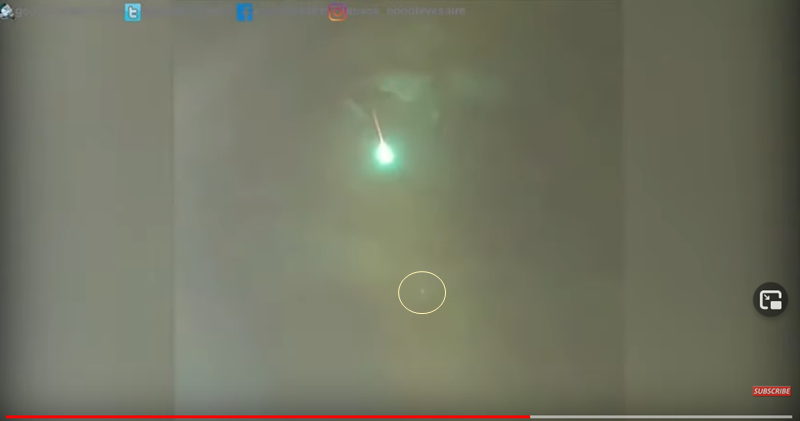 Here are two images from a second video of this fireball. These are images from two different sets of footage. In both of them you can clearly see a UFO darting around: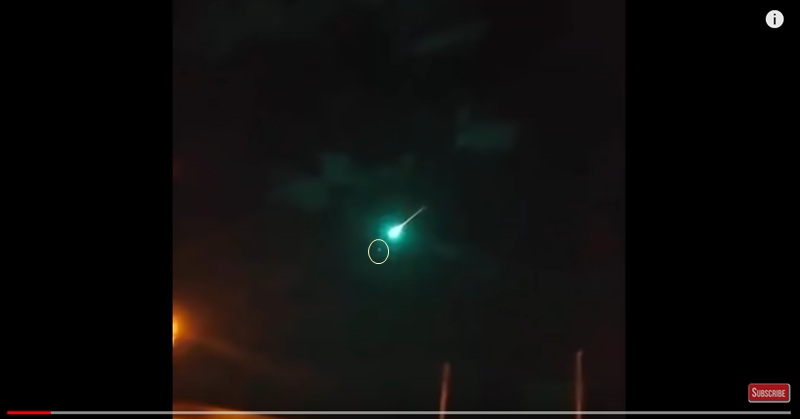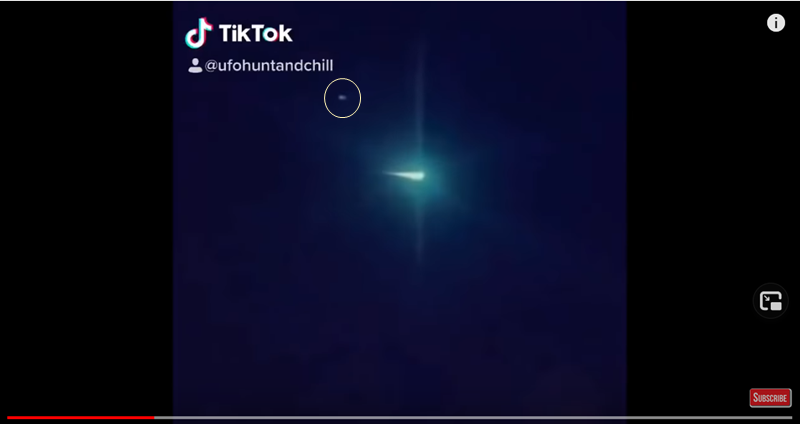 Japan, 2013
Here is an image from this brief blog post – http://test-cracker.blogspot.com/2013/03/ufo-destroys-meteor-over-japan-2013.html :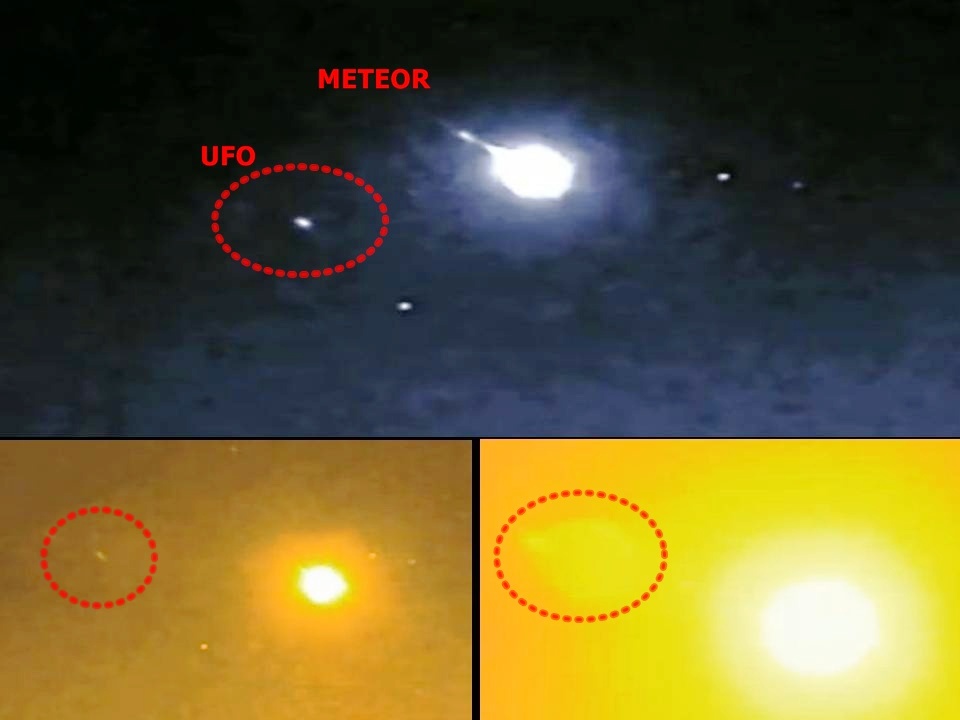 Below are three screen grabs from a video of this event (Embedded in the Additional Information Section). There are two sets of footage from different angles / sets of footage. The 3rd photo below is from that second angle, and it shows a UFO following close by to the fireball, which you do not see from the first angle. I am not sure what the two very bright spots are that do not move. The UFOs are obviously highlighted in the circles. One UFO that you can see is clearly a flying saucer shaped craft – you can see this more clearly in the video when you slow it down… it shoots past the fireball at speed, and not long after this the fireball explodes.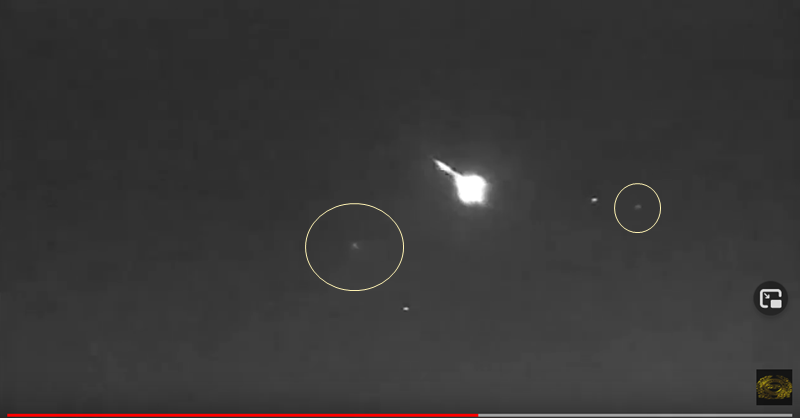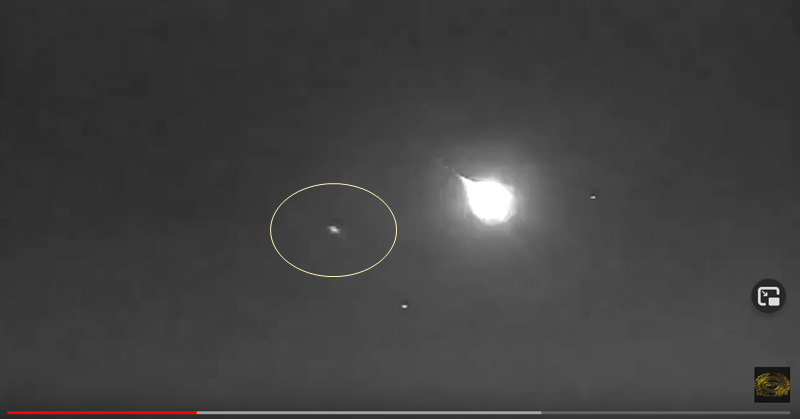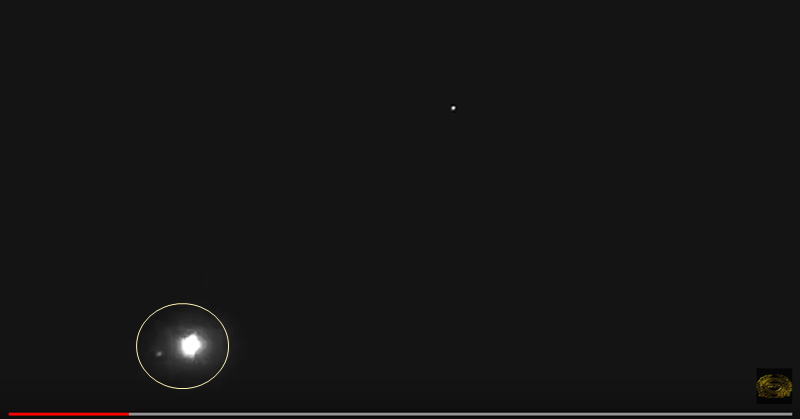 Maine, New England, 17 May 2016
Something seems to fly through / pass through the fireball higher up on the trajectory and a small round UFO stays with it all the way until it is disintegrated. This is similar to the Chelyabinsk incident – which I will discuss in this section – and also has some similarities to the incident in Florida (2019).
Apparently there was another piece of footage of this fireball. A YouTuber called 'Nemesis Maturity' created a video analysing this event and showed the UFO, but it does not seem to be available anymore. However, here is a screen grab / from his video and you can see the other angle / perspective – you can see that the UFO starts behind the fireball. You can see the image on the top left corner of this compilation photo. So it started behind and then move ahead, clearly showing it was not a fragment from the so called 'meteor' – but a UFO illuminated by the glow of the fireball. We can see that the small object also clearly has no trail. The image was featured in this article on the express website, and they referred to the video's assertions as a 'crazy theory' – https://www.express.co.uk/news/weird/672482/WATCH-Moment-meteor-is-struck-by-UFO-to-prevent-it-crashing-to-Earth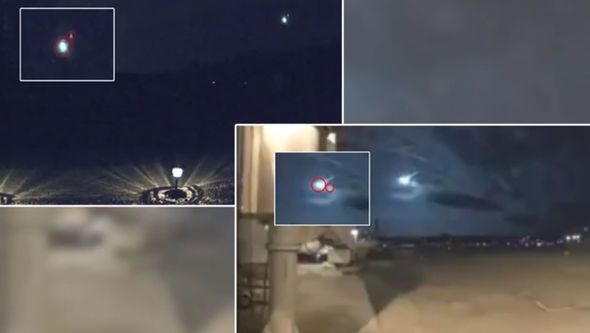 Below are two images from a video on YouTube of the event – from the second angle. You can clearly see a large cigar shape move through the fireball before the explosion. In the second photo you can then see a round UFO stay with the fireball until it disintegrates / vaporises.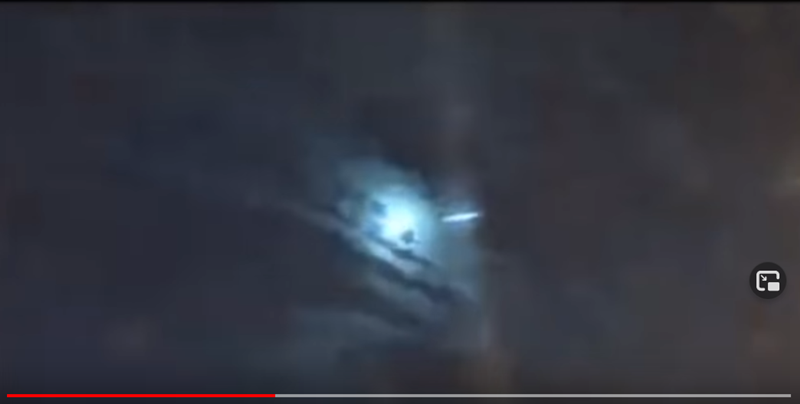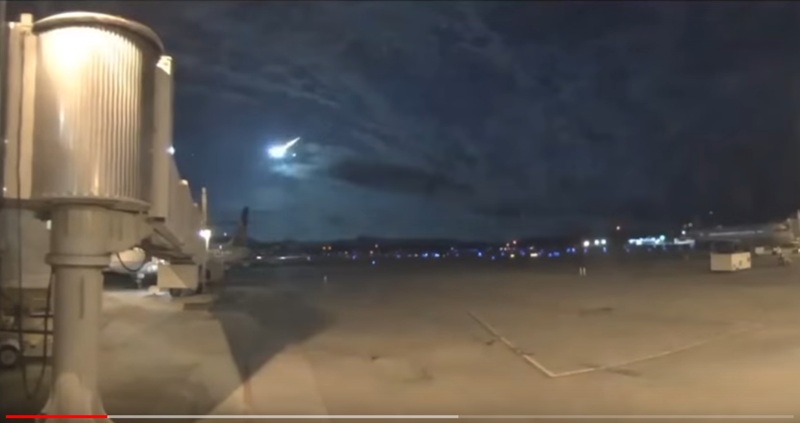 Chelyabinsk, February 15, 2013
There are numerous articles and videos online proposing that Chelyabinsk was saved from destruction by a UFO. In the slowed down analysis of the footage you can see a shape – that could well be a flying saucer or perhaps a cylindrical / cigar shaped craft – catch up with the fireball and then burst through it. The fireball then explodes and disintegrates after this. The third image is of the event with an inversion of colours. Apparently, from the articles I read online, there were numerous angles of footage where you could see the UFO, but I can only find this angle below. But the footage in the videos clearly shows something destroyed the fireball. Again, the video from which these images were taken is at the end in the Additional Information section.
An article talking about this UFO – http://siberiantimes.com/weird-and-wonderful/news-and-features/news/so-did-a-ufo-shoot-down-the-famous-chelyabinsk-meteorite-last-month/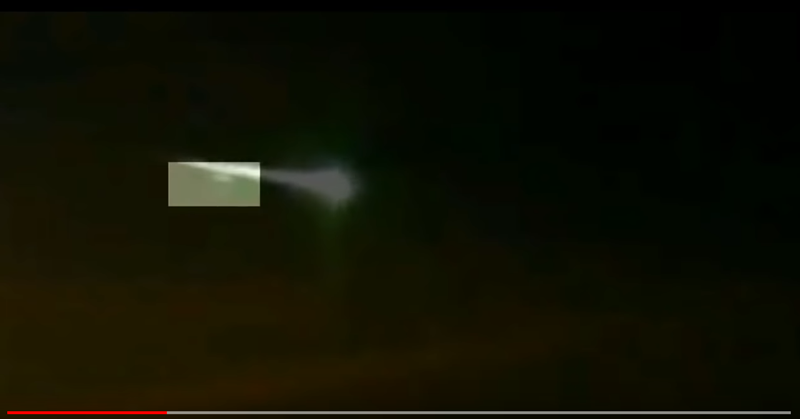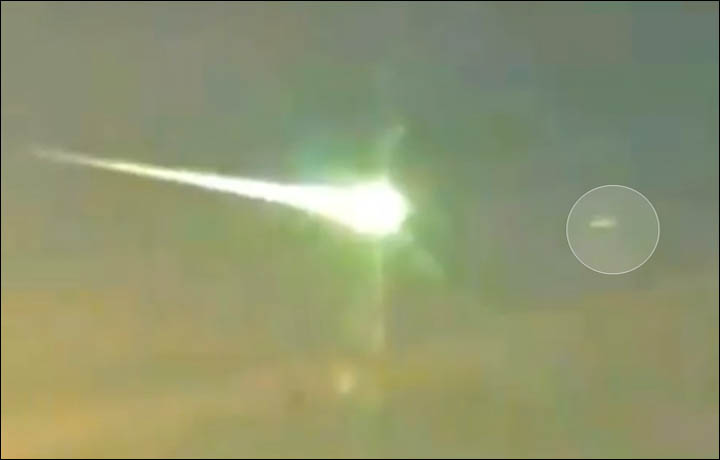 Melbourne Australia February 14th, 2021:
Another one from Australia. Here you can see a UFO staying in front of the descending fireball – it is being illuminated by the fireball, and like in all the other images above, it has no trail. In the second image a second UFO is then seen to the left of the fireball, and just to the right of the central building. It is not a light from the building – you can see it move down quickly alongside the fireball in the video – it is circled in the second image.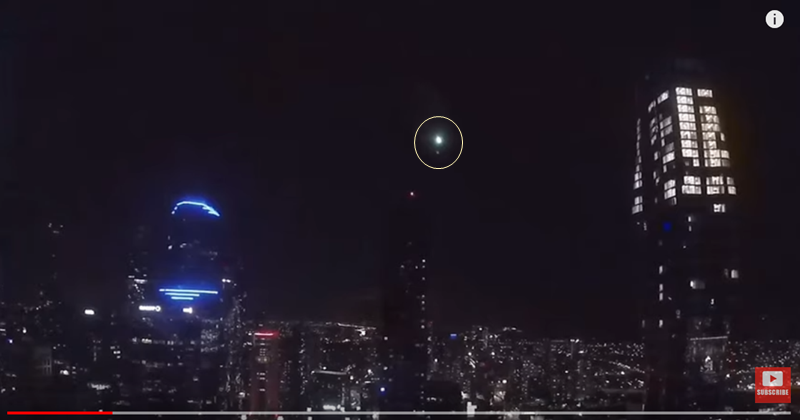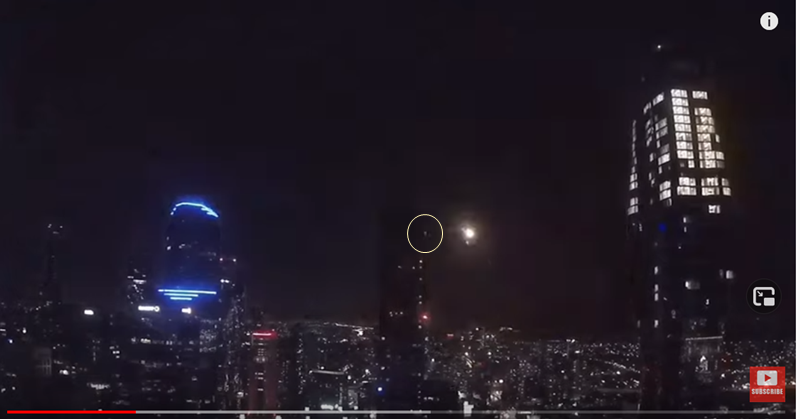 Lebanon, January 21st, 2020:
This one is a little different, as in this event there seems to be some sort of substance left in front of the descending fireball which causes it to explode. I am sure I can see a UFO moving around to the right of the fireball when it explodes – you have to slow the video down to really see it though. You can see it illuminated by the explosion. The significant part about this one though is the substance the fireball seems to move into, which appears to make it explode – something has placed it there.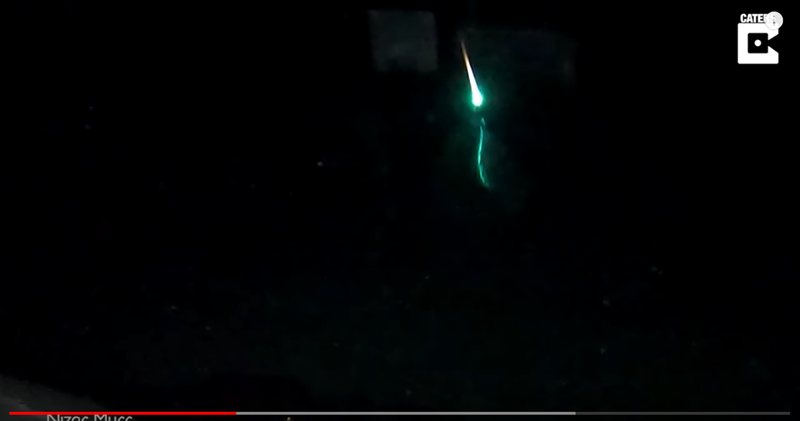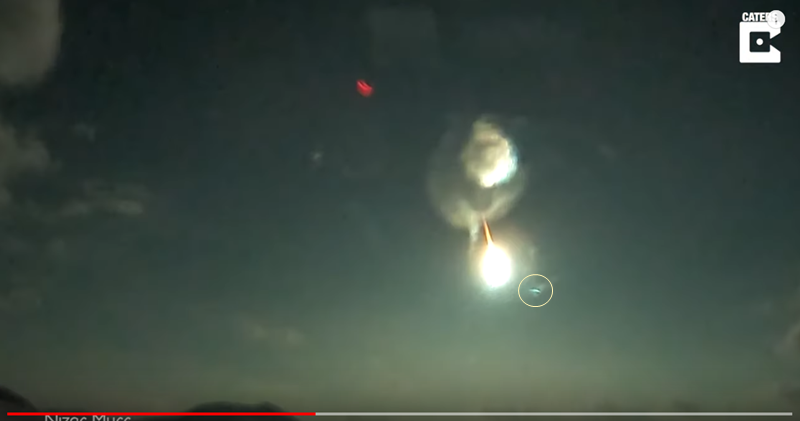 Florida, March 2019:
Something very similar happened here. The substance, or craft, was there waiting for the fireball – in its trajectory – and it was illuminated when the fireball got close to it. The fireball seemed to travel into it and then it exploded – who placed the 'substance' there to destroy the fireball? If it even is a 'substance'? Whatever it is, goes through the fireball and then their appears to be a cigar-shaped object illuminated by the glow of the fireball.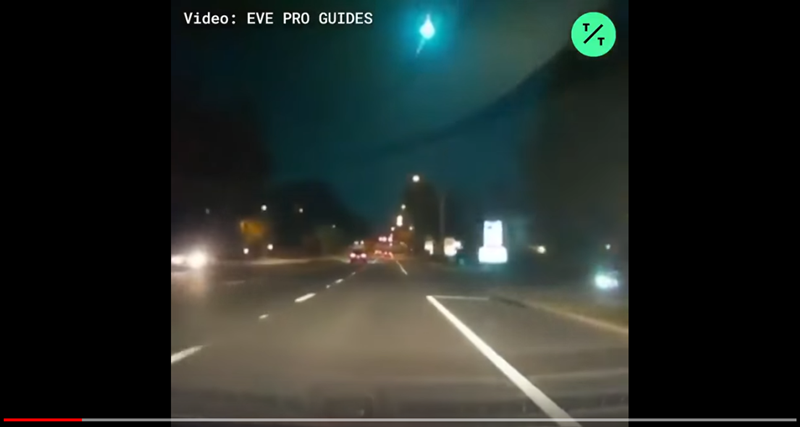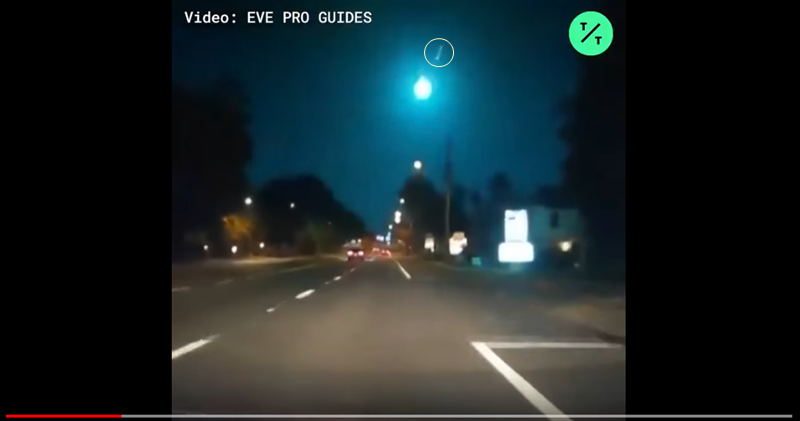 Toronto, Canada, December 2nd, 2020:
"A momentous boom rocked parts of Upper New York State on December 2 after an exceptionally large meteor infiltrated the earth's atmosphere. The explosive flash produced a brilliant shadow across the city of Toronto, and the far reaching roar from the explosion created seismic like shaking across portions of north central New York." – Skywatch Media News
This is another strange one, with a bizarre story from the news crew, with some obvious misdirection. Another example of how they think the public are stupid. (Unfortunately most people do seem to have lost all ability to think critically). They show some footage from someone's car showing the fireball coming down diagonally from the sky – and they also show the flash over the city (which I have displayed previously in this article). But they also show us this UFO moving diagonally UP past the CN tower. Yes, diagonally UP past the CN tower, and then they say that this was the meteor that caused the blast. The UFO in this footage is one one of the small spherical ones, which I have seen reported by various pilots over the years, and that I have seen in other unrelated videos. They seem to be used for observation – like some sort of drone. It seems that UFOs were present at this explosion as well. Obviously some people spotted the UFO and the media attempted to pass it off as the 'meteor'.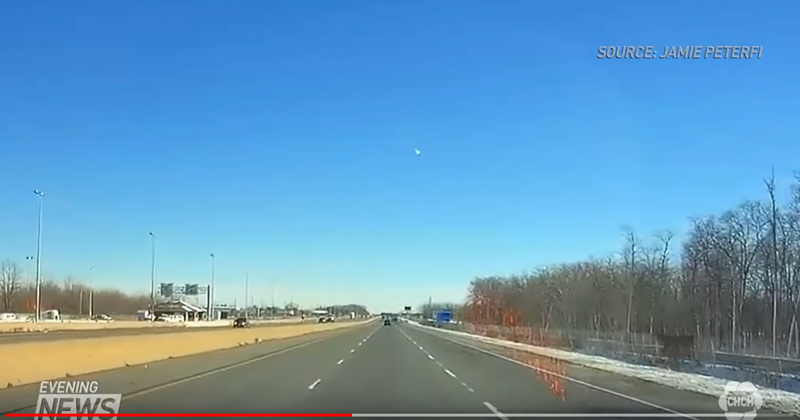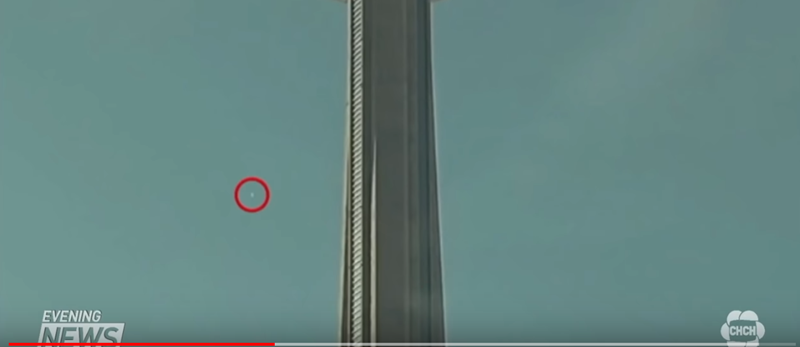 Alberta, Canada, Feb 2021:
You can see a cigar-shaped craft illuminated by the blue explosion at the top right of the screen.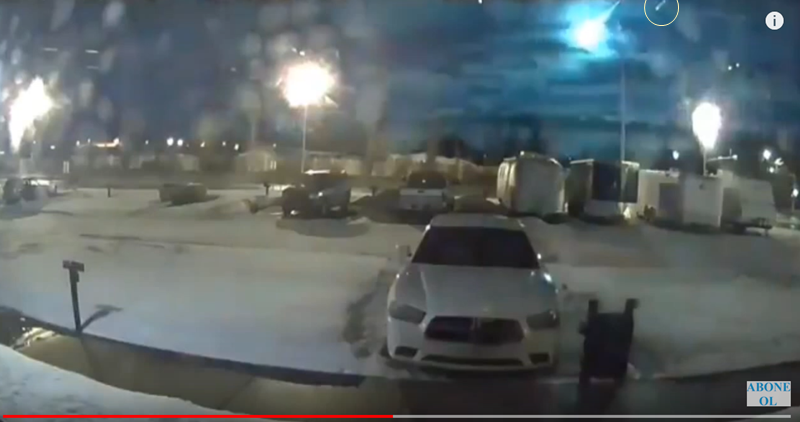 It is not easy us for us to gauge the size of objects like this in the night sky, but these fireballs look to be big – much bigger than is suggested by the so called 'experts'. Look how small the round (very likely disc-shaped) craft and the cigar-shaped craft are compared to them. The fireballs all look to be a similar size – I would suggest that they are probably around the same size as the one that destroyed parts of Chelyabinsk and injured more than 1500 people – and remember they suggested that that one released as much energy as about 30 Hiroshima atomic bombs.
I will strongly suggest to you that UFOs have disintegrated / vaporised all of the fireballs mentioned in this article. They are stopping them from impacting Earth.
(21st, May 2021) I have added 2 more images and videos that show a UFO near to a descending 'fireball' into the Additional Information Section below. One from Shanxi China and one from Eastern Morocco. Which means we now have 11 events where UFOs were seen close to a descending fireball.
---
Concluding Thoughts:
These fireballs are clearly not meteors. They are not rocks coming from space and moving through all the levels of our atmosphere that explode just before they hit the ground. (We have satellites, weather monitoring equipment / balloons, high powered telescopes and various organisations that specialise in monitoring these upper areas of our atmosphere.)
The fact that these flaming objects and blue fireballs are so close to Earth, and usually below the lowest clouds, suggests that some conflict is occurring in the upper levels of our troposphere and in our stratosphere. These battles are very likely occurring in our own atmosphere. They might not even be 'battles' but more like 'take downs'.
It very much looks like UFOs are protecting us from these fireballs. As shown in my Ufology Explained articles, the UFOs monitor weapons and missile testing, military facilities, nuclear missile sites, nuclear power stations and all military conflicts… they have been watching over us ever since the end of WW2.
If we look at the footage it very much looks likes the UFOs are saving us from the destruction that these fireballs would cause. So it is very unlikely to be them who are firing, or launching, whatever causes the blue / green fireballs. There are also no craft from Earth attacking these UFOs while they neutralise the fireballs – suggesting that they have a dominance and superiority in our airspace.
In fact, we can look at many testimonies from pilots of their encounters with these disc and cigar UFOs over the years, and it very much appears that they have been dominant in our airspace for a long time and have superiority. The jets the pilots were flying could not get near the UFOs.
Are these fireballs objects, or craft, that have become engulfed in something? Or are they missiles that have been taken out? Are they missiles that have been fired by Earth nations that have missed their targets and are descending back to Earth? Who is firing them? Or is Earth firing them at the flying discs and cigar craft? Whether they are an engulfed craft, or a missile, it does not matter much, either way they are a real danger to Earth's citizens, and our governments and media are acting as if they are no threat at all.
To fully understand all this it is important you read my Ufology articles – and particularly learn about Operation Highjump and the plans that the United States and Soviets had to nuke The Moon… then you can see the World Super Powers main aim since WW2 has been to destroy the German Breakaway Group / Civilisation. There is no evidence that the Superpowers on Earth have had much success with this endeavour. This advanced breakaway group very much appears to have a presence in our oceans, in our airspace, quite possibly on land in some remote locations… and very likely on The Moon.



The slow falling objects on fire absolutely look like destroyed craft. The craft look to be somewhat pointed, and some appear to perhaps have small wings. It is extremely doubtful that these are the flying-discs and cigar-craft , especially as it is the flying-discs and cigar-shaped craft that are saving us from the fireballs without any interference. They are most likely some secret advanced craft that belong to Earth nations that have been defeated / destroyed. (Some information on some of the advanced technology Earth Nations may have been developing is in the Additional Information section)
Why has all the activity in our skies increased recently? 55 fireballs in the last 15 months – and 13 flaming or smoking slowly falling objects or debris in the last 15 months (using my search terms and the English language). Very difficult to know for sure. But the (((Powers That Be))) are going to be more vulnerable than ever as they attempt to create this Great Reset and New World Order. There is more unrest than ever and more people are waking up as (((they))) ramp up their medical tyranny and intentional collapse of our economies. Ernst Zundel suggested in his book – 'UFOs: Nazi Secret Weapon?' – that the Germans would make themselves known when there was the inevitable economic collapse on Earth. It would be the perfect time – minds would be more open and many will be looking for a saviour. I am not saying they are definitely going to, but at the very least the (((Powers That Be))) on Earth will be aware that as the unrest increases they become more vulnerable.
Perhaps the nations (((The Banking Cartels))) down here are aware of this vulnerability and they are making an attempt to get to The Moon, and they are attacking the German craft? Perhaps they are sending up many powerful missiles in an attempt to destroy the German civilisation on The Moon? Again, we cannot forget the 1959 project (Project A119) to nuke The Moon. Do you think they would have just given up on this idea?
(Edit: I have since studied the electric nature of our universe so I know 'nuclear' weapons don't exist. But the PTB still have powerful and explosive weapons at their disposal.)
Everything points towards it being the Breakaway Germans who are saving us from the devastation that these fireballs would cause.
We know that Earth is run by these psychopathic (((Banking Cartels / Families))). To me, it looks like they are attacking the Breakaway Germans with little concern for what the fallout could be, and how it will affect the people on Earth.
This large increase in incidents in recent months looks like an act of desperation (These fireballs and falling objects are occurring thick and fast in 2021, people are going to notice and start asking more questions).
But this is just what it looks like to me currently, we obviously don't have all the information and knowledge to truly understand exactly what is occurring in our atmosphere… but undoubtedly something very significant is happening.
(Interestingly, Boris Johnson has just this month raised the cap of Britain's nuclear weapons from 180 to 260. It is a totally illogical development, unless you know what we know. Of course, the puppet Boris didn't do this, the Zionist Bankers who control the UK did.)
If you feel so inclined you could comment and provide your take on exactly what you think these fireballs are, and offer any other insights you feel you may have… or you can ask questions. And if you are aware of any other related incidents you could let people know in the comments.
---
Additional Information:
Testimonies and Images – Slowly descending fiery objects
Images and info – Advanced craft and weapons development – America, Russia, China et
Images – More blue / green fireball screen grabs
Videos – UFOs stopping the Fireballs
Videos – Fireball explosion lighting up the city and sky
Videos – Slowly descending fiery objects
Videos – Horizontal flaming debris
More slowly descending flaming / smoking objects – Testimonies:
"When: April 29th, 2017. Where: Near San Antonio. What: Smoky trail, object or meteor has possibly crashed; Identified?: Expert and popular opinion suggests this was simply a plane contrail, with the sun reflecting off of it. Eyewitnesses, however, seem to strongly disagree. What do you think?
5/2 4:06 PM: So far, still no official word form local officials or media (still trying to track one down), but many online and even Atlanta's chief meteorologist Glenn Burns have shared their thoughts with Texas UFOs about the event. Burns believes it could have been an aircraft dumping fuel. Others still think the "UFO" could be a meteor or aircraft crashing, or even a simple jet with a contrail (passing through cold, moist air). Others have even commented that this event could be an example of a "chemtrail" plane exploding! What do you think?" – https://www.texasufosightings.com/new-sightings/object-crashes-in-san-antonio-leaves-behind-smoky-trail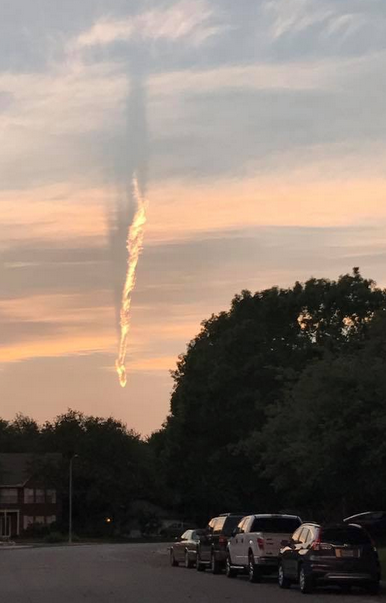 Aug 6, 2014 – Strange Sky Phenomenon: Mysterious Burning Fireball Flying Over Cheltenham. What is this mysterious ball of fire falling from the sky over Cheltenham, UK? Baffling? – https://strangesounds.org/2014/08/strange-sky-phenomenon-mysterious-burning-fireball-flying-cheltenham.html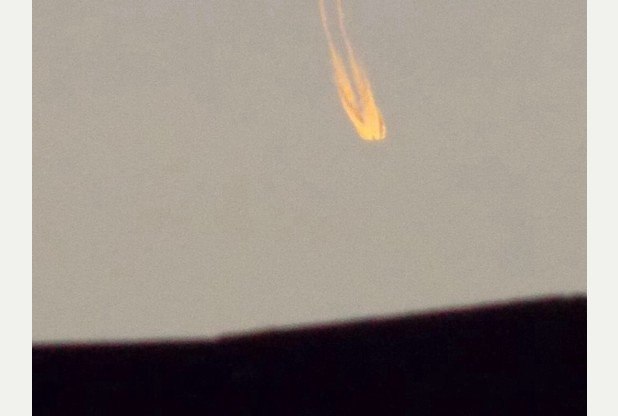 Texas, March 4, 2012 – Time: Approx: 6:30 p.m. (Just a testimony with no image of the event)
My son, his friend and I also saw and heard three pieces of burning debris falling from the sky over Texas about 6:30 pm on March 4, 2012. We watched for around 10 minutes while three separate objects fell from the sky.
The first was over Northern Tarrant County, and as we watched it fall, it was obvious that it was getting smaller as the red tail reduced and the sound did as well.
We then heard a sonic boom, followed by another object falling to the right (North) of the first, around the same time that a third began falling well to the left (South) over what was the Downtown Ft. Worth area from our point of view in Keller, TX.
Each had its own sound of a "jet roar". I did not hear a boom with the first, but we were driving at the time. The second two we'd stopped the car and got out to watch.
These were not typical meteors which have a trajectory all their own, and usually seem to streak in more horizontally and with speed. These three were simply pulled with the force of gravity and did not seem to have much speed.
They fell almost directly down with some slight angled slant. They seemed to fall for a very long time, getting smaller as they dropped.
There was a military jet which travelled from the location of close to the third object toward the first two, so there was some official notice of this event, though no official reports that I've seen.
The event looked identical to me as when the space shuttle exploded over Texas and the pieces rained down over the sky. Same types of tails with a center void of a sort. – https://www.theufochronicles.com/2012/03/ufo-news-burning-debris-falling-from.html
Iceland on April 14, 2020 – https://www.disclosure.pw/2020/04/23/strange-slow-moving-flaming-objects-fall-from-the-skies/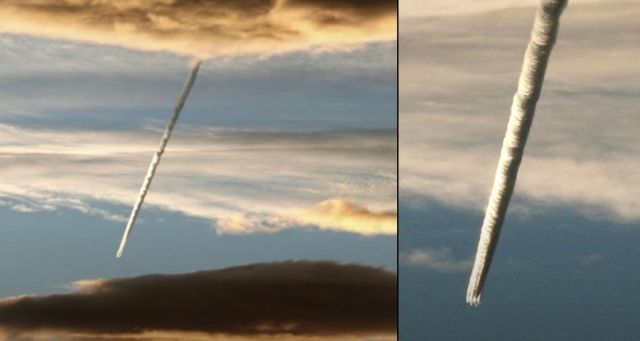 Near Phoenix, Arizona of the trail left behind by an incoming meteor/comet fragment that exploded above southwestern US on September 13th 2012. – https://www.sott.net/article/251268-Incoming-Meteor-or-Comet-Fragment-Explodes-Above-Southwestern-US-Prompting-US-Army-Missiles-Cover-up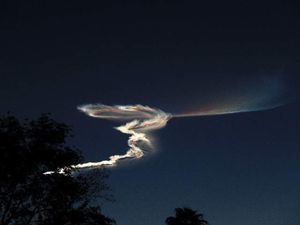 Iowa – US National Weather Service Des Moines Iowa wrote on their Facebook page: Does anyone know what happened this morning – April 21, 2020 around 6:20 am – in the sky looking East. I was on my way to Pella when I noticed the "explosion". Looks like an explosion of some sort. I would hate to think an airplane but I'm not sure what else it would be. You can see a dark streak then a big poof a smoke and a bright object falling. I know there is a meteor shower tonight…..maybe this one is a bit premature? https://www.disclosure.pw/2020/04/23/strange-slow-moving-flaming-objects-fall-from-the-skies/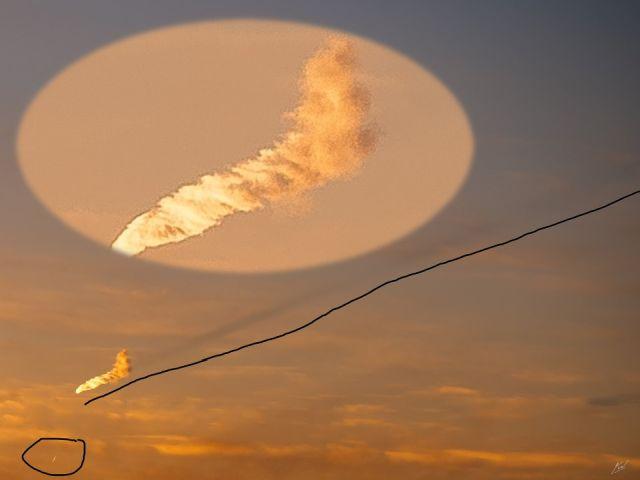 Is it a comet, an aircraft, or satellite debris burning up in the atmosphere? A Winnipeg woman is asking for help to explain a mysterious object she caught on camera. – Tue, 22 Jul 2008 20:59 UTC – https://www.sott.net/article/162610-Strange-object-filmed-in-skies-above-Winnipeg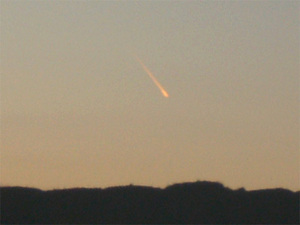 Slyvia Mcleod, Winnipeg:
"It was like a red fireball falling down from the sky," Sylvia McLeod, 31, told CTV.ca Tuesday.
"I have no idea what it is. I thought it would be all over the news. I went on the Internet and tried to find any information, but couldn't find anything."
McLeod said she filmed the strange object Monday night between 9:30 p.m. and 10:30 p.m., just as the sun set.
"It was moving kind of slowly. But I knew it was falling. I couldn't get the whole shot of it because my camera didn't have enough memory," she said.
Asked whether she had ever seen anything like it before, McLeod answered: "Only in movies."
---
Craft and Weapons in Development by the World Superpowers:
I had a look into what craft and weaponry the Super Powers here on Earth may have been developing. Of course there is not a great deal you can find out, and most of it will involve some misdirection. Sometime snippets of information are released about new military tech developments, and then you are told that that project has been cancelled. You cant find out the Truth in this topic, but perhaps you can get a feel for what they have been developing. As you can see, lots of these are artist representations, as the whole topic involves much secrecy.
The trends I found are that there was a move towards hypersonic, high altitude, stealth craft, that are unmanned. And the development of long range hypersonic missiles that can be steered while in flight, and which can carry nuclear weapons.







Videos, which very likely show some of these hypersonic planes, are below in the comments section.
---
Some more Screen Grab Images of the Blue / Green Fireballs:




---
UFOs close to Fireballs – Videos:
---
Videos of Blue / Green Fireballs lighting up the sky and cities (Toronto is in the above section):
---
Videos of descending flaming objects:
(A selection)
Virginia 2021:
Florida 2016:
Texas 2012 / Peru 2011 (There appears to be some confusion here in this video. There was an incident in Texas, as there were reports and testimony. But in this news section these people are using some footage that occurred in Peru in 2011, which is strange. Maybe a mistake by them, they can look similar, or maybe they did not want to show the actual Texas footage for some reason – but I have a very good eye for these things, and this footage shown is the incident in Peru 2011):
Peru 2012 (There was also a similar incident in Peru in 2011):
San Antonia 2017:
Arizona 2015:
Florida 2018:
At 2.44 mins there is the Peachland, Canada incident – mentioned earlier – where a small piece of fiery debris fell to Earth and caused a fire.
---
Slightly different types of Debris falling to Earth:
At 4.19 mins you will see debris going across the Mexico sky:
This last video was from 'Skywatch Media News', you will very likely come across them if you research this topic. This YouTube Channel creates compilations of the most recent fireball or falling debris events, from time to time (they don't cover all of them though). But I would suggest that they are extremely likely to be controlled opposition. They also put out misleading information, seem to use misdirection – and how can you compile all these fireball videos over the last few years and not ask some of the questions I have been asking in this article?
---
Update 1 – (April 18th, 2021):
A gallery of falling objects in the sky – as well as fire and smoke in the sky. These are 14 additional images taken from more YouTube videos that I discovered (screen grabs). Though a few may look similar to other images above I assure you they are not duplicates, but more unique events. I have used the name of the YouTube video as the name of the image – so you can just copy and paste the name of the image into YouTube and the video should be at the top of your search (These are thumbnails – click to enlarge):
Update 2 – (April 18th, 2021) :
Images of UFOs near the falling fire or smoke. Again, these are screen grabs taken from YouTube videos. The title of the YouTube image is under the image – so you can find it very easily with a search. The first two photos are of the same event. The UFO follows closely above the flaming object and then it goes into the flaming object. Eventually it emerges. After it emerges the flaming object appears to be disintegrated, and it stops flaming.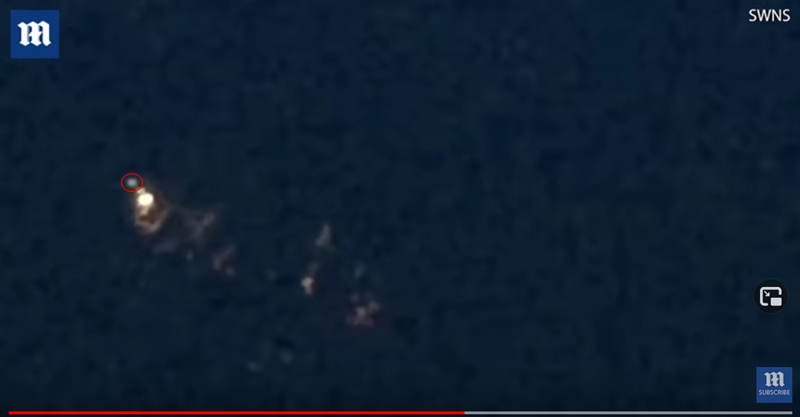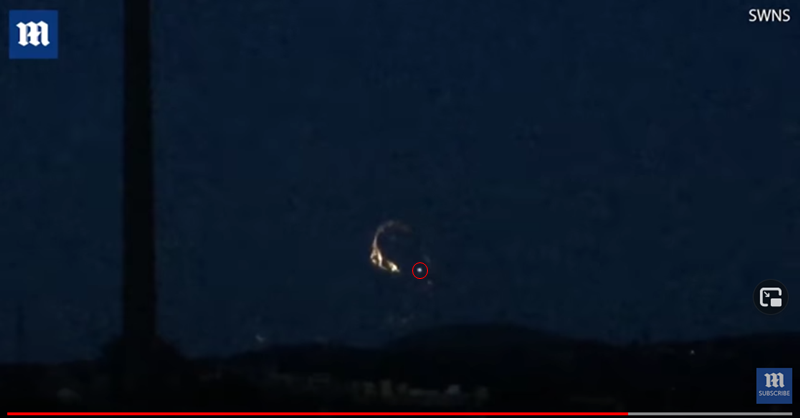 In the video you can see more than 4 UFOs at this event: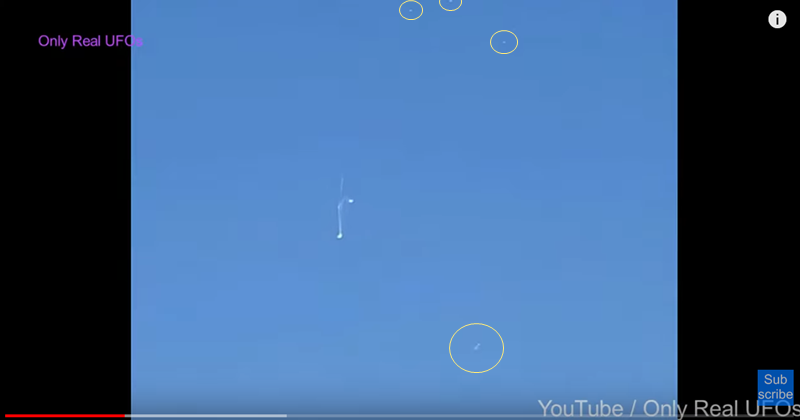 There are more than 2 UFOs at this event. The descending flames also get bigger and more orange: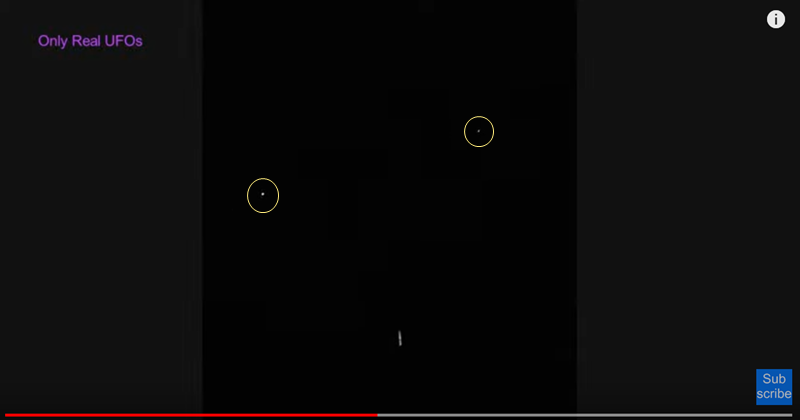 The smoke formation below looks very similar to the 'Iowa, April 21, 2020' event – which was in the 'More slowly descending flaming / smoking objects' section – that photo also had a UFO circled nearby: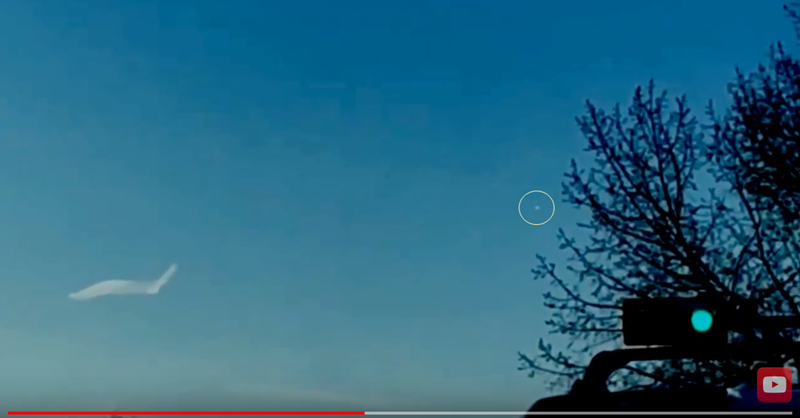 Update 3 – (April 18th, 2021)
There are far more of these 'blue / green fireballs' and 'objects on fire falling from the sky' than I had envisioned. I found many more with some general searches online. I also came across a website that has been reporting on the events since 2005 . On this website – 'sott' (Signs of the Times). The first report of these 'fireballs' or 'objects on fire falling from the sky' seems to have been in December 2005. Then one on 2006, and then around twenty more sporadic reports up until 2013… 6 of these were in 2012. And then in 2013 it really kicks off and the incidents increase a great deal – there are now lots of images and videos of 'fireballs' and 'objects on fire falling from the sky'. From 2013 all these 'fireballs', and the 'slow objects on fire falling', become a regular occurrence up until present day. Though the occurrences seem to speed up in 2020 and 2021. There are more 'blue / green fireballs' than there are 'objects on fire falling from the sky'. If you check out this link and work your way through the pages you will see how many more reports there are, and the increase for 2013 onwards – https://www.sott.net/topic/8-Fireballs?page=193
There are two topic areas on the site that overlap somewhat – as Fireballs has their own section, and the Fireballs are also included in the 'Fire in the Sky' section.
'Fireball' Section – https://www.sott.net/topic/8-Fireballs
'Fire in the Sky' Section – https://www.sott.net/category/17-Fire-in-the-Sky?page=1
Update 4 – (April 29th, 2021)
At the Chernobyl nuclear disaster a blue glow was reported after the explosion. The burning Chernobyl nuclear reactor was emitting a blue light / glow, which could be seen in the night sky.
A nuclear expert, and a team of researchers, examined the blue glow seen at Chernobyl in a 2017 paper published in the journal Nuclear Technology.
Lars-Erik de Geer – Swedish Defence Research Agency – wrote in the study:
"It is well known that criticality accidents emit a blue flash, or rather glow, which derives from fluorescence of excited oxygen and nitrogen atoms in the air.
"It is obvious that the most impressive explosion was the one that ruptured the fuel channels and threw the 2000-ton lid with its hanging fuel channels high up in the central hall from where it fell down and came to rest nearly vertically on the rim of the reactor tank.
"With the fuel fully exposed, the air was irradiated, and the typical blue glow was lit."
And from – https://en.wikipedia.org/wiki/Ionized-air_glow:
"Ionizing radiation is the cause of blue glow surrounding sufficient quantities of strongly radioactive materials in air."
The most likely reason that these fireballs are nearly always seen as blue in the night sky is that the air was irradiated… Whatever these 'fireballs' are, they appear to be radioactive.
The UFOs seem to be neutralising the radioactive fireballs. They could be achieving this by using scalar waves:
"Scalar Waves are a form of radio waves creating what is known as Longitudinal Wave Interference. Where two Scalar Waves meet, an energy bottle is created which disintegrates all matter within that bottle, producing what is in effect a miniature atomic explosion but without any resulting radiation." – Source
Update 5 (May 24th 2021):
'Starlink Satellites' – A Hoax / Psyop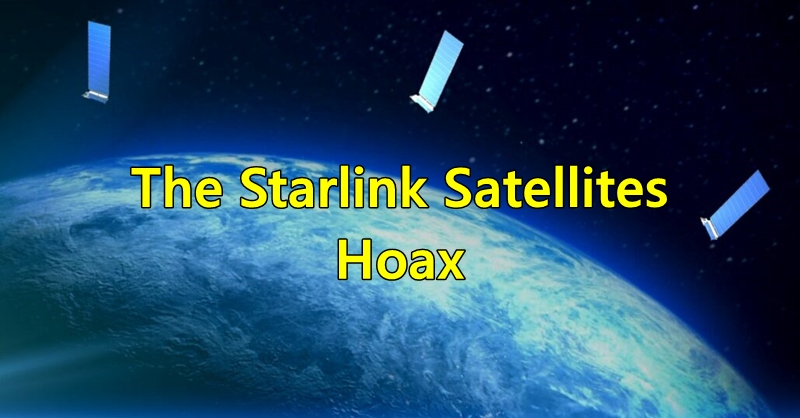 I did not know where to put this information – as it is not enough information for a new post, but it is significant information that is related to my Ufology Explained series. So I have added it here, as it is most related to this particular article.
The supposed trail of 'Starlink satellites' that people are seeing:
These 'satellites' are said to be orbiting the Earth 341 miles high – roughly 550km. Way up in space.
Each satellite is said to be around 2.8m long and 1.4m wide – some say they are the size of a desk or table (which is smaller than these measurements). Regardless, they are very small. Much smaller than a commercial passenger aeroplane for example, which are often between 60 – 70 meters long and roughly 5 – 6 metres wide. Passenger planes are said to fly cruise at around 5.9 – 7.2 miles high in our atmosphere. These commercial passenger air planes are more than 100 times bigger than these satellites. We perceive cruising passenger planes as small dots in the sky – but these glowing orbs – which are supposedly very small satellites 341 miles above us – can be seen more clearly, and are often seen as larger than a cruising passenger aeroplane.
People actually think they would be able to see these small objects this clearly, and brightly, 341 miles above the Earth – way up in space? Humans truly are dumbed down on this planet.
(Why would theses angular / rectangular small 'satellites' up in space look like large round orbs that are moving through the lower levels of our atmosphere?)
I don't think people have any concept of how high 341 miles is. It is way outside of our atmosphere – way up in space. I will say this again – to put things in perspective – commercial passenger aeroplanes usually cruise at somewhere between 5.9 – 7.2 miles high.
I have seen this supposed 'Starlink satellite' procession with my own eyes. It was directly above me – other people saw it with me. It was quite an impressive sight and mesmerising. There is absolutely no way they are orbiting the Earth at 341 miles high! These processions of round orbs are not 'satellites'. They were way down in our atmosphere. If you look at the videos they are often below the clouds.
I do not know what they are, but when I viewed them they looked like the orbs that we often see grouped together in our atmosphere in various parts of the world, which people refer to as fleets of UFOs. They can also be seen by themselves – just one orb moving around. Except this time they seemed to be following each other in a straight line, rather than in a spaced out more random formation.
This 'Starlink satellite' rhetoric is a psyop. They are not satellites.
If you review all the different recordings of these 'starlink satellites' from around the world there is no consistency. The spacings are different in different recordings. Sometimes they are bunched up, some times more spaced out. Sometimes more orbs, and sometime less. When I saw them there were some orbs that were trailing quite far behind the rest, and not in line, but off to the left and right. Sometimes they are all totally aligned in a straight line, and sometimes there are also some orbs that are not in line, but to the left or right of the procession. Sometimes they are higher in the sky and sometimes lower – but they are always in our atmosphere – in the lower portions of it. And why would you need satellites – that are supposed to be providing greater internet speed and coverage – all bunched up like this? None of the 'Starlink' rhetoric makes sense. It is all misdirection.
This procession of craft, or perhaps some type of 'energy balls', will be a message to the 'Powers That Be' on Earth. A show of dominance from The German Breakaway Civilisation. It is not a message to the general populace.
Clearly below the clouds and low down in our atmosphere:
Bunched up and less orbs:
Just four orbs:
Just above the city:
Large aligned orbs low in the sky:
If anyone thinks these are 2.8m by 1.4m rectangular objects, 341 miles up in space, orbiting the Earth, then they really need to practice critical thinking and do some research.
Whatever they are, they are not 'Starlink satellites'. They are UFOs – unidentified flying objects.
Update 6 (24th May 2021):
Two more blue / green fireball events where UFOs were seen close by as the Fireball vaporised / disintegrated. Making it 11 sightings of UFOs near to the vaporising fireballs. Screen grabs with highlighting, and then the two videos:
China, Shanxi, May 2021: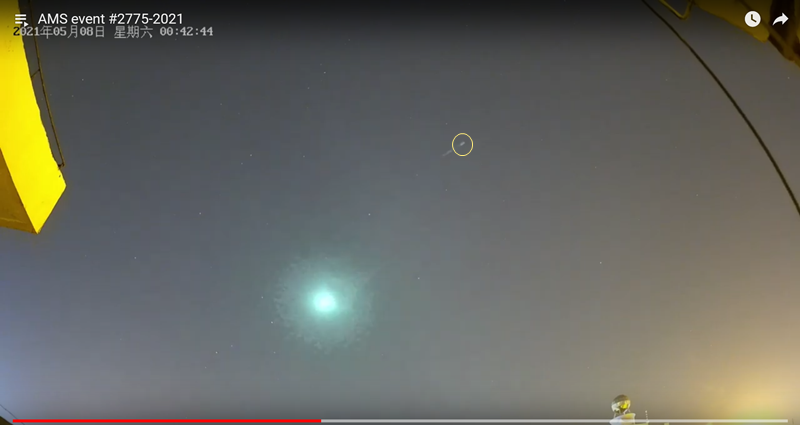 Eastern Morocco, May 2021: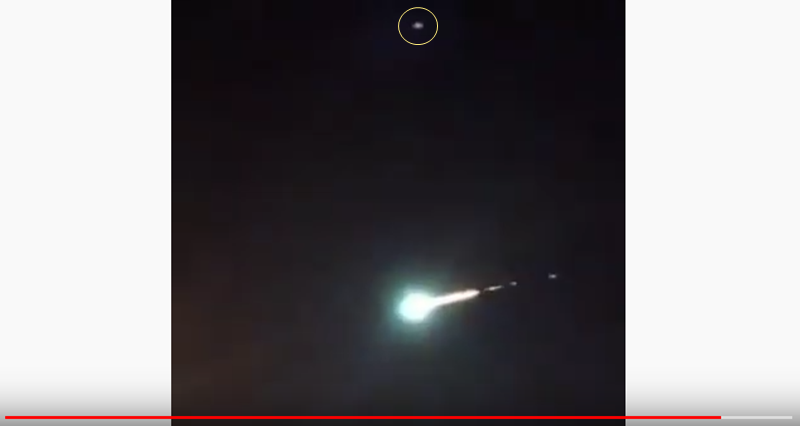 China, Shanxi, May 2021:
Eastern Morocco, May 2021:
Another UFO near an exploding fireball (12 now) – added July 10th 2021. Taiwan, 7th of July 2021. You can clearly see the cigar shaped UFO move up past the 'fireball' as it explodes 4 times. Screen grab and then the video: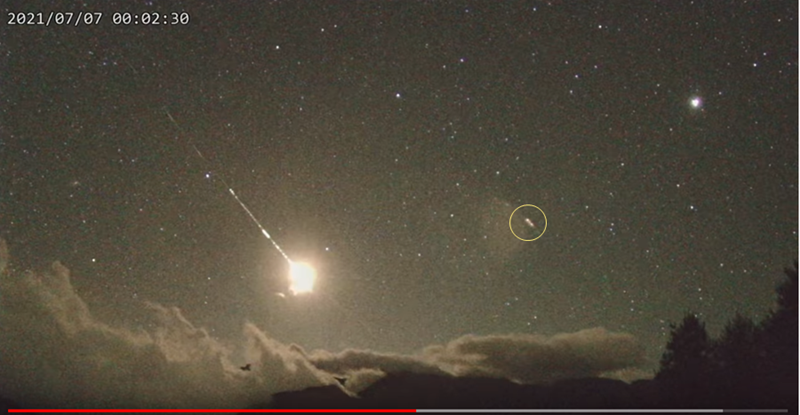 ---
Added July 10th 2021 – A craft falling from the sky – jets then scrambled to the scene. Here is a link to the original video on TikTok – https://www.tiktok.com/@pmesasso/video/6972240557255003397?lang=en&is_copy_url=1&is_from_webapp=v1
---
Explosions heard in Toronto near Niagra Falls – added 10th July 2021:
The lady says that military jets were fly were seen flying around – and people in the comments also heard these same explosions. It sounds like a battle taking place (Thanks to Saturn Trap for this link):
End.
---
Related Articles: