Ufology Explained, Part 2: Abductions, Secret Space Program, Starseeds, Underground Bases, Grey Aliens – Psyops & Truths
Main Sections:
Introduction
Ufology Timeline – An Overview
Insights and Explanations
Main Assertions / Summary
Concluding Thoughts
Additional Research Suggestions – added December 2020
Additional Content – The Purpose of Earth and the so called 'Gods'
Introduction:
This is an expansion of my Ufology Explained, Part 1 article. There is a little bit of overlap in some areas, but I want to put forth further insights and help to provide greater clarity.
I know this is not the most important subject for us right now, but I hope this article will attract more people to the site from the Ufology limited hangout… and it will also help people see how Ufology is totally controlled… as well as give them an overview so they can get a good feel for the subject without wasting a great many hours delving through the immense amount of psyops and deceivers. We all have our subjects of expertise, and this is one of mine.
I am not someone who just watched a few videos or just read a few books and think they know what's going on. I have had various contact experiences of my own, which led me to research the subject extensively. I use critical thinking and the correlation of information… and because I also research many other subjects I can get greater insights and see through the psyops more easily.
I will put my cards on the table before I begin… this is one of the conclusions I have come to from all my research over the years:
Most Ufology psyops are reactions to intel that those at the top of the pyramid have gained about the German Breakaway Group.
For example:
Starseeds, Hybrid Alien Breeding Programs, The 'Pleaidians', 'ET Channelers', Ashtar Command, Super Soldiers, MILABS, Secret Space Programs, COBRA 'The Resistance Movement'. All of these are run and promoted by networks of disinfo agents. There are also many other less well known psyops that are used to distract and subvert.
As you read through the timeline, and overview, of Ufology you may be able to begin to see this connection to the German Breakaway Group for yourselves. I will provide more insights, and connect some of the dots, after the timeline.
Important note before we begin: My article called 'Ufology Explained, The German Breakaway Group' establishes that there is a very good chance that an advanced German group went to Antarctica at the end of WW2 and probably then used that as a base to establish themselves elsewhere in our Solar System. It may be worth looking at that article before this one, but it is not essential.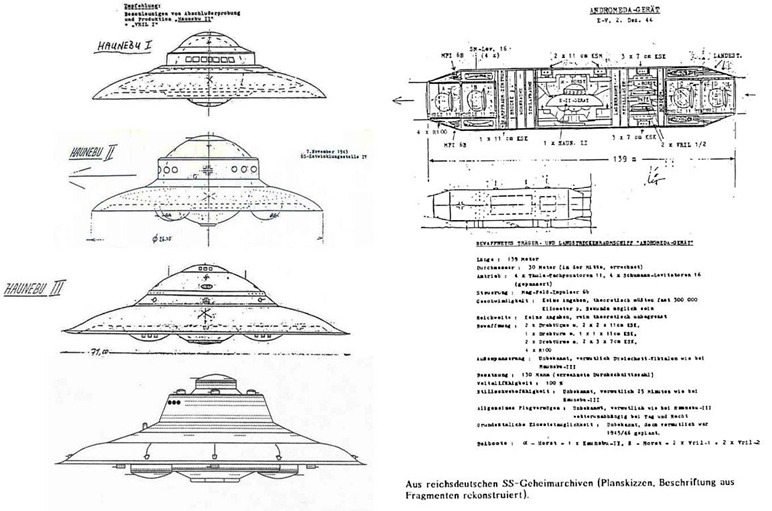 Update – April 2021: I have created three more articles that provide more information on the Breakaway Germans and Ufology.

Ufology Timeline – An Overview
(Of course there is a lot of evidence for advanced craft being around in our very ancient history, in the time of the 'gods' – but that was a very long time ago)
Looking at the general themes and significant occurrences in Ufology during the 20th and 21st Centuries
1900s – 1990s
In the early 1900's to 1940 not many sightings at all… perhaps on average roughly 6 or 7 credible recorded reports from around the world each year, from what I can tell (Only using English language sources) – very difficult to get figures – but overall, very quiet…and no contact at all. (There were also some reports before the 1900s of the occasional unidentified objects in the sky, but they were again, very rare.)
1940's: Many UFO sightings in Central Europe, in and around Germany, of flying metallic discs and large flying orbs … and a great many sightings of UFO's during WW2. Many documented reports from both civilians and military personnel.
1945 – 1947: A huge increase in UFO sightings in South America (close to Antarctica)… as well as many in North America. Hundreds of reports, again, from both civilians and military personnel.
1946 – 1947: 'Operation High Jump', which was essentially an invasion of an area of Antarctica and consisted of three Naval battle groups, which departed Norfolk, VA, on 2 December 1946. There were reports of them being attacked by advanced craft when they arrived. Their invasion was not a success.
1947: The Roswell incident occurred. Apparently it was a crashed metallic flying saucer. Lots of secrecy and misdirection surrounding this incident.
1947: Project Blue Book is set up in the United States to investigate all the metallic flying saucers and orbs that are being seen (And eventually this included the reports of the cigar-shaped craft that were being observed – which started appearing at some point in the 1950s). Though initially it was known as Project Sign, and then Project Grudge, before being officially named Project Blue Book in 1951.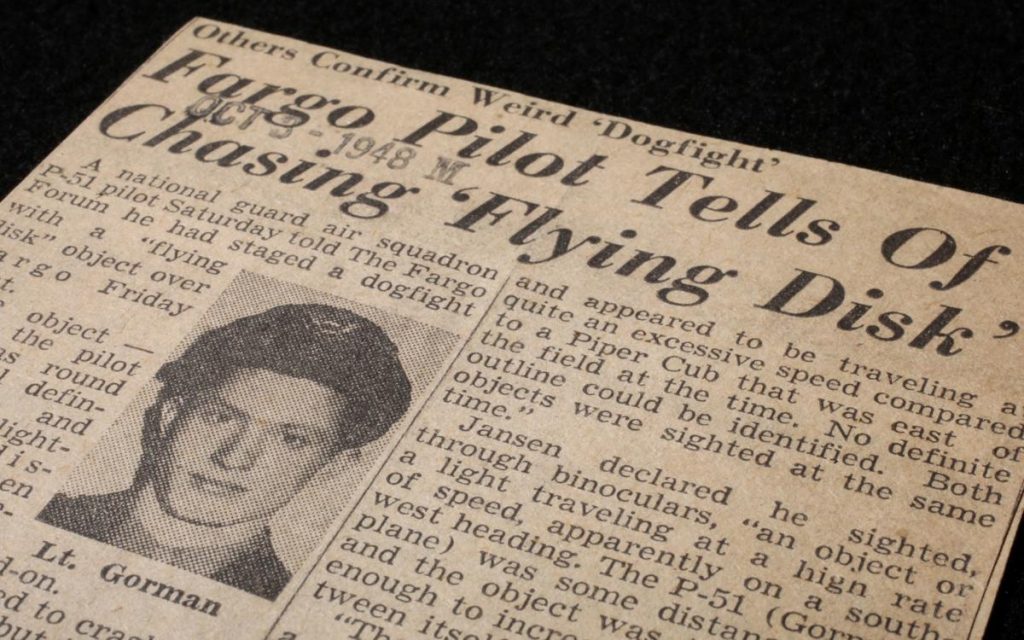 1950's: As well as hundreds of metallic disc sightings there are some close up, face to face contact by White Human extraterrestrials that land their metallic disc shaped craft and speak to Humans from Earth. On occasions these White 'Nordic' Human ETs apparently tell the Earth Humans that they are from another planet… claiming to be from Venus for example… and even saying they are descendants of Atlantis etc. For example, there were testimonies from: George Adamski, Howard Menger, Daniel Fry etc … there appears to be a few others as well…. like Van Tassel's, but Van Tassel did not have face to face contact. Reinhold Schmidt said he was told by the crew, that he had contact with, that they were from a different planet, but they did not say which one. They spoke to him in English with a German accent.
It is important to note that back then in the 50's, 60's and 70's Jewry's control of the media and newspapers, in the US and the UK, was not like it is now. It was a different time. These sorts of stories were often picked up by local newspapers and then they spread. There was no internet and regular people could have no idea who these craft belonged to – only top military and top government officials would have any idea who they might be.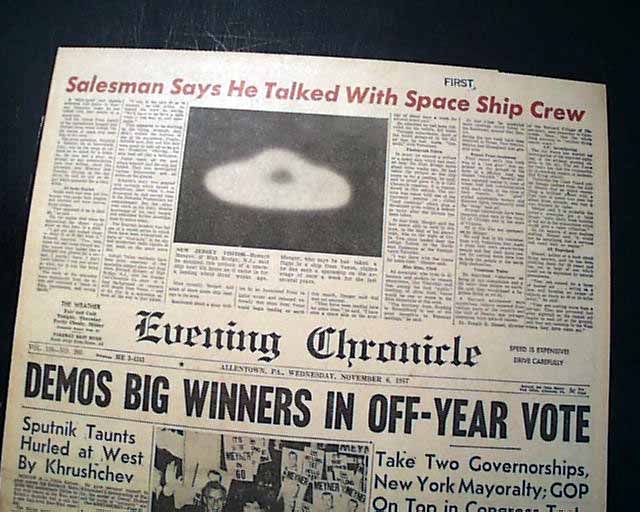 Schmidt testifies that he heard the 'Human ETs' speaking a rare german dialect between themselves when they were not interacting with him, and that they spoke English with a German accent when conversing with him. It is very interesting how so few Ufology books and 'Ufology personalities' mention Reinholdt Schmidt's experience (The Kearney incident), when it is one of the most credible and informative testimonies.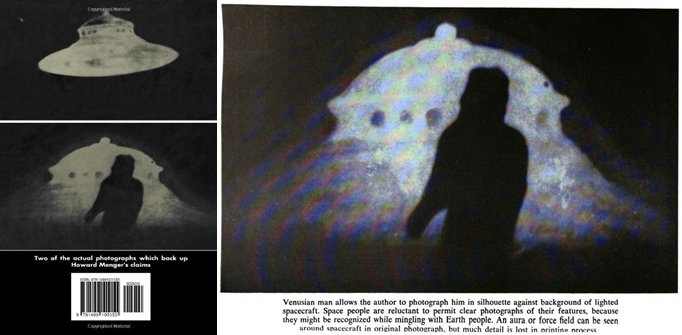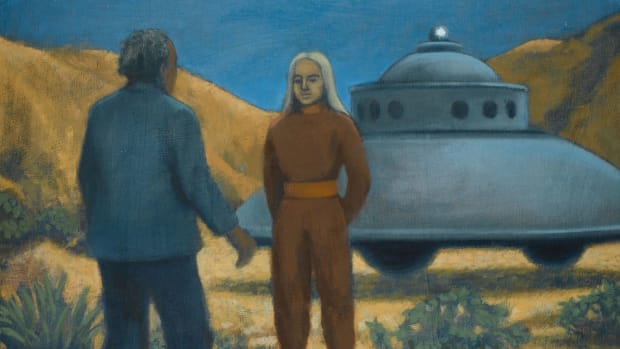 I strongly believe Elizabeth Klarer was making up her testimony in this period. It sounds like subversion from Jewry to me, and she looks jewish. She received a lot of publicity. Her testimony came just a few years after Reinholdt Schmidt's testimony. Schmidt was harassed and threatened with mental hospitals, whereas she received a standing ovation during the 11th International Congress for UFO Research in Germany in 1975 and also got to address the House of Lords in England in 1983… She was also an intelligence officer in the military in South Africa. Her testimony is outlandish and illogical – lots of fantastical notions from her… it does not sound credible at all to me. I do believe that her testimony is likely to be one of the first Ufology psyops. (O. Bergmanns book called: 'German Flying Discs and Submarines Monitor the Oceans' Part 1 – or Deutsche Flugscheiben Und U Boote Ueberwachen Die Weltmeere in German – did confirm that this lady is jewish.)
Reinhold Schmidt's testimony is easily the most credible – and he was treated very badly indeed. He was threatened so much. He even had to agree to withhold some of his testimony, and what he knew, from the public. I recommend you read his testimony, you can find a free PDF online.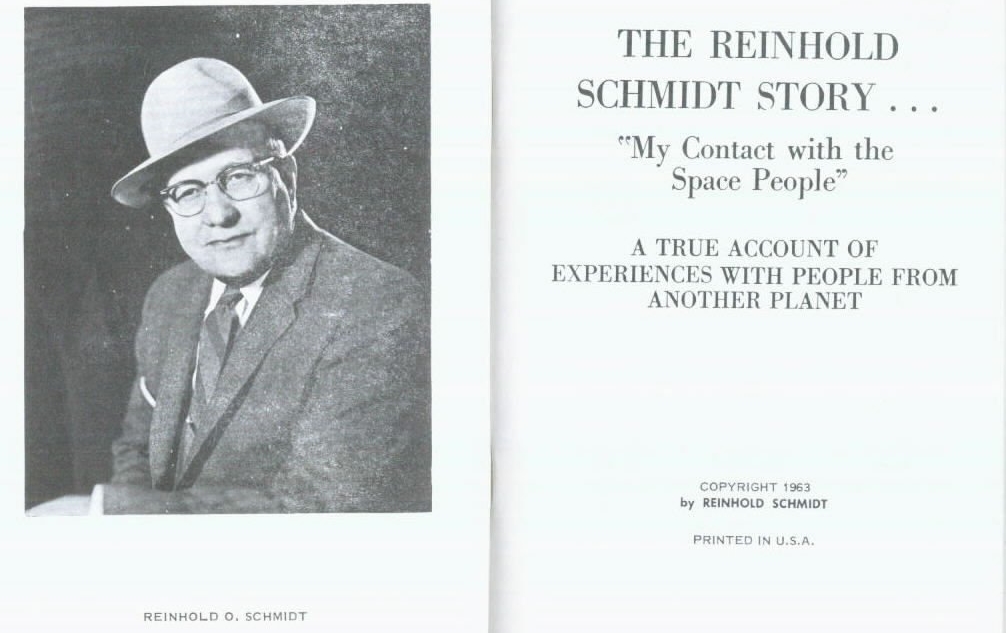 (There were possibly some more contacts in this era, and following eras, but not everyone is going to go public with what they have experienced – most will not)
Update (Feb 2020) – After reviewing the information, and after more information has come to light, I firmly believe that Adamski's contact was also a psyop, created by Jewry to distract from who the flying saucers actually belonged to. In fact, I would suggest that Reinhold Schmidt's was the only genuine, face to face, fully lucid, contact testimony. The Germans would have seen how badly he was treated and realised that this type of contact was not really a viable option.
1952: There was a documented, and very blatant, flyover over Washington DC by a group of UFOs on July 12th. Reported in various newspapers – and seen by a great many people.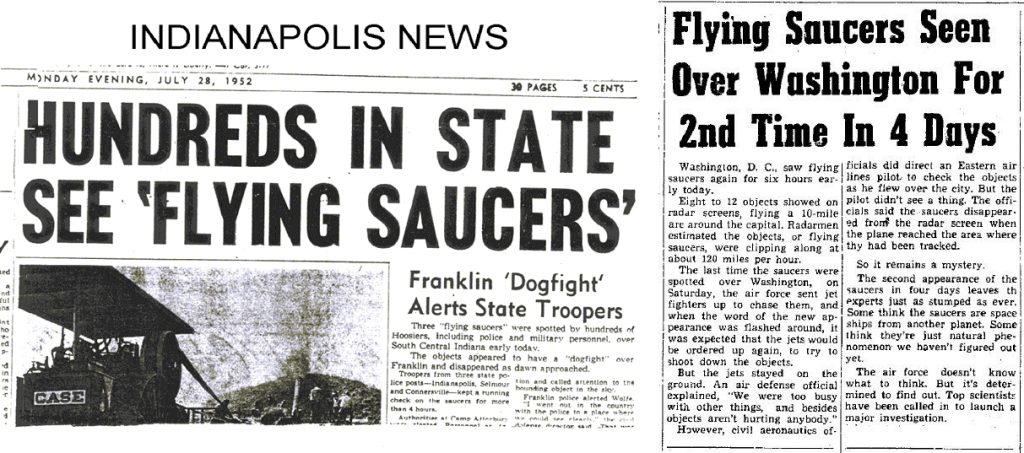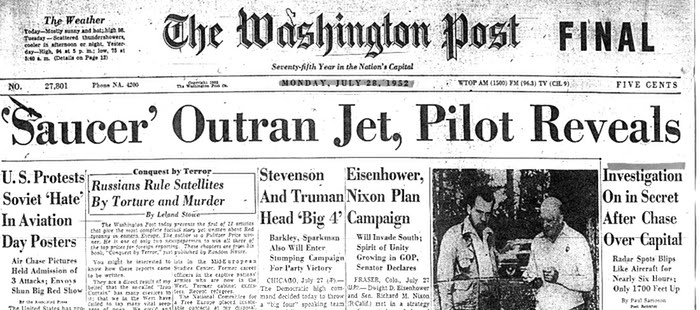 1960's – 1980's No more face to face, fully conscious, contact experiences. Now there are collections / abductions that mainly involve the small, large headed, grey aliens… but there are also some collections by the 'Nordic' ETs. There are also some abduction testimonies with both small Greys and 'Nordic' White human extraterrestrials in the craft. Some examples: In one testimony a man got away from the small room he was in with some small Greys and found a hangar with some humans and disc craft in it – from Travis Walton, 1975. In Budd Hopkin's 'Missing Time' book Judy Kendall described the small Greys and said there was also a women there that looked 'entirely human', from her 1972 abduction testimony. I also read a testimony involving a child, and the human woman on the ship with the Grey aliens held the hands of the child to offer reassurance. (I did not note down the name of that last testimony, so I don't know the name, if you recognise it let me know.)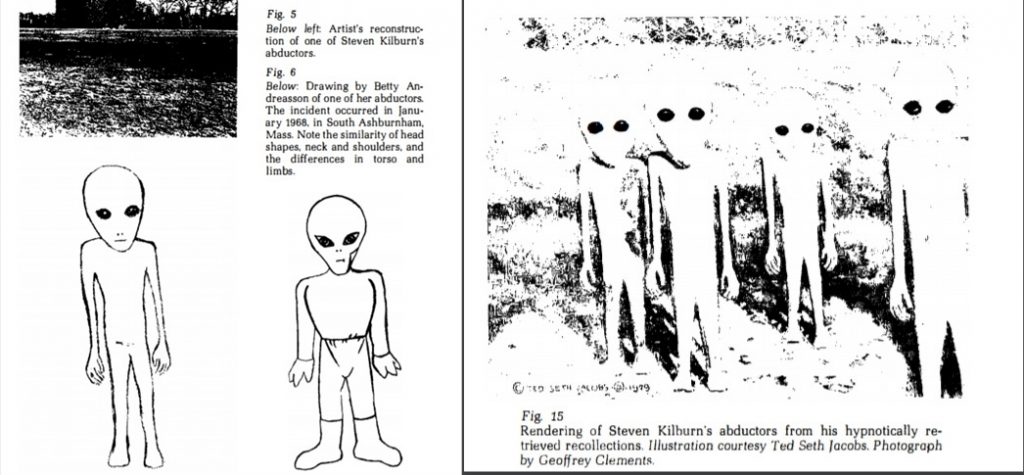 Above image: The 2 more detailed images on the right are recreations – an artist being directed by the abductees. Travis Walton, Sgt Charles Moody, Steven Kilburn, Betty Andreasson and William Herrman are the abductees – all totally separate cases. This is taken from Budd Hopkin's book called 'Missing Time'.
How did we get from these images to the terrifying images we often now get on the internet of Grey Aliens?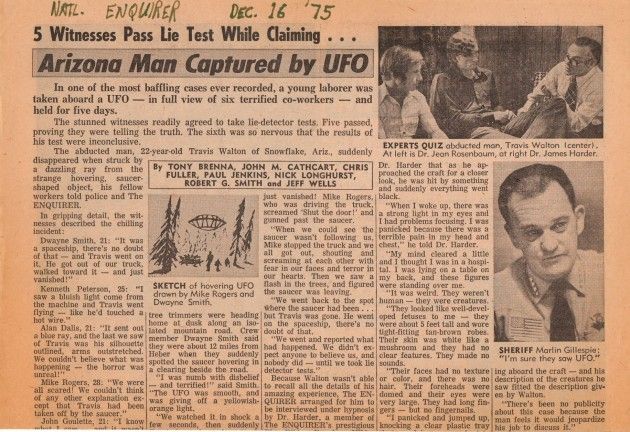 But the majority of abductions/ collections are carried out by short, large headed, hairless Grey aliens, and as mentioned previously, occasionally a human is seen with them.
During this period there are also a fair few testimonies of people seeing 'Nordic' / White Human extraterrestrials out of their craft on Earth taking samples of dirt or repairing a craft. Here is a link regarding people seeing these humans taking samples etc – (ignore the ridiculous image this person uses. The testimonies were talking about 'silver suits', not 'silver people'!) –https://www.ufoinsight.com/aliens/encounters/silver-suited-man-nordics#A_1976_%E2%80%9CNordic_Alien%E2%80%9D_Wave
There are many credible testimonies in this era.
Most collections by the small Greys involve examinations, scans, sample taking and DNA collection… and egg and sperm collection is sometimes reported…. or even the occasional metaphysical removal of a small fetus is reported. In a few there seem to be some sort of 'other level' teaching occurring as well.
A great many craft are still being seen in the skies… hundreds of sightings. Described by the vast majority of witnesses as flying saucers, and occasionally they describe a cigar-shaped craft… as well as orbs (flying balls of glowing light)
(An additional paragraph – added November 2020) There are also many reports of USOs (Unidentified Submerged Objects). The two suppressed, and hard to find, books by the author O. Bergmann demonstrate this – called 'German Flying Discs and Submarines Monitor the Oceans' Part 1, and Part 2 (Deutsche Flugscheiben Und U Boote Ueberwachen Die Weltmeere). A lot of documented evidence, of what are very likely, German UFOs and USOs in these two very much supressed, and hard to find, German books, which expand upon, and support, Ernst Zundel's book on the subject. So many more sightings than people realise. As well as UFO activity, and a German escape, O. Bergmann's books also show much evidence of USO and unusual U-boat activity in Scandinavia and other areas of European waters after WW2.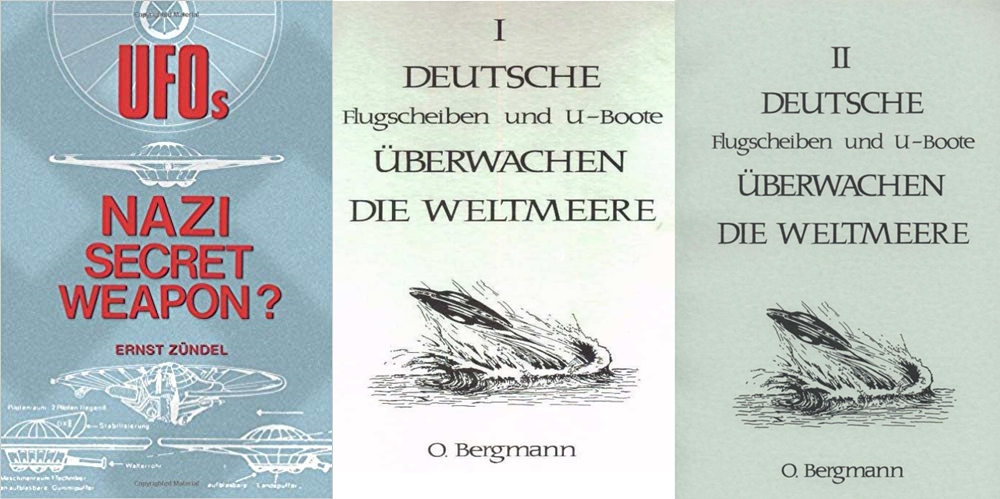 So, the small Grey aliens are seen using the same craft as the 'Nordics' or 'Venusians'. They are also sometimes seen in the same craft as 'Nordics' / humans. And at the same time of all these abductions 'Nordics' are seen landing in metallic disc craft and collecting samples from Earth. Craft that were either the same as the craft the Germans were developing in the 40's or very similar.

Bill saw disc-shaped craft in Charleston, South Carolina USA between the years of 1977-1982 and experienced an abduction and saw small Gray aliens… Look at the bottom of the craft, it has the protrusions underneath just like the flying discs the Germans were developing / creating: The Haunebu 2, 3 & 4
Nearly all these abductions, and the deliberate face to face contact, involved White people… people with European ancestry. This large spate of abductions in this period was not a worldwide phenomenon – I obviously don't have all the statistics for abductions, but it was, from what I can tell, very much a White / European people collection operation. Lots of abductions / collections in the US and Europe (A lot in England and the UK)… from what I can tell the US had the most collections, and then the UK.
1969: There is the Apollo 11 mission. I believe that they do go to the Moon, but they then fake the footage. There are various reports from insiders saying that there were large craft there waiting for them, and that they were warned off.
December: A few months after the 'Moon Landing' Project Blue Book is terminated.
1970: Ernst Zundel's book: 'UFO: Nazi Secret Weapon?' is first released, The expanded edition is released in 1974. The book is full of diagrams, testimony, newspaper clippings and photographs – a great deal of credible information. No one in Ufology ever mentions this book (as Ufology is full of shills). But it is one of the most important Ufology books you can read. In later years various shills use Zundel's research and information in their own books, leaving out certain important information and with added misdirection and propaganda.
1971: The Billy Meier 'Pleiadean' contact psyop is played out and receives a great deal of publicity. It is probably the most well known contact / UFO testimony.
(Note of interest: The name Meier is a Jewish Ashkenazic name that was originally derived from the Yiddish male given name Meyer. Billy Meier even released a book about Jesus called 'Talmud Jmmanuel'.)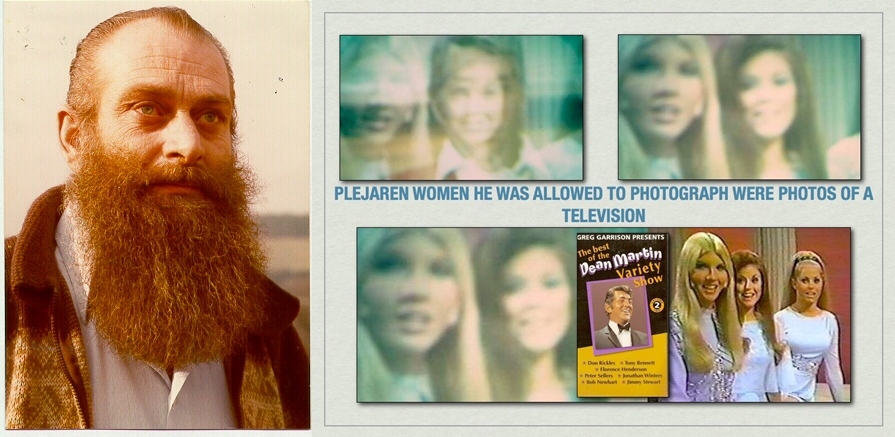 The photograph Meier used to attempt to prove Pleiadean women met and spoke to him was shown to be a photograph of his television – of a Dean Martin variety show. This psyop was just Jewry attempting to gain control of the narrative and to introduce the notion of Pleiadeans in Flying Discs… so as to subvert people.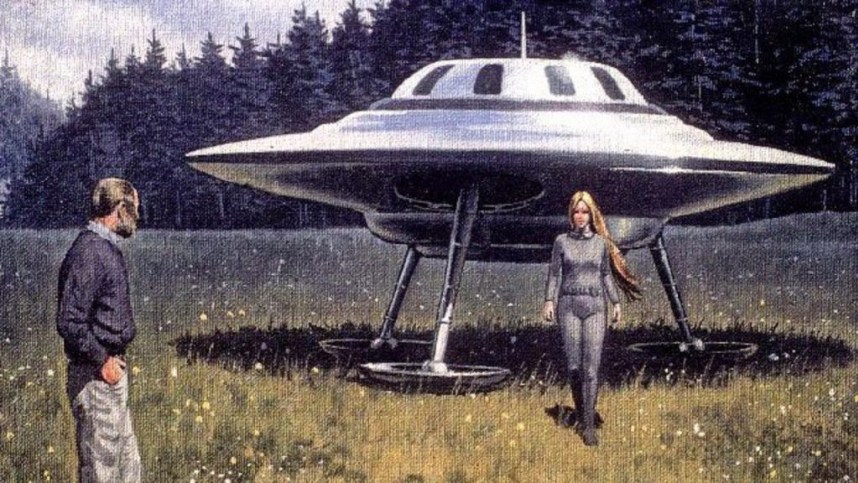 (((They))) just wanted to take further control of the narrative with this Meier psyop. I think both the Adamski and Meier 'contacts' were fake, so as to create misdirection.
1980's The sightings and collections continue, but none of them are being investigated… the authorities and the US government are no longer interested in people's sightings.
Collections / abductions seem to peak some time in the mid, or late, 70's – and then trail off somewhat, but they do still occur… or maybe, less people are aware of them… better memory suppressing from the ET's perhaps.
1989 – Bob Lazar takes part in an interview (initially anonymously), saying his job was to reverse engineer one of nine flying saucers at "S-4", a subsidiary facility he claimed exists near the Nellis Air Force Base installation known as Area 51. A very unusual character with some convictions.
1990's
From the early 1990's up until present day many 'channelers' appear, for example: Ptaah, Ramtha, Barbara Marciniak, Sheldon Nidle, Adronis, Tom Kenyon, Bashar… , and many lesser known frauds as well… as well as many so called 'seers'.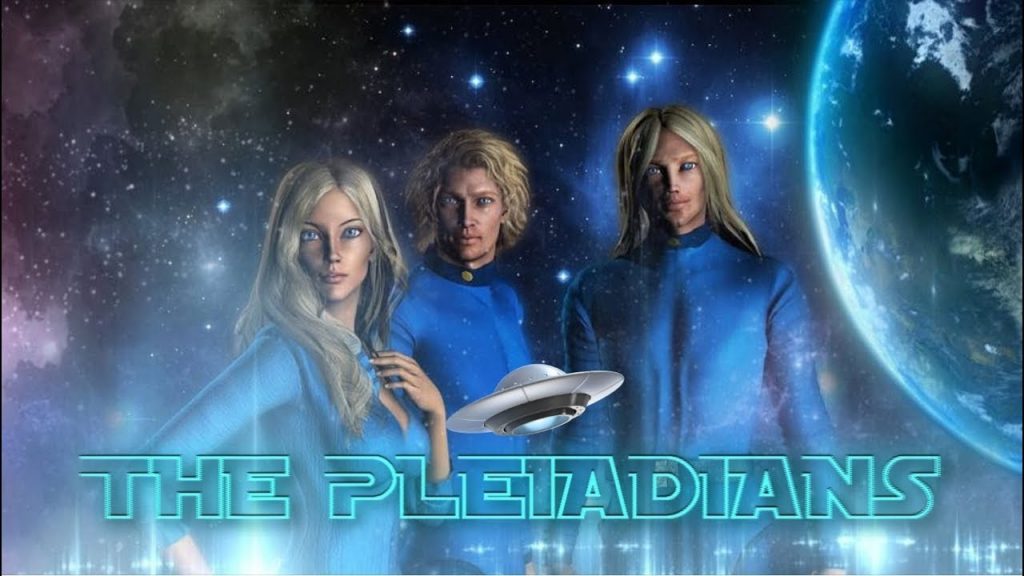 Starseeds: We also have many people pushing the 'Starseed' rhetoric promoted by the New Age 'channelers' and various Ufology personalities – it seemed to culminate in the Dolores Cannon books.

We have this idea promoted of 'Pleiadians', and 'Sirians' (people / Souls from the Pleiades and Sirius constellations) incarnating here on Earth to help… these people are called 'Starseeds' apparently. And they say Pleiadeans are Humans that are mainly blonde and Sirians are Humans that have mainly brown hair. We also have the idea put forward by some personalities that there are Aldebaran ETs out there, apparently this group also helped the Germans. As well as Ashtar Command. All of these groups are White Human Extraterrestrials. Ashtar Command are said to be run by 'Nordic' looking aliens, and apparently the Galactic Federation, which is pretty much the same thing as Ashtar Command, also apparently worked with Grey aliens. Look at this image: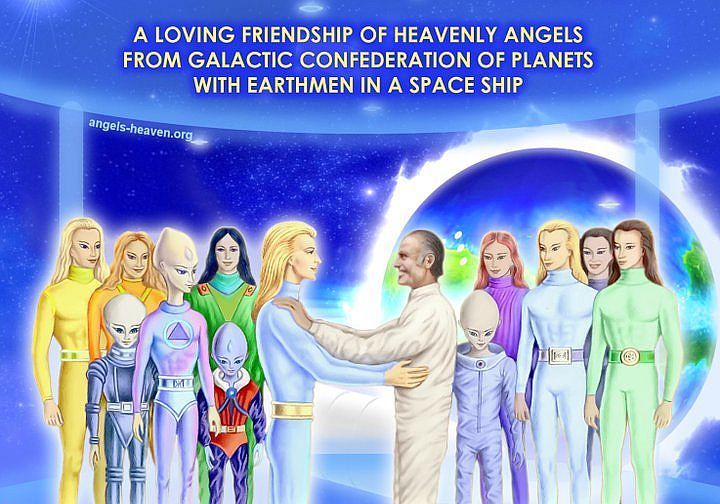 We also have the Hybrid alien rhetoric promoted, lots of this stemming from the fake 'channeler' 'Bashar' – saying that the small Grey Aliens are from 'zeta reticuli' and are creating a hybrid species as they can no longer reproduce (for some reason) and that they want to feel more emotions (for some reason)… and then they want to bring hybrids down to Earth to eventually to live with us… (for some reason). Though a few other psyops say the 'Zeta' Greys will take the babies to their home planet. This psyop seemed to stem from a couple of abduction testimony where the small grey aliens said they were from Zeta Reticuli. Both the 'Nordics', and 'Greys', were not letting on to the abductees where they were actually from.
As well as the Pleiadian rhetoric, Barbara Marciniak also heavily promoted the Reptilian rhetoric in this period, through her channelings and her various books. As did the major shill David Icke, through the 90's he talked of Reptilian overlords… and he, of course, promoted that the Royal family and numerous politicians are actually shape-shifting Reptilians.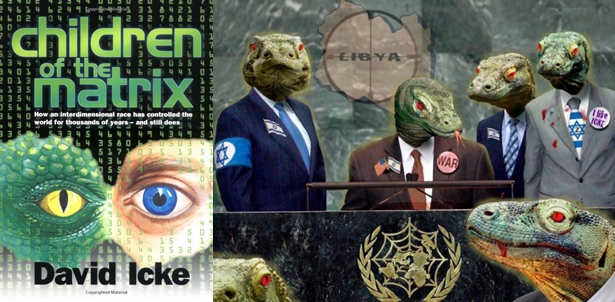 1995: Phil Schneider comes out with his stories about these underground bases full of malevolent aliens, and he says a firefight / battle occurred with evil Grey aliens.
1997: The Phoenix Lights were a series of widely sighted unidentified flying objects / UFOs observed in the skies over the U.S. states of Arizona, Nevada, and the Mexican state of Sonora on March 13.
Lights of varying descriptions were seen by thousands of people between 19:30 and 22:30 MST, in a space of about 300 miles (480 km), from the Nevada line, through Phoenix, to the edge of Tucson. There were two distinct events involved in the incident: a triangular formation of lights seen to pass over the state, and a series of stationary lights seen in the Phoenix area.
(Some places report that this formation of lights was one big craft, but I do not think it was – it looked like individual lights in formation)
2000's:
In the early 2000's we had Barbara Bartholic and Karla Turner talking about abductions and mainly promoting this idea of Reptilian overlords and evil Grey Aliens working with them, as well as a great deal of rhetoric about underground bases where Reptilians and Greys had a great many humans imprisoned and were cutting off body parts.
So in a short space of time we now have Icke, Marciniak, Bartholic and Turner talking about Reptilians. BUT in all these contact and abduction testimonies I have looked at from the 50's, 60's and 70's and early 80's there was no talk of Reptilians…. None. This Reptilian rhetoric began in the 90's via two shills – Icke and Marciniak – and then proceeded into the 2000s.
Important note – The cases in the 50's 60's 70's and early 80's people came forward and used their real names and made official reports about their experiences and sightings, they did not remain anonymous and use pseudonyms, like many of those people in Bartholic's, Turner's and other Reptilian enthusiasts reports and books.
Little Greys and Nordics were in people's testimonies for nearly 4 decades. But then these new UFO investigators were suddenly saying they had testimonies from people who had contacted them recently, who spoke of Reptilians and terrifying torturous underground bases. Apparently abductees would be forced by Reptilians to dismember human body parts with meat cleavers from corpses that were coming down a conveyor belt. (This is sounding like subversion and lies – almost as bad as some of the fantastical 'holocaust' tales we get.)
Ufology was suddenly becoming all about Reptilians and their underground bases, with no history behind it.

We had other personalities take on their Reptilian rhetoric, like Simon Parkes and James Bartley. Simon Parkes appeared on mainstream morning television in the UK talking about his 'experiences' with Reptilians – a mainstream morning television programme that was watched by many millions of people! James Bartley mainly talks of Reptilians, Milabs and Super Soldiers. There was also the ridiculous 'testimony' from Donald Marshall about underground bases with Reptilians – according to him they had this type of proboscis that came out of their heads and attached to a human.
Nearly all these agents, of course, put out disinfo about The Germans / 'Nazis', and all talk about the 'Illuminati' – and never mention anything of Jewry… ever.
Super Soldiers, MILABs and Secret Space Program become prominent new psyops in this era. So-called Whistleblowers appear like: James Casbolt, Max Spiers, Corey Goode, Randy Cramer, etc…
The psyop 'COBRA – The Portal' is also related to this. He promoted a lot of these people and their rhetorics. He even uses a silver metallic disc as the main image on his website. His main psyop involved the notion of this 'Resistance Movement' on 'Planet X' that was working to save us from our Reptilian overlords. He also talks about 'The Galactic Federation' and used to promote 'Ashtar Command'.
Corey Goode also promotes the Sphere Being Alliance nonsense, as well as that 'Solar Warden' are this rogue space-faring Earth group who are trying to free us.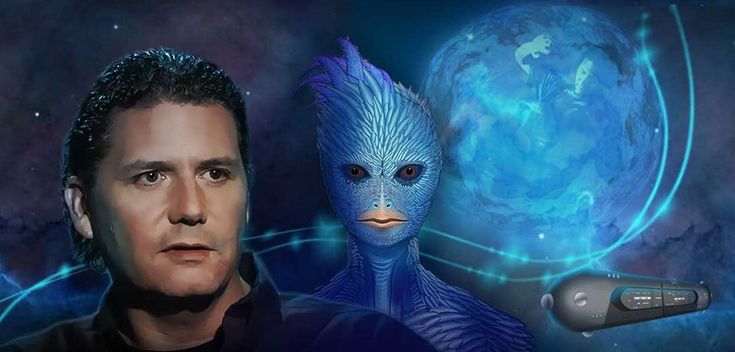 A cigar-shaped craft is depicted in this above image, apparently they are used in the US 'Secret Space Program'. But the only group we have evidence for making these cigar-shaped craft are the National Socialist Germans – diagrams were found. Cigar-shaped craft were seen over the US and Europe in the 50's 60's and 70's at the same time all the metallic flying discs were being spotted. There were sightings of these cigar-shaped craft by various pilots – and they still occur to this day.
We also had William Tompkins – an ex-aerospace engineer – talking about the 'Secret Navy Space Fleet' with the shill Michael Salla.
Zero censorship, by the way, for all these people who are supposedly revealing the Government's deepest secrets!!! You can still find all their testimonies on the highly controlled and king of censorhip YouTube. "Oooh, but Phil Schneider was killed for talking about underground bases and the Grey and Reptilian aliens living in them…" No, he wasn't, don't be gullible and naive. "And Max Spiers was killed off…" No he wasn't. So they were killed off but you can still listen to all their testimonies on YouTube? Give me a break. (You could also look at some of the people Spiers was associated with and their backgrounds)
Many new Ufology 'personalities' appear, becoming prominent on Youtube: Kerry Cassidy, Alex Collier, Andrew Basiago, Miles Johnston, David Wilcock, Michael Salla,… as well as many lesser known ones.
The US focused more on 'Secret Space Programs' – and the UK had the ex Sky Television worker Miles Johnston, with his 'Alien Underground Bases' and 'Super Soldier' psyop operation. Both the UK and US psyops talked of MILABS. The US also had their Super Soldier psyop, which was run by James Rink. Kerry Cassidy was involved in all these psyops. (Cassidy has admitted that she is one of the (((Tribe))) by the way – as are some of these people with SSP testimonies)
Interestingly, the US and UK seemed to have the most abductions over the years, and they were the ones who got all the big UFO psyop operations run in their nations.
These three psyops overlap somewhat. A quick overview:
Super Soldiers: elite troops and multidimensional soldiers trained to perform various missions on Earth, in other dimensions and off-planet – could also be used as assassins.
MILABS: (Earth based military abductions) – people used by our governments to perform various missions on Earth and in space – used because of their metaphysical abilities (MILABS and Super Soldier rhetoric was very similar, pretty much the same thing).
Secret Space Program: People selected to go and work for various space-faring Earth forces for twenty years or more – then age regressed and brought back to Earth with their memories wiped. But they also say some people are used by the 'Nazi' groups out there in space, as slave labour, because the 'Nazis' apparently work with the 'Illuminati' / 'Cabal'!
(One of the so-called 'Super Soldiers' (Max Spiers) claimed he was also used in the Secret Space Program, as well as being a 'Super Soldier'… this was later on, in certain interviews, this was after all the SSP psyops began to get popular)
Lots of talk of 'Evil Nazis' in all of these psyops, lots. And again, not a single mention of Jewry.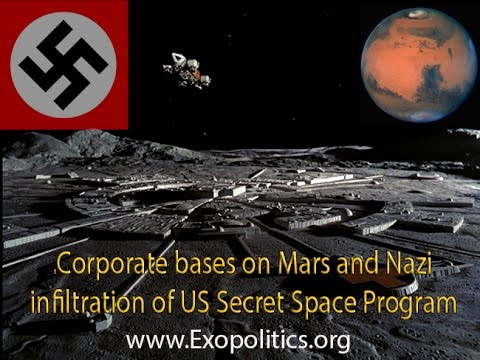 Apparently, according to the shill Michael Salla, the 'Evil Nazis' had infiltrated and taken over the US Secret Space Program. Even though the NS Germans had all the advanced craft and advanced technology in the 40s and had many decades of a head start. (There is no advanced colonising US Secret Space Program)
In the Secret Pace Program rhetoric there is lots of talk of the 'Dark Fleet', which is the name these disinfo agents use for the 'Nazis' out there in our Solar System.
Two of the fake whistle-blowers say they were used as Slave Labour by the 'Nazi' Breakaway Group. I look more closely at their testimonies in my 'Ufology Explained: The German Breakaway Group' article on this website.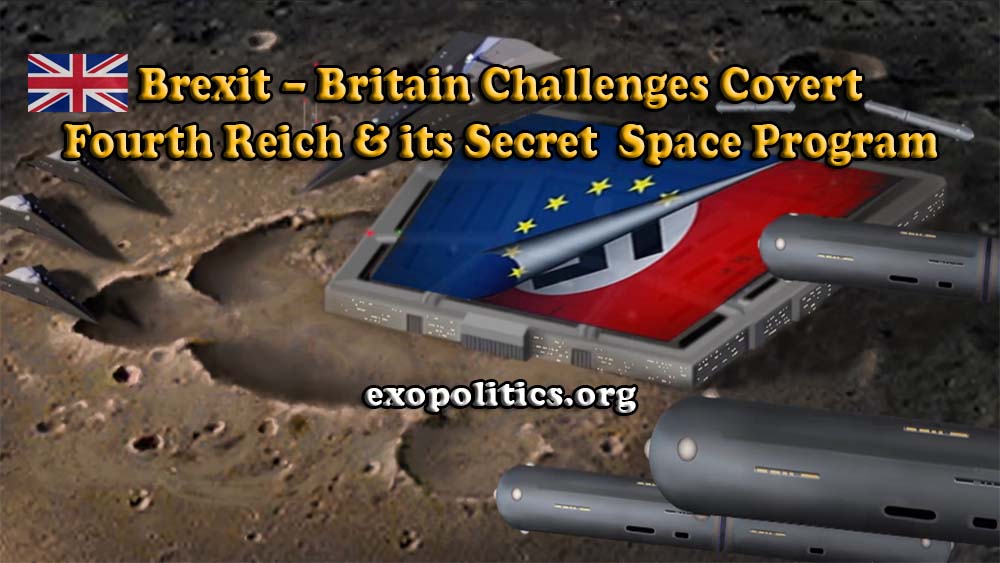 I had to add this image as well, it is hilarious. Apparently, according to Michael Salla, Britain is challenging the secret 'Fourth Reich Secret Space Group' by voting for Brexit. Apparently the 'Nazis' infiltrated the European Union and run it! So, The German Breakaway Group are apparently intentionally flooding Europe and their own original Nation / Homeland with millions of immigrants!
We have some particularly ridiculous rhetoric from two disinfo agents connected to these psyops. One is that in a parallel universe the 'Nazis' won WW2 and they are trying to come back via portals into our alternative reality and take over our parallel universe! (from the ridiculous 'Peter the Insider') Another is that there is apparently a secret group of 'Nazis' in the US military space-faring force, who are fighting the Reptilians. (From Ahlex in an interview with Miles Johnston)
So apparently you can either rely on 'Ashtar Command', 'The Galactic Federation', 'The Resistance Movement', 'The Sphere Being Alliance', 'Solar Warden' or the 'Secret American Nazis' – or if you don't want to do that apparently all you have to do is think loving thoughts and raise your vibration – and that will magically stop the New World Order! All of this is to pacify you of course.
In this period the highly controlled shill infested Gaia.com was created to subvert… And the shill infested series Ancient Aliens is also produced in this period, so (((they))) can further control the narrative and subvert… (Ancient Aliens obviously has Truths in it, I do watch it for inspiration for further research ideas and too see what they are saying, but it also has some misdirection, and some propaganda and subversion… it is a limited hangout.)
Of course people like Greer, Dolan, Moulton Howe and Nick Pope are all controlled shills as well.
I think this gives us a very good overview.
An addition – May 2021: The supposed hacker and 'whistle blower' Gary Mckinnon apparently found evidence of a US space faring force in 2002. That was all just another psyop though. They want people to believe that the German craft, and the activity in our skies, is related to their fake 'Secret Space Program'. The Mckinnon case was just another psyop so that people do not realise that the infrastructure in our solar system – on The Moon and other celestial bodies – belongs to the Germans, and that the craft in our atmosphere belong to the Germans. They do not want people to know that the Germans were not defeated – this is what they really do not want. This Mckinnon psyop had so much publicity, and was out there in the mainstream. And he certainly did the rounds in the alternative media – doing interviews with various controlled opposition agents, such as Project Camelot for example.
The US supposedly have a space faring force, but they cannot stop all the fleets of UFOs flying around our atmosphere – and the nations on Earth cannot shoot them down with their hypersonic missiles and hypersonic planes – even though they have been trying their best to. My Ufology Explained, Part 5 post shows that the UFOs are dominant in our atmosphere. There is no advanced US space faring force – there cannot be – the evidence strongly suggests that there isn't one.
My Interpretations and Insights:
Now I will give you an overview of what I think is occurring.
This Section is divided into 5 parts:
Starseeds
Grey and 'Nordic' Abductions
Super Solders, MILABS, Secret Space Programs
Project Blue Book
Underground Bases and Reptilians
I have been studying this subject for many years and have had numerous other dimensional experiences, as well as some collections / abductions – so I have a good understanding of this subject. However, if you think my logic is out, or you can suggest a good reason for why my assertions are wrong, I am happy to hear from you in the comments. I don't mind being challenged. I am interested in ascertaining Truths, and being challenged only ever deepens my knowledge on subjects.
(But not if you are talking about Flat Earth – I do not have discussions about that distracting psyop on here.)
Starseeds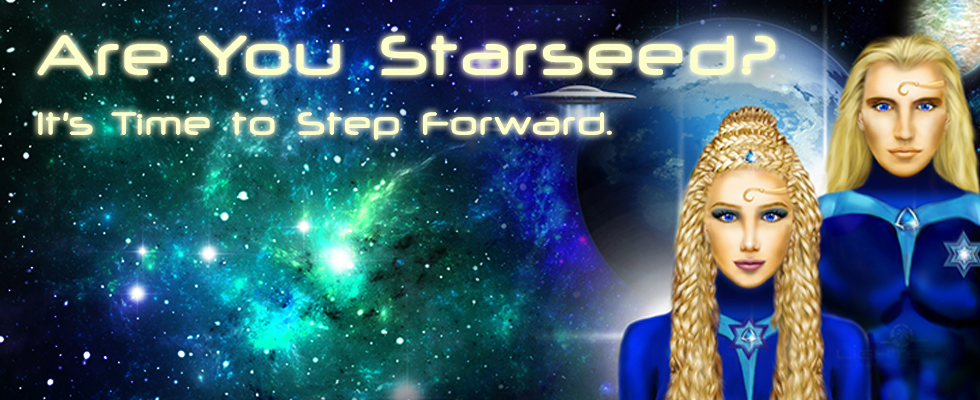 I believe that most of the face to face, fully lucid, 'contact experiences' were psyops. Adamski, Meier and Klarer were clearly disinfo agents. The craft they described were exactly the same as the German ones seen during, and just after WW2, and the same as the craft in the German diagrams discovered. It is very likely that only Schmidt's testimony was genuine.
The US, and other major Nations, did not want people to know that the Germans had not been defeated – and that they were flying around the skies as much as they wanted, and that they could do nothing about it.
I believe the Germans were testing the ground with their Schmidt contact, some sort of tactical experiment looking at the contactee's reaction, and then the reactions from the world at large to the testimony.
The Starseed rhetoric really began in the 90s. It was very likely based on some more specific intelligence they had. Hopefully you could see a trend with the ET groups being promoted by Ufology. The places from where the Starseeds were said to come from were the Pleiades and Sirius, and were said to be either blonde or brown haired White humans.
Because the (((Powers That Be))) knew that there would be people on Earth that would be connected to this German group, and perhaps having contact with them in the night in other dimensions. People from other far away civilizations are not going to be incarnating here. The only White Human off planet Nordic group that would have an interest in helping Earth would be the Breakaway German Group that went to Antarctica, and then very likely out into the Solar System. The Starseed rhetoric was mainly to subvert people connected to the German group, whether because they had lived with them in their previous life, or that the German Groups had been making contact with them via other realms in the night.
I remember having a vivid astral experience one night when I was in my late twenties. I remember it clearly. I arrived in this type of city, buildings there were similar to Earth's, but it was not Earth. There were small straight streams, like little canals, running through the street. I went into this, what looked like, a gymnasium, and there was a human boy there with blonde hair. He came to see me, and for some reason I got worried and went to leave. He was saying to me 'who are you?' And then I took off for some reason… Afterwards, when I came back into my body / woke up, my thoughts were immediately: "Oh yes, I am definitely a Starseed from the Pleiades" – haha, I was wet behind the ears back then. (Do people realise who far away the Pleiades is? It's a long way) But this is what the psyops were for, and they have worked on many people… I am certain that it wasn't the Pleiades. I believe I was visiting somewhere much closer in our Solar System. Not the me in physical body, but who I am when out of body – you are not the same when out of body – or what I like to call a 'bleed through' of experience from your astral / 'out of body self' to the physical Earth persona.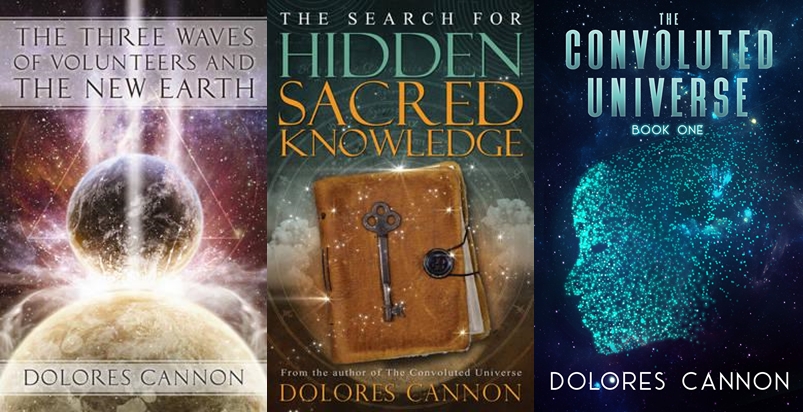 A fair few years ago I read some books about this Starseed rhetoric – two of the books were from Dolores Cannon. Cannon talks of waves of Starseed volunteers incarnating here… In her book she uses testimonies from people she has supposedly regressed, lots of them, all anonymous and unverifiable. The amount of contradicting information in them is astonishing! People just don't question things and correlate – you can tear the logic of most of these so-called genuine regression testimonies to pieces. For example: I read two of Cannon's books through and in them I read 5 different regression memories of Atlantis – each one of them was totally different – with different buildings, different customs, different problems, different vehicles, different clothing etc. These past life regressions, if they actually took place, are mainly just people deluding themselves and using their imagination. I went and had a regression once – so I know what I am talking about… regressions do not help you recall past lives. These books are pure subversive disinfo. This notion of 'Starseeds' from the Pleiades, Sirius and some other constellations was purposely introduced into the consciousness of the population in the 1980's and 1990's to subvert.
Various psyops have worked hard at getting us to believe the White ETs were not the Germans – we even had the Aldeberan ET rhetoric and Ashtar Command as well. Ashtar Command: The image they used for 'Ashtar' looked like the White human ET George Adamski described in his experience – with the long blonde straight hair. I think it was very interesting that in some of their rhetoric it was suggested that Ashtar Command also worked with these benevolent large headed grey aliens, but then they seemed to drop this 'working with benevolent greys' rhetoric completely at some point. But you can still see some of the images that they produced at the time.
Surely you can see Ufology is all a big controlled psyop. Rhetorics come and go. Some are dropped and then new psyops are created.
Abductions and Collections:
Let's imagine there is a German Breakaway Group. They only have a small population. The Cosmos outside of this quarantined planet Earth is very competitive, it can be a very brutal place: survival of the fittest. It is most definitely not some type of new age utopia of love and peace out there! You are vulnerable with a small population. If you have a battle and some people die, it hits you hard. You are trying to maintain a base on Antarctica and create settlements on Mars, and very likely Ceres as well.

The German Breakaway Group have all these people on Earth who are related to them. All these excellent bloodlines. As you exist in the Cosmos you meet other groups, other types of humanoids, and perhaps some groups have more advanced inter-dimensional, psychic and metaphysical abilities. From these other groups you are learning about how the Cosmos works and new metaphysical knowledge is acquired.
What were the German National Socialists well known for researching? As well as researching ancient scriptures and advanced technology – like free energy – they were well known for being interested in DNA, Genetics and Ancestry. They were researching it before WW2 was brought upon them. DNA is so important in the Cosmos, all other advanced races in the Cosmos will know this. The Germans have these incredible resources of DNA on Earth that they could tap into. Some excellent Aryan bloodlines. They can research them and find out which ones would be most beneficial to their civilization.
The Germans are most likely at some point under threat from other forces out there in the Cosmos. Forces / groups that are not happy about this Aryan group moving into their area of the Solar System or Galaxy.
How can they increase their population quickly? And how can they increase the size and ability of their military quickly?
The Breakaway Germans at some point adopted the English language… This is clear to me from my research (English is actually classed as a Germanic language, by the way). It makes perfect sense: It disguises that they are German, it is the international language on Earth… and it appears, that at some point, they had also decided to use many bloodlines from the U.S and the UK. There were collections and abductions in other Nations in Europe – but the UK and US definitely seemed to have the most. Many excellent Nordic, Germanic and Celtic Bloodlines are in the US and UK.
I do believe that with the help of the 'Greys' they undertook a huge study of the DNA on this planet. Mainly Aryan DNA. And probably not only the DNA, but also on the Souls incarnating here – not only looking at physical and mental aptitudes, but also the ability to function in other dimensions / realms. That the vast majority of abductions were of White people is very telling (Nearly all of them). Do you think this is a coincidence? I don't. White people are only around 8 percent of the world population.
Do you think all these collections are unethical? Well, you simply do not understand the highly competitive nature of the Cosmos. We also do not know about the contact that may have previously occurred with the abductees on other levels, in other realms. As well as this, the Germans are very likely trying to help us. I firmly believe they are fighting against the forces that are hostile to humans – the forces that reside in our Solar System, or nearby to it. Hostile both inter-dimensionally and physically.
(And in the Cosmos there really is no such thing as 'good' and 'evil' or 'right' and 'wrong'. There is just that which benefits your race, and that which harms it.)
Let's look at how the small Greys treated the people. Let's try to put things in perspective. Firstly, I can empathise fully with any abductees, as I have become semi-lucid during at least three of my collections. When you 'come to' in your physical body after having your first collection it is scary. You are freaked out… this naturally can cloud your judgement… and you may be angry. Looking at the testimonies, the small Greys would sometimes communicate with the people and try to reassure or comfort them. Communicating telepathically that it was fine and they would be OK, and that there was nothing to worry about… they were also said to say telepathically to a few people that it was 'for you own benefit'. They also do not harm the people unnecessarily. Some may say that some of the sample taking may have hurt a bit, but there was never any maliciousness shown by these little Greys in the testimonies. The Greys saying that it is 'for your own benefit' would support my theory that this is a joint project with the 'Nordics' / Germans and it was about preserving the DNA, preserving bloodlines and creating a population in our Solar System that Aryan Souls can incarnate into. As well as creating some sort of highly skilled multidimensional / off-planet Soldiers – this aspect is discussed more in a later section.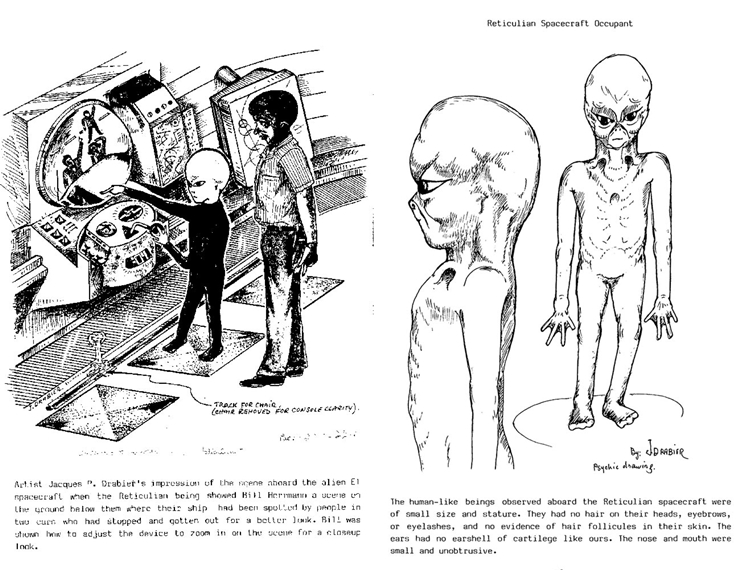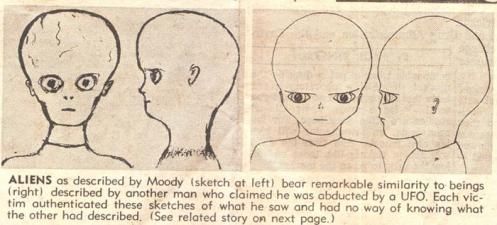 I did suggest that the small 'Greys' were malevolent in my John Lash article, as Lash said the Gnostics described beings that could have possibly been them. But I do not believe these small Greys are working with 'Reptilians' or malevolent A.Is. As my understanding and depth of research increased I no longer felt that was the case. The little Greys seem to be working with the 'Nordics' / Germans. But Jewry want you to think the 'Nazis' and the Small 'Greys' are working with this 'Reptilian' group. The beings the Gnostics described from their astral travels could have been all sorts of different beings. From my own astral recall, there are various unusual entities in these realms.
It is interesting how in cartoons, video games, and various movies, that Martians are depicted as small hairless beings with large heads that use flying saucers, and want to kill people on Earth. Who owns all these media companies? Jewry do.
Some people mention the supposed 'evil experiments' the Small Greys are doing. If you read the testimonies from the 60's, 70's and early 80's the small Greys were not doing any 'evil experiments' – they are taking samples and doing scans. They are repeating the same procedure on nearly all the abductees… they have a clear remit / specific tasks. When these tasks are completed the people are returned. I know it still seems 'wrong' – but we should take into consideration that we are incredibly naïve humans who have been incarnating on a very controlled planet – and we do not know the bigger picture.
In my longest semi-lucid collection experience I had what seemed like a short examination. No sample taking from me as this appeared to be a check up. They also looked down my throat – very specifically – which was very likely because I had had a major medical procedure on it just a few months earlier – it was not the small Greys that did the examination, it appeared to be humans and another being. I was actually picked up from my bedroom by two small Greys, and once on the ship I was taken to the room for the examination by what, very much looked like, a White human male, and I saw a canteen with humans sitting in it – though the canteen was not the most lucid part of the experience, it definitely looked like humans sitting in the canteen. I wrote about all this on my website about 5 years ago in a post that is not linked on the main site but is still live.
You can also see how I depicted the small 'Greys' in my Art work before I had all these vivid otherworldly experiences. I did not depict them as scary malevolent beings but as friendly and benevolent.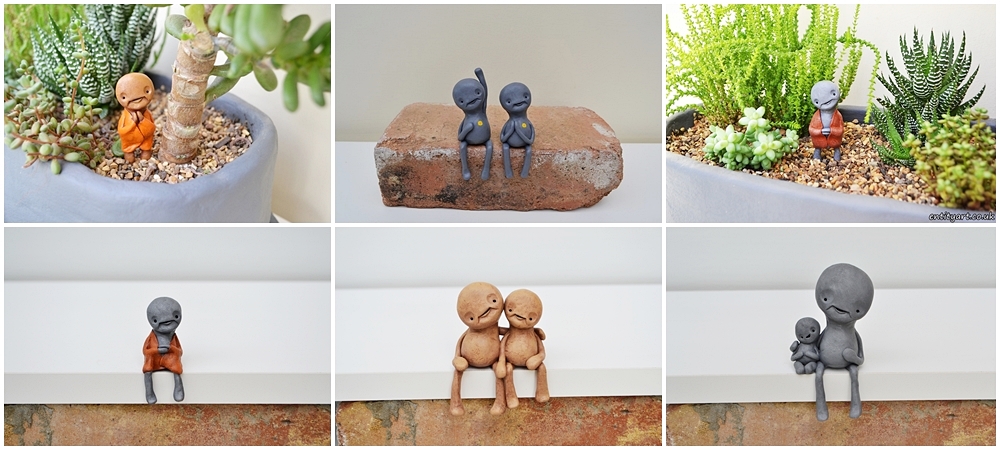 When I actually saw a small Grey in a semi-lucid collection they had roundish eyes with pupils, not massive eyes, but bigger than our eyes, and bigger than the eyes in these sculptures. The Greys I saw looked like the Grey aliens depicted in the sketches above, created by the abductees Sgt Moody and Travis Walton – and similar to the other sketches from abductees in the 60's and 70s. Those dot eyes I used in the sculptures where just because of the techniques I was familiar with, and my because of my own artistic style – and I had not seen a Grey fully when I started making these sculptures of them. There are various other representations of them in my Art Gallery Section… representations coming from my subconscious.
I have talked about my collections and interactions with the Greys in other articles on this site. I even wrote about how in one collection I experienced myself hugging one of the Greys when they came to get me. I also had an Astral experience with them where I introduced them to my parents.
I do believe Jewry and the US government made a decision to demonise the Greys, and use propaganda through Ufology (which they run) and through the media (which they run) to influence peoples view of them. As the Greys were working with the 'Nordics' – and the 'Nordics' are the German Breakaway Group.
I cannot say if there was definitely a German Breeding programme to increase their population size quickly – I haven't seen anything in my experiences to confirm this for sure. But looking at the abduction testimonies this could have been happening. From my analysis of the abductions in 60's, 70's and 80s it seems very likely the small Greys and 'Nordics' (Germans) were working together. Could there be an agreement that the 'Greys' were allowed to use some of the DNA for their own purposes? It seems unlikely to me. The personality that really pushed this rhetoric was the very obvious shill 'Bashar' – which immediately gives it less credibility. It was also promoted by the shill 'Jan Van Helsing' (I have analysis of his subversive abduction book in my comments section below), as well as by David Jacobs (clearly a jewish man – and I strongly suggest he is yet another shill), who get lots of publicity in Ufology. They have pushed this rhetoric pretty hard, even though the abductions in the 60's, 70's and early 80's never mentioned this at all. I believe we have had many fake testimonies since these eras – so as to change the narrative and subvert people away from the Truth.
I was shown children in an other-dimensional experience I had, and they were definitely 100 percent White human children on another planet – though when I contacted one of these Ufology personalities they tried to convince me that they were my hybrid children. These 'Greys' could just be assisting the 'Nordics' for many other reasons, such as being under threat from the same group threatening the Germans.
The hybrid alien rhetoric could very likely be a distraction – in response to intel that was acquired of some sort of German Breeding Programme. How exactly it all worked I do not know. But that is the biggest problem the Germans faced: Their small population. The Germans collecting DNA and having a breeding programme is far more logical – and when looking at the timeline and historical events this looks much more likely.
But what I am more sure about is that all this research, collection of DNA and data – this analysis of these Aryan bloodlines – it all resulted in the Secret Space Program and Super Soldier psyops.
Super Soldiers, MILABS, Secret Space Programs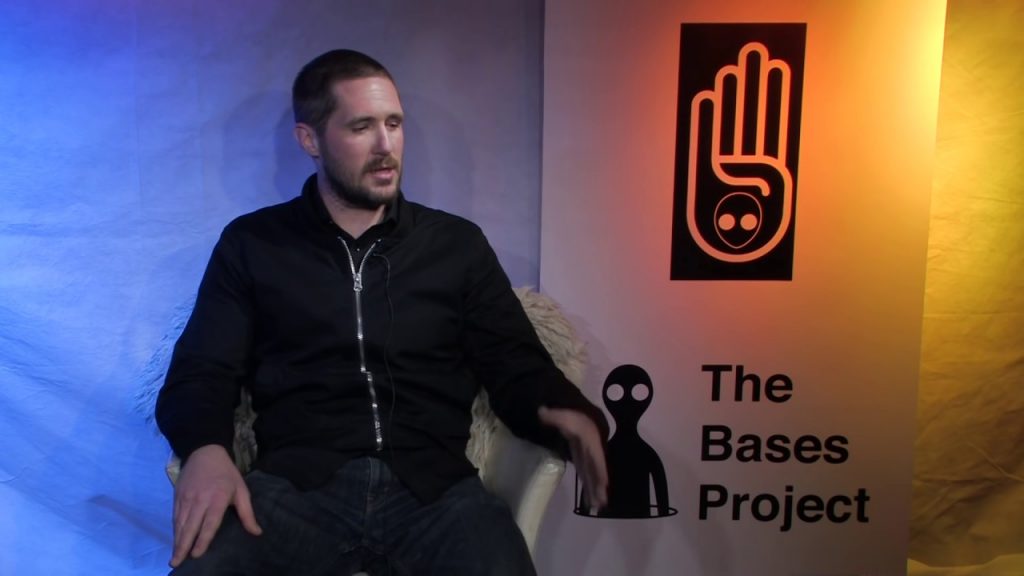 Max Spiers was mainly just subverting and spreading a lot of disinformation – with a little bit of Truth sprinkled in there. I have an article on this website where I look more closely at James Casbolt's and Max Spiers' 'Super Soldier' testimonies. (They were, and are, not 'Super Soldier's'). Spiers also worked with, and was friends with, Stewart Swerdlow… need I say more?
And, apparently, these Super Soldiers were created by the 'Nazis' in Canada using torture techniques in a secret Canadian base! (One example of some of their illogical stories )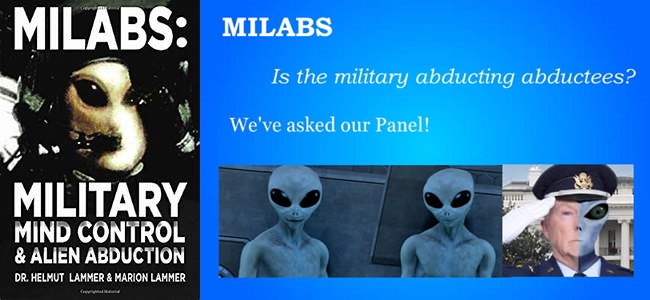 Surely you can see this whole notion of MILABs is lies and subversion. We have a history of 'Nordics' and small Greys collecting humans – much evidence of this. It is not the Earth Governments. The governments down here do not have the technology to portal into your room and abduct you! And look at the terrifying Grey alien images they use in the above image… when evidence suggests that they do not look this.
If the governments down here could do what these so called 'milab' whistleblowers say they can our modern history would have been very different. No need to attack a country and remove a leader you don't like – just portal into their room abduct them and torture them etc, or perhaps induce a heart attack while you are there… they could do that to anyone who is working against them, but they are not. Our goverments do not have the technology these so called 'milabs' are talking about.
These Secret Space Program, MILAB and Super Soldiers psyops were very likely reactions to intel someone high up had received. They were precautionary psyops to make sure that (((their))) people were in place in case anyone who was actually used in these projects regained memories and began to share them. It was also so that the people genuinely used in any projects like this would see their regained memories through the lens of their imposed narrative – to influence their interpretations of their memories.
I am convinced projects like this are occurring – some type of 'Super Soldier' project, as well as people from Earth going to live with a Breakaway Civilisation in our Solar System… BUT the crucial point is that they were NOT run by Earth space-faring forces, but by this German Breakaway Group and their allies. There is nothing on this planet to suggest Earth based organisations could use portals, have any age-regression technology, an in-depth understanding of the Soul, and an understanding of how to navigate the other realms and dimensions connected to Earth. And if these Earth Nations had a Secret Space Program we would see a lot of evidence of it – but all we have are about eight or nine fake whistle-blowers with testimonies containing huge plot holes and huge amounts of propaganda. Yes, there are huge sums of money missing in U.S – but this was very likely used on projects like weather modification, directed energy technology and underground facilities for the 'elites', etc.
We very much appear to have had two knowledgeable and advanced space-faring groups working together to gain an understanding of the DNA of people of White European Ancestry. Groups that also had access to advanced technology: The Greys and the German Breakaway Group.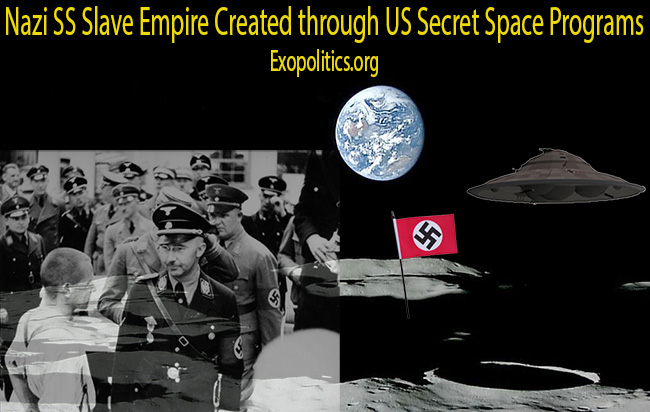 Anyone with an ounce of research ability can find out that the Germans were decades in advance of all Earth Nations regarding advanced technology and the ability to colonise our Solar System.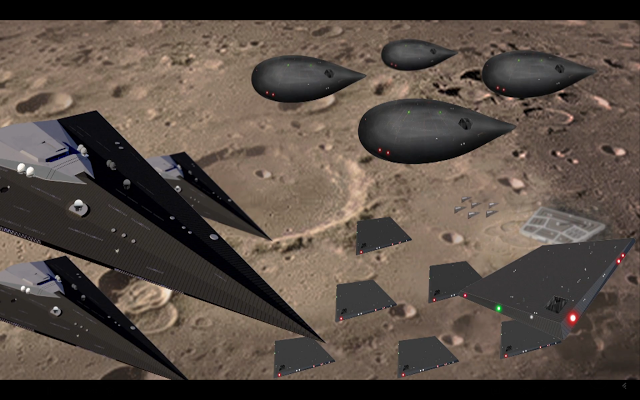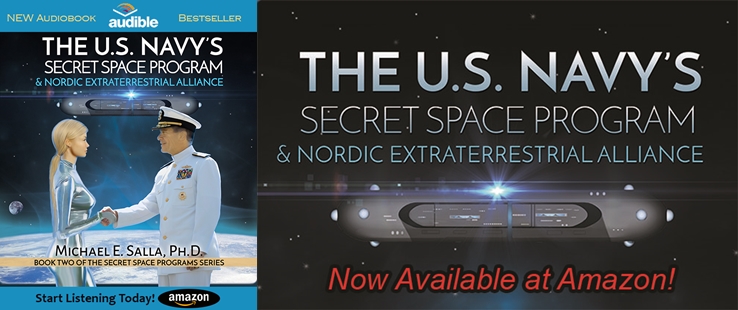 So Salla and Tompkins are saying that the US Navy had an alliance with the 'Nordics'? The 'Nordics' are actually the German Breakaway Group… so no, they did not have an alliance with them. And look – a cigar-shaped craft in the image – suggesting the US Navy used cigar-shaped craft… Who was actually developing cigar shaped craft in the 1940's? It was the Germans – we have seen the diagrams and plans.
I am convinced that there are no Earth run advanced Secret Space Programs – i.e no Nations down here that have worked together and created colonies on Mars and the Moon… I do not believe it for a variety of reasons. If you read my Ufology Explained – The German Breakaway Group article you can see it is illogical and very unlikely. The Germans had too stronger presence out there, they were too advanced for any Earth groups to get out there and get established. They would not let any Earth groups get close to them. When you get a head start like they had – being decades in advance of them – and then having access to other groups technology to further enhance their knowledge – it is very significant. I do not believe Earth groups have colonised Mars or the Moon, like these fake whistleblowers are saying.
I also do not think someone from another star system many light years away can just decide to incarnate on Earth to help, and then just incarnate here… I think we have all been here for a long time, the same Souls incarnating over and over. The memories I have, which I have mentioned in previous articles on this website, about living on another planet – they have come back to me as I went and lived there in my current body, and I believe some sort of age-regression took place.
In most psyops and rhetoric from Ufology you will usually find Half or Partial Truths. They are usually based around intel the have. They are reactions to intel.
These Secret Space Program, Super Soldier, MILAB and Starseed psyops were aimed at subverting people like me. I have been involved in some sort of project, but it was not with an Earth space-faring force. I went and lived with White people on another planet – and served in their military. I used to think it might have been a past life, but as I researched further and contemplated various events, or moments, and all the night time flashbacks, and the regained snippets of memories, I have come to the conclusion that it was not past life – but an extended period of time lived on another planet in my current body. Again, I feel this age-regression technology spoken of in the SSP psyop narrative is probably based on some intel the PTB have. It is also not like these fake whistle-blowers are saying. I was not a slave – I had a life. I lived a life there, probably around a one third, or half, of a lifetime. I have relationships with people there. I fought alongside these people. I was a part of their civilization for a period. And, of course, everyone is not blonde there… there are redheads and brunettes there as well. I am not blonde, I have brown hair… though I was blonde when little.
(You can look at my unusual artwork on this site – it demonstrates subconscious memories of this time spent there coming through… there were also other non-human groups on the planet)
After this large study of DNA and bloodlines the German Group could select the right people to contact, and then work with… People who would benefit their civilisation and help them with specific tasks and endeavours. Like being an elite soldier, for example.
(There is the possibility some sort of other technology was being used to achieve this, there is much we don't understand about the Universe, the Soul and all its mechanisms and intricacies, but this age regression is to me, at the moment, most likely. Cloning could have possibly been used as well. The Soul, or Astral body, being moved between Clones. Both of these techniques may be occurring in the projects. As well as the possibility of the creation of 'alters' in these 'advanced soldier' projects – some type of compartmentalisation of the Soul.)
Project Blue Book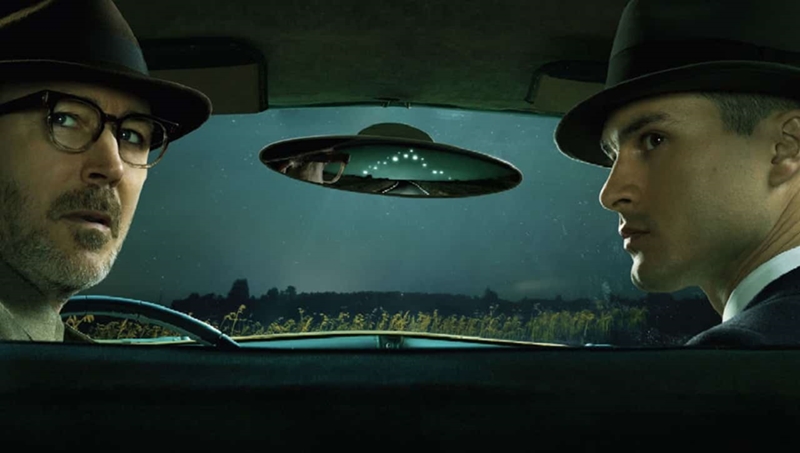 Project Blue Book was established and was openly investigating UFO activity in the US between the years (1947 to 1969) – silver discs, orbs and some cigar shaped craft, in the main. Then it was disbanded in 1969 and there were no more investigations into UFOs. Why would you stop investigating? You would surely only stop investigating if you knew who the craft belonged to… and perhaps if you knew they were not a threat… My proposal: This German Breakaway Group did not want any conflict or battles, and the U.S government became aware of who the craft belonged to, and that they were not violent or aggressive. And remember, the Germans were the ones that tried very hard for peace to avoid WW2.
Look at when Project Blue Book was disbanded – the same year that the U.S went to the Moon. (of course they did not land on the Moon – but they were apparently greeted by some large craft when they arrived) Is it a coincidence that Project Blue Book was disbanded the same year, and just 4 months after the failed Moon landing?
The United States Apollo 11 Moon expedition was in July 1969 – the order to disband Project Blue Book was given in December 1969.
Did they understand who they were dealing with after this Moon interaction? And not long after this Ufology and their fake New Age 'channelers' and their made up stories (various psyops) were introduced to us and took off… the 'Pleiadians' in metallic disc craft being one of their favourite psyops… To subvert us. The Billy Meier psyop came out just over a year after Project Blue Book was disbanded.
The Germans wanted to establish a civilization elsewhere – off planet… that was their priority. The German craft were far too advanced for the Nations down here on Earth to do anything about them anyway. All the governments could really do down here was control the narrative and create numerous psyops.
Underground Bases and Reptilians
I do not believe that there are these Underground Bases with Reptilians and Grey Aliens doing these barbaric experiments on human adults and human children.
I do not believe that any off-planet groups outside of quarantine Earth are allowed down here physically… None. I have memories of the living outside of this quarantined Earth and it is pretty brutal. If ETs could come down here physically people would be being taken for slavery – many space-faring ETs would see the people here as a great source of free slave labour. There would have been so much occurring. The Nations down here have never had the technology to stop them. Something else is stopping them. We are out of bounds down here on Earth. (Though contact via other realms / dimensions / different states of consciousnesses definitely seems to be possible)
The reason that there were these 'Nordic ET' face to face encounters in the 1950's was because the Breakaway Germans had a base here on Earth, in Antarctica. They were still inside the 'quarantined' Earth.
The Reptilian stories released by fake whistle-blowers like Donald Marshall and Simon Parkes and so called researchers like Barbara Bartholic, Karla Turner, James Bartley, etc… are fantastical and some are often absurd and not logical.
The Reptilian rhetoric appeared out of nowhere in the 90's, the testimonies were usually anonymous – people often used 'pseudonyms'. And the two people that started all the Reptilian rhetoric are two easily verifiable shills… ( Icke and Marciniak – both subversive gate-keeping limited hangouts)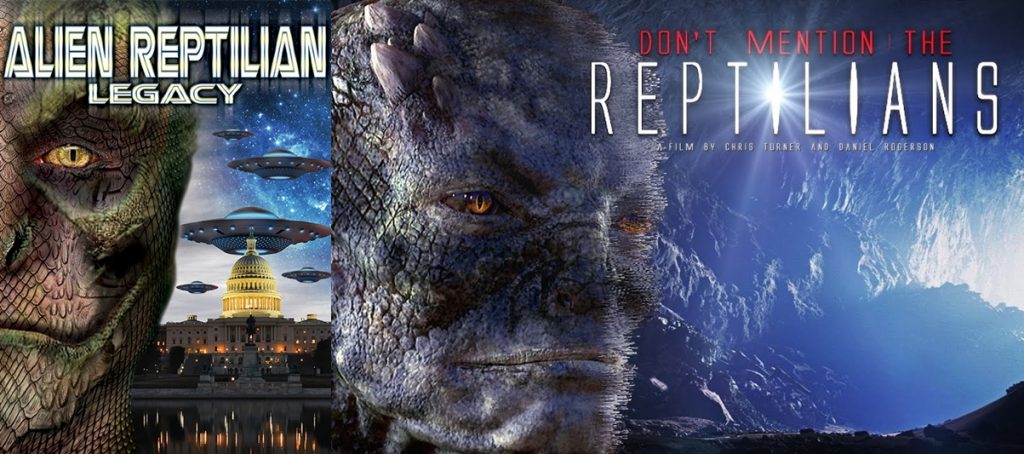 This Reptilian rhetoric was also used to increase the negative propaganda about the Germans. As shills like Michael Salla, and the fake whistle-blowers he is associated with, say that the 'Evil Nazis' are working with these 'Evil Reptilians'.


There is zero credible evidence for these 'Evil Torturous Aliens in Underground Bases' rhetoric. It 100 percent looks like deflection and diversion… it is full of very far fetched tales. Networks of deceivers, actors and agents. Sure there are going to be some large secret underground facilities that these 'elite' groups have built – but zero evidence for Reptilians being in them chopping up humans and keeping them in cages, etc.
The Reptilian rhetoric mainly seemed to be used as a deflection from Jewry and their NWO agenda. There may well be a hostile Reptilian group in our solar system, but I do not think they are down here on Earth, and I do not think they are our 'overlords'.
Summary – My Main Assertions:
These are the conclusions I have come to from all my research combined with my own experiences:
The 'Nordics', the 'Pleiadians' the humans ETs Reinhold Schmidt met and the 'Galactic Federation' were, and are, The German Breakaway Group.
The German Breakaway Group are well established in our solar system on other planets and moons.
There is no advanced, solar system colonising, Secret Space Program funded and run by people from Earth.
The small Grey aliens were working with the Germans, and are not malevolent / hostile.
The abductions were mainly about collecting and studying Aryan / White DNA and bloodlines.
The Germans have some projects that use advanced metaphysical techniques to enable some Earth humans to live with their Civilisation for a period of time and serve in their Military.
There are no Reptilian Humanoids on Earth… no aliens allowed down here physically.
Off planet contact can occur with human Souls on other levels, and in other dimensions / realms in the night.
There are no underground bases full of malevolent aliens.
The Starseed rhetoric was used to subvert people connected to The German Breakaway Group.
The German Breakaway Group is not coming down here physically to help, what is occurring on Earth has to play out and we have to stop the (((New World Order))) ourselves.
(And again, if you think my logic is out anywhere I am happy to hear why… and also, if you need some clarity on any aspects of the article let me know.)
Concluding Thoughts
Ufology is mainly one big gatekeeping, subverting, limited hangout run by network's of agents. There did seem to be a few books created by genuine people about the contact, sightings of flying saucers and abductions that occurred in the 50's, 60's, 70's and 80's. But they did not have enough information to put the puzzle together… and they also hadn't had the collection experiences I have had – nor the memories I have regained.
We will never get the Full Truth unless we take back control of our Nations, which are run by International Jewry and their puppet politicians.

I think it is inspiring to think of this German Breakaway Group out there. They clearly cannot, or will not, come down here physically and just stop this New World Order agenda for us – probably due to a wide variety of reasons. We have to do it ourselves… and that perhaps seems to be what will lead to the best long term outcome: That we sort it out for ourselves, and as a race we develop wisdom, knowledge, consciousness and a variety of skills as we do it. So that we never get oppressed and manipulated like this again.
Jewry want us to be demoralised and without inspiration. They lie about, and rewrite, our history… and ridicule our heroes and great men of the past. They do not want us to know that the Germans were never defeated and have gone on to establish themselves in our Solar System.
Again, if we can take back control of our Nations, which are controlled by International Jewry and their puppets, then we can develop the technology to get us out into the Cosmos, and I do believe that we will find that we have some allies out there.
I believe this is one of the reasons for the Flat Earth psyops – as well as being a distraction, it also subverts us from one of our main goals: To explore the Cosmos. They do not want us to have these aspirations. If you analyse the Germanic or Aryan people they are pretty much designed to be a successful space-faring people.
Additional Research Suggestions – December 2020:
As mentioned previously as well as Ernst Zundel's book on this subject you also have O. Bergmanns books – 'Deutsche Flugscheiben und U-Boote ueberwachen die Weltmeere' – which contain incredible amounts of information and evidence. These books also document the large amount of USO (unidentified submerged objects) and submarine type activity in the European waters after WW2. Here are some further research suggestions. The books below are all in German, and PDFs of all of them can be found on the website 'archive.org' – which can then be translated with an online app. If have not found English versions of any of these below books. The only decent book that I could find written in English on this topic is Ernst Zundel's one.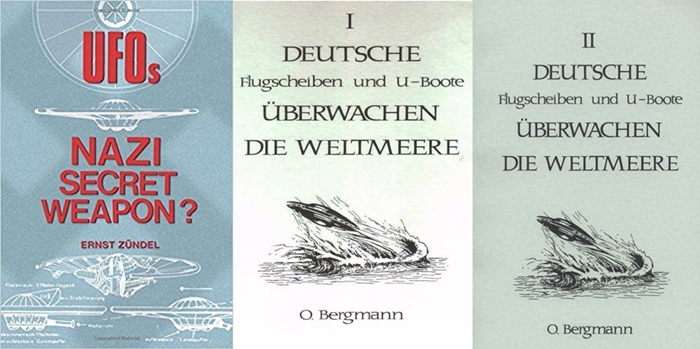 D. H. Haarmann's books also provid a lot more evidence. I am still working my way through all these books. It is somewhat tricky as I had to use an online translating app, as there are no English versions of these books – so the translations are not brilliant.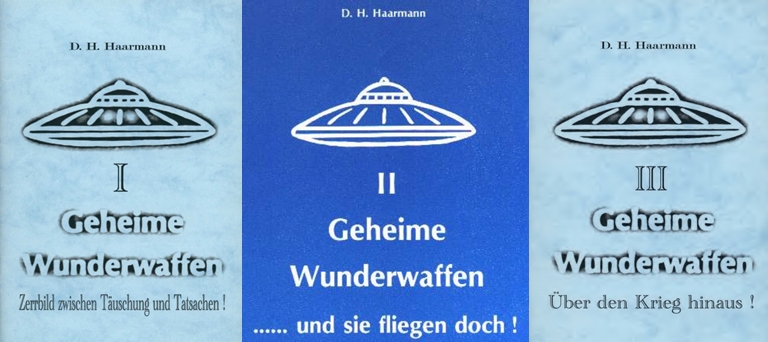 Stenrhoff's book – Die Dritte Macht – which translates as 'The Third Power' provides much evidence of a German breakaway group. Interestingly, after looking carefully at the abductions / collections in the 1950s to the 1980s he came to the same conclusions as me: that the small greys are a group that work for, or with, the 'Nordics'. He suggested the small greys were subordinate to the 'Nordics'. The 'Nordics' are of course the German Breakaway Group – he understood this. He also noticed it was nearly all Aryan / White Europeans people having collections / abductions and samples taken from.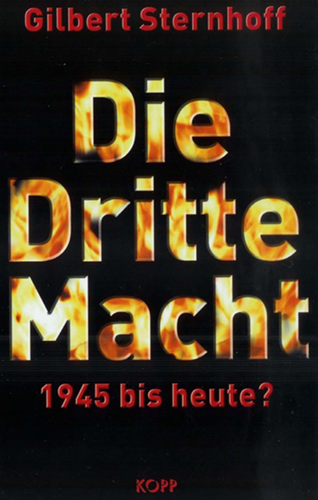 There are also a series of articles here on this linked website below, which uses some of these books to look at the evidence for a German Breakaway Group. https://fliegende-wahrheit.com/2019/07/09/die-reichsdeutschen-teil-1-die-dritte-macht/
( This is a German site – easily translated online – this is a link to a 24 parts series of articles on this German Breakaway Group called: The Reichsdeutsche – The Third Power )
Wilhelm Landig also created books on this subject (which I have not yet read, but have seen some commentary on it in Sternhoff's book above – he also provides more evidence and if you look into his background he seems a legitimate source of information)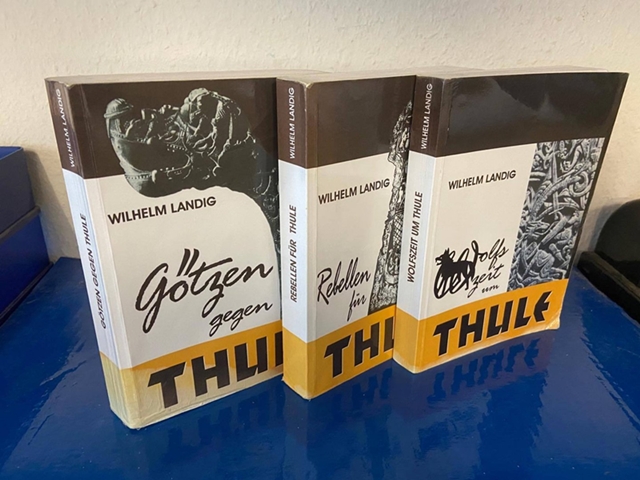 ---
Related Articles:
---
Links to free PDFs:
UFO: Nazi Secret Weapon?, by Ernst Zundel – https://archive.org/details/UFOsNaziSecretWeapon1974/mode/2up
German Flying Disks and Submarines Monitor the Oceans (Deutsche Flugscheiben und U-Boote überwachen die Weltmeere) – Book 1 and Book 2 – by O Bergmann https://archive.org/details/BergmannO.DeutscheFlugscheibenUndUBooteUeberwachenDieWeltmeere11988101S.– https://archive.org/details/BergmannO.DeutscheFlugscheibenUndUBooteUeberwachenDieWeltmeere21989104S./mode/2up
(If you download the version 'PDF with TEXT' of O Bergmann's books then you can also copy and paste the text in the embedded articles, which is incredibly useful when using a translate app.)
Secret Miracle Weapons (Geheime Wunderwaffen), by D H Haarmaan- https://archive.org/details/Haarmann-D-H-Geheime-Wunderwaffen-1– https://archive.org/details/Haarmann-D-H-Geheime-Wunderwaffen-2 – https://archive.org/details/Haarmann-D-H-Geheime-Wunderwaffen-3-Text
The Third Power (Die Dritte Macht), by Gilbert Sternhoff – https://archive.org/details/DieDritteMacht
The German Weapons and Secret Weapons of the Second World War and their Further Development (Die deutschen Waffen und Geheimwaffen des Zweiten Weltkrieges und ihre Weiterenwicklung), by Rudolf Lusar) – https://archive.org/details/lusar-rudolf-die-deutschen-waffen-und-geheimwaff/mode/2up
Additional Content:
These are some musings and contemplations I was having at the time of writing this post. They are not essential for researching and understanding the topic of the Breakaway Germans and Ufology… And the information in Ufology Explained, Parts 3, 4 and 5 answers, and brings clarity to, some of the questions / ideas that I was contemplating.
This additional content relates to both the above article, and my other article on this website called: Who Owns Planet Earth?. It overlaps on some points I made in the 'Who Owns Planet Earth?' article – but I now have some further thoughts and contemplations.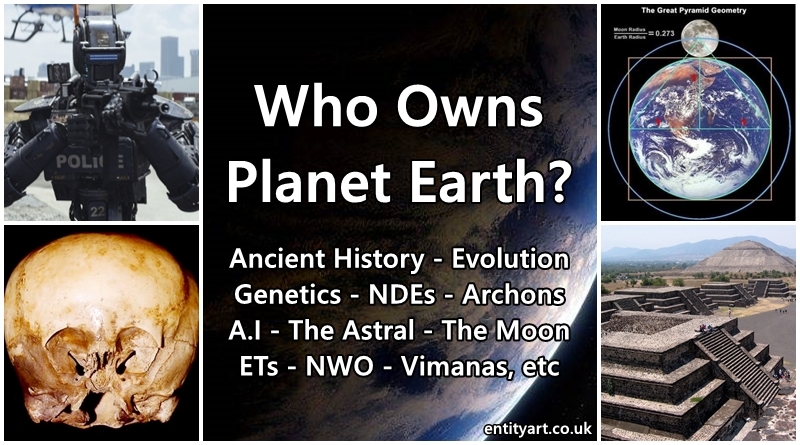 Contemplations on the purpose of Planet Earth:
3 Parts
Reptilians and Contact
Created by the 'gods'
Other Dimensional Interference / Influencing
Reptilians and Contact
Let's assume there is definitely this Germanic Breakaway group out there. I am convinced there is because of my memories, and because of my research.
We have this rhetoric in subversive jewish-controlled Ufology that the Reptilians control this planet and are very powerful. Then how did this German Breakaway Group manage to settle and build civilizations / settlements on some planets in our Solar System? I have experiences / memories that suggest they are settled on more than one planet.
As mentioned in one of my other articles, in one of my memories I saw a Reptilian humanoid (it was hostile) about the same size as a tall human. But I also saw other unusual humanoids in my memories. Maybe there is actually a Reptilian humanoid group out there. Not as powerful, and not so amazingly advanced as Ufology tries to tell us though – and not our overlords. Most Ufology pysops are based on some Intel the (((PTB))) have received. Remember, these Ufology agents are told what to say by people from higher up.

In the Hollywood / Jewish movie, Jupiter Ascending, they show large Reptilians. They also show them working with Grey aliens. Look how terrifyingly they portray the Grey aliens who perform the abductions. The Hollywood / Jewish movies are for social engineering and to influence you. They are not showing you Truths in plaint sight, like some say. Their goals are to influence you to believe what (((they))) want you to believe. I do not believe Reptilian humanoids are coming down onto Earth like they portray in this movie… and I do not believe the small Greys are 'evil' (and they do not look like this)… and I do not believe small Greys are working with Reptilian humanoids.
I think some people believe this 'Reptilian Overlord' rhetoric as they cannot believe these 'Elites' can be so anti-human, and without empathy, it is almost like these people are not human. But these people are Psychopaths, and also people with full blown Narcissistic Personality Disorder… they do not have empathy. When you understand these personality disorders – or perhaps Soul disorders – then you understand more about the planet. If these types gain power on a planet like ours, then what we are seeing on Earth is how the world will play out… and the regular people have to stop it.
Some of the fake Secret Space Program whistleblowers mention battles against Reptilians in their scripted stories, and they made out they were fighting for a fictitious Earth funded group against the Reptilians. If you study Ufology carefully you can see which pieces of information they put out that are based on genuine intel. They are trying to fool and convince the people who regained some memories of these events into believing they were fighting for these fictitious space-faring Earth funded groups and not the German Breakaway Group, so they are very unlikely to lie about the identity of the enemy in these battles. So there could very well be a hostile Reptilian group out there in our Solar System… and if there is, it will be this German Breakaway Civilisation group that is having battles with them.
And, as mentioned in one of my other articles, I did see a hostile reptilian humanoid in a memory that returned of when I lived with this other White civilization. And I also had a being with cat like / reptilian like eyes project and image of its face into my third eye / minds eye on two consecutive mornings about 5 years ago – some sort of attempt at intimidation I think, which was very likely aimed more at my astral / 'out of body' self rather than my Earth persona. So I do think there are some hostile beings like this in our Solar System / sector of the Galaxy, but not physically on Earth, and again, not our 'overlords'.
Then we can look at the fact that this planet – planet Earth – actually prepared this Germanic Breakaway Group for life out there. They would not have been prepared for life in the Cosmos without the set up of Earth. Especially without Jewry attempting to destroy them and subvert them at every turn. Life in the Cosmos, well in our little section of it, is pretty brutal. Survival of the fittest. The National Socialist Germans were prepared – in that they had the advanced technology, the trained military, the societal system and the mental preparation. (Mental preparation: in that they had experienced an extremely conniving, devious, remorseless race on Earth) And, as mentioned previously, all they really lacked was population size, and military personal numbers.
If Earth was not in some sort of protected quarantine we would have all been enslaved by now… we would probably all be on some other planets slaving away for some other species… unless you were lucky enough picked up by a benevolent group – though that seems unlikely in this section of the galaxy. Something is stopping other races coming down here and taking us – the Nations do not have, and have never had, the technology to stop them. (Slavery, of course, exists in the Cosmos… I am certain of this)
No off-planet groups seem to be allowed down here physically, but from what I have seen contact can be made in other realms and on other levels / dimensions. I have various experiences with this. Something to consider. All contact from off-world groups with me have been in other dimensions / realms, or in different states of consciousness… most of it I just got some brief glimpses of… or some 'bleed through', if you like. No conscious physical interactions allowed from off planet groups.
I look at topics from all angles, and play out as many scenarios as possible, to try and ascertain what is occurring. I can see one hole in my insight and theories. I feel the German Breakaway Group were, and are, allowed to fly around inside Earth's atmosphere, as they were, or are, living in Antarctica. They were / are still a part of the 'experiment' on Earth – part of their population lived or live here. But why were the small Greys allowed to assist them? Did they gain some sort of permission from the controllers of the Earth experiment / plan? Or is there something else we do not understanding about the Greys, as well as the rules for contact on this planet?
Created by the 'gods'
(We cannot understand our Ancient History and the interaction with the 'gods' unless we view the ancients stories as real occurrences – and see the 'gods' as ETs / off-planet humans with advanced technology)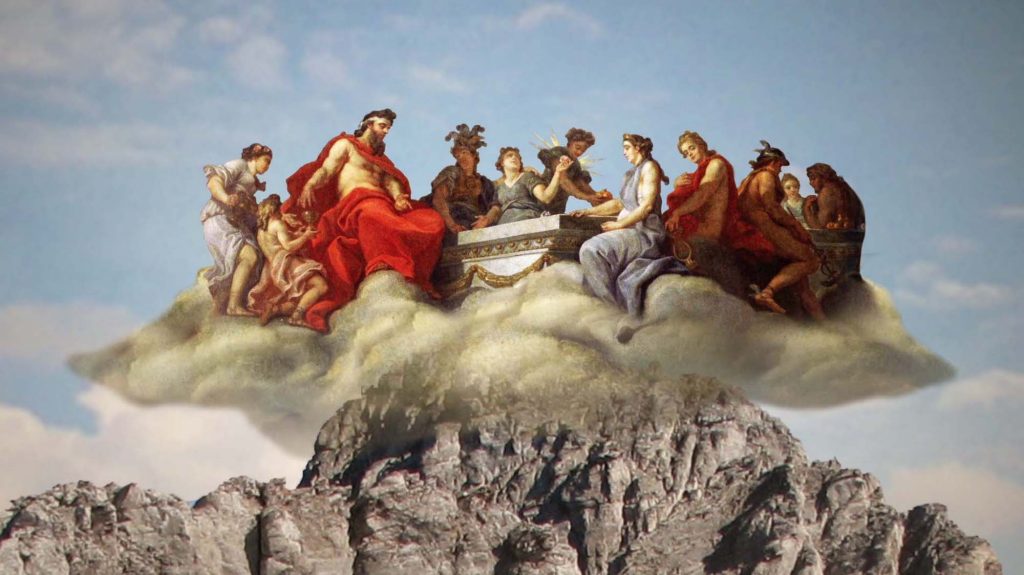 Are we – on Earth – a new variant of humans created by some 'gods' and are being prepared for this Solar System and part of the galaxy?
If you create a new variant of a human and place them on a planet they do not have the knowledge to survive in the Cosmos, they have no history or base of knowledge… If you want this new species to survive in the Cosmos they need to be prepared for it and only experiencing conflict and dilemmas can truly prepare them.
If you put the new species on a planet all by themselves, without competing races, they will not learn the skills and mentality to survive beyond Earth.
And If you don't quarantine the planet (make it out of bounds to space-faring species) then people will be captured and enslaved by space-faring groups.
Did previous attempts at preparing humans fail? Atlantis fell (an advanced White civilisation) – there are many reasons suggested for this. But if it was truly a successful civilisation then it would have started moving out into the Cosmos with advanced craft. Naivete, self-indulgence, complacency, a lack of military capabilities, or a lack of wisdom in a particular area may have led to its eventual demise. They were not fully prepared perhaps. Or did some force conspire to destroy it – an Earth based group, or perhaps a 'god'?
The 'gods' were on this planet for some time after this fall of Atlantis, interacting with humans. They gave us some knowledge, not a lot, but some, and lived with us for a time. Off planet groups that looked very similar to us. Did they fail to prepare us for the Cosmos? Why were they here?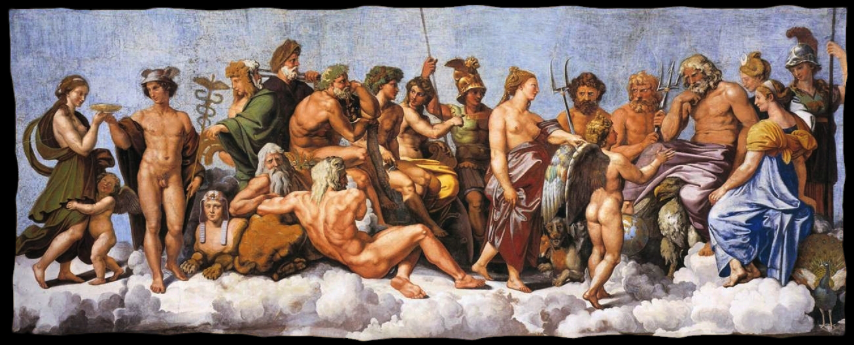 There were 'gods' who looked like the particular Earth inhabitants that they were interacting and living with. Norse gods looked like Europeans, Chinese gods looked like them, Indians gods looked like them – though the Indians also seemed to have had some non human 'gods' as well. This was all clearly depicted in their ancient art. Were the 'gods' on Earth acting as some type of guardian for us?
Then there seemed to be an attempt at the erasing of much of our history, and this new variant of Earth was created that we now find ourselves in, without the visiting 'gods' interacting with us. And other beings seemed to disappear from Earth as well, like the giants for example, that appeared to be living on Earth at the time of the 'gods' … there are many tales in Norse 'mythology' of interactions, and even fights with, with the giants… I do not believe that my ancestors just made these stories up for entertainment purposes! They were being recorded as their history. There are also many stories of giants, as well as other beings, like cave dwelling dwarves and pygmy beings (gnomes, leprechauns etc), from all around the world in ancient times, not just from the Norse people.
There were also wars between the 'gods'. Norse and Greek 'mythology is full of this… as is Indian / Hindu mythology. If you look through ancient history, all around the world, there are stories of battles in the skies between the 'gods', as well as some battles on Earth. Battles that affected humans. There were even battles where the 'gods' are fighting alongside humans. From the descriptions you can tell the 'gods' were clearly using advanced technology. There were even tales of the 'gods' destroying boats or buildings because they were in bad mood. You cannot understand ancient history unless you realise that it is all about different ET groups with advanced technology interacting with, or ruling over, the different races of humans around the world.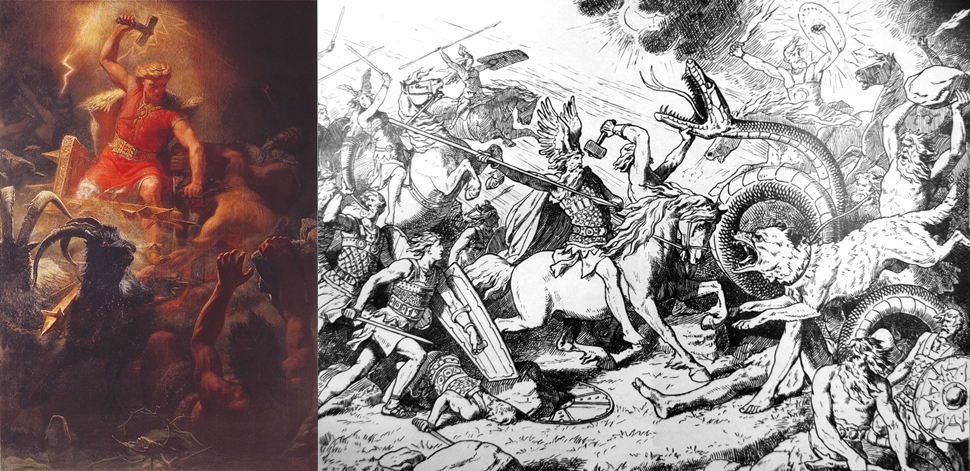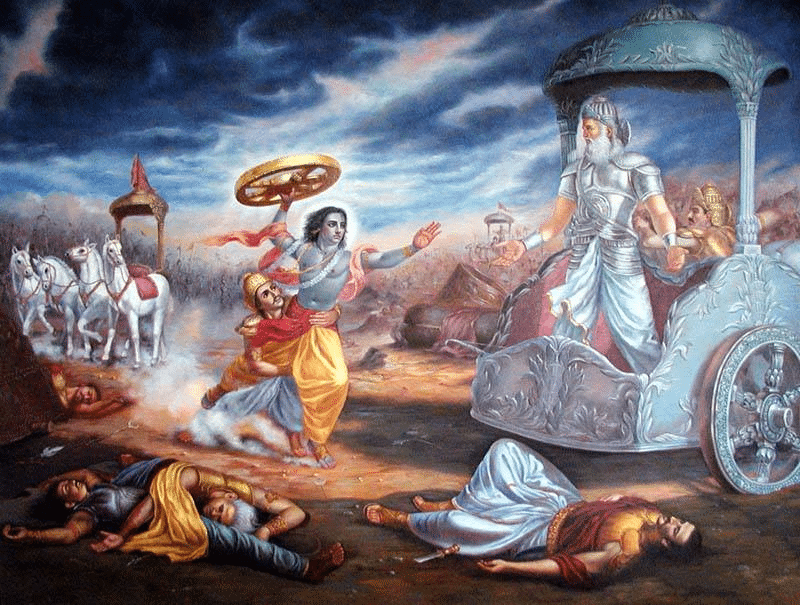 Much of the old architecture of that period was destroyed and buried… more and more of it is being discovered day by day – new pyramids, temples and stone circles are being found all the time, etc.
A new system on Earth seemed to be implemented at some point. A new Earth with just us humans living on it. Just various races of humans. All the humanoid groups groups that were not Earth Humans seemed to go from Earth… all that was left were the stories of them, old sculptures and carvings, some very large and very small skeletons, strange skulls, strange ancient architecture – much of it buried… Who reinvented the planet? Who was it that decided and enforced that the 'gods' could no longer interfere and interact with Earth Humans?
After Atlantis there is still some interference. There is the story of Sodom and Gomorrah, where the 'gods' destroyed (obliterated) the city because they were unhappy with how the humans there had developed – there was depravity there apparently. There are other ancient stories of 'gods' either destroying cities, fighting wars or influencing the planet. Some humans have been forewarned, by the 'gods', throughout history of the coming catastrophes, so that they could avoid them.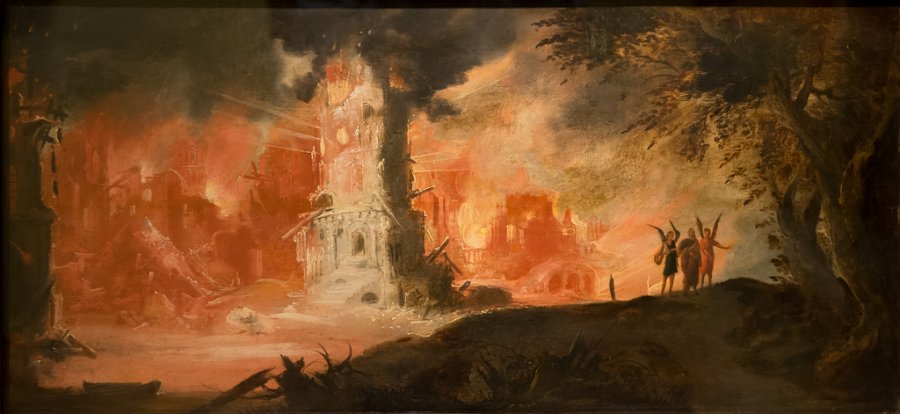 There is also the case of The Great Flood, (which the Noah's ark story is based on – and there are stories all around the world of this Great Flood) which was very likely created by the 'gods'. It was like a reset… Maybe the 'gods' were not happy about how things were going on Earth? And again, some people were apparently pre-warned by the 'gods'.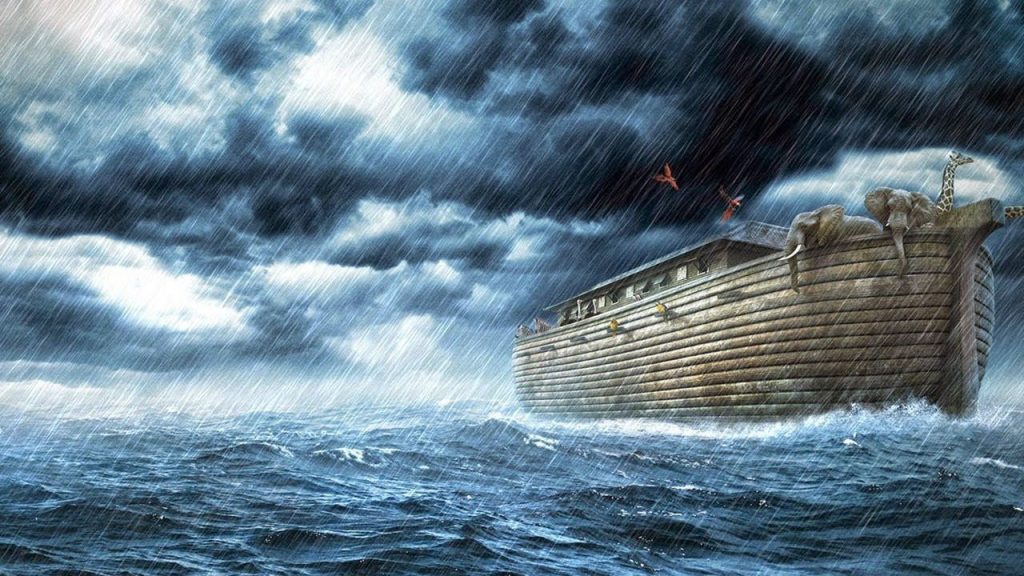 After this there was also the case of The Tower of Babel. It was being built to get to the heavens apparently – a gate to 'God'. And 'God' apparently destroyed it. 'God' was concerned and said, "Behold, the people is one, and they have all one language; and this they begin to do; and now nothing will be restrained from them, which they have imagined to do." There was some talk from 'god' of 'scattering their language' as well – dividing the people… and the tower was eventually destroyed. (Who is this 'god' doing this?.. And why?)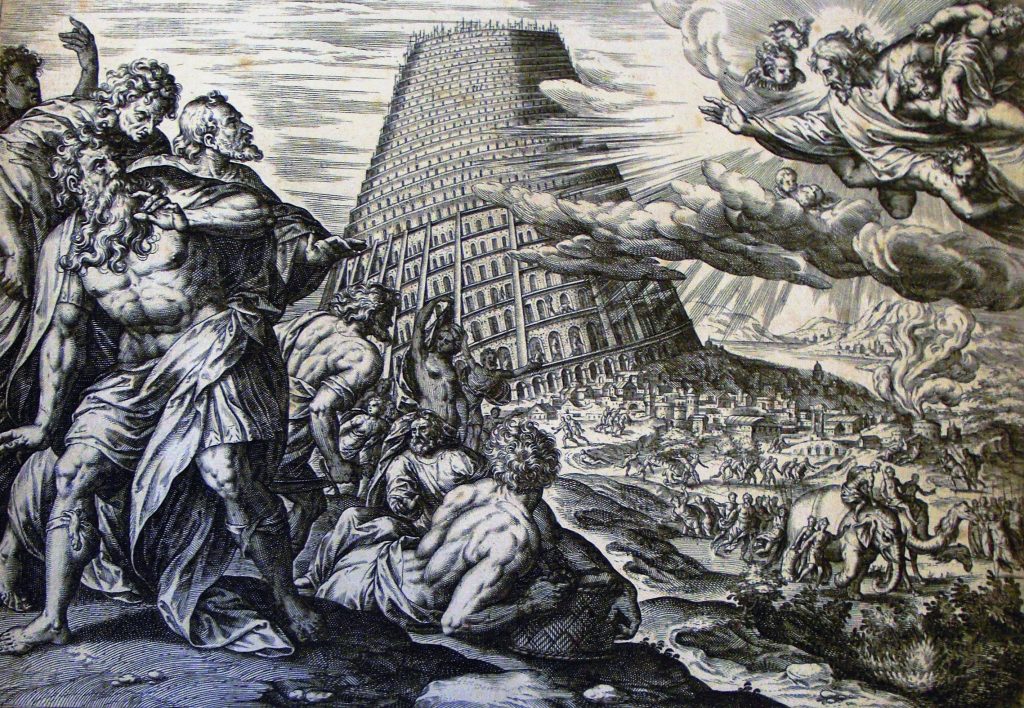 This is somewhat confusing as 'god' (a 'god') apparently created The Great Flood and destroyed Sodom and Gomorrah because there was too much depravity and humans were not evolving well… but then the Tower of Babel was apparently destroyed because people were working together and building a tower up to the heavens… making them closer to 'god' – but perhaps some of this is misinterpretation. Maybe the people were not deemed evolved enough to reach the heavens? Maybe something else was occurring there? Difficult to know the bigger picture.
But we haven't had any of this type of physical direct interference from the 'gods' or this so called 'god' for a long time.
We cannot escape the fact – if we accept that there is a Breakaway Group of White people settled out there in our Solar System – that this planet did prepare them for life in the Cosmos. Was it not supposed to happen? Was it an anomaly? Or was the planet set up to try and create a Cosmically prepared group? I do not know.
From what I have seen and experienced this Breakaway Group are still out there, established and doing well… and may still be fighting some battles… they seem to be pretty advanced with some alliances.
Have some beings been attempting to prepare us for life in the Galaxy by setting up this quarantined Earth with all these different competing races? Or was set up like this in an attempt to keep us in perpetual conflict?
If they did want to prepare us for life in the Cosmos, why did they want to introduce us to this Solar System and part of the Galaxy? Will we be of benefit to it? There are many ancient stories on Earth, from all over the globe, that Humans were created by the 'gods'. Or were we just created on whim? Just because they could. Initially a play thing for the 'gods'?
It looks like at some point the 'gods' and 'god' were interfering with our development and this wasn't working… but know it appears that, maybe, it is being allowed to play out, we are being left alone to battle it out here on Earth… a sort of genetic experiment?
One of the reasons as to why I now feel it is perhaps some sort of controlled plan on Earth, is the way Off Planet Groups are not allowed to directly interfere. I have had collections from from what definitely seem to be benevolent groups. They make sure you are in other states of consciousness. For example, they don't talk to the physical you and inform you of anything regarding the New World Order and any geopolitical situations… nothing. They could easily collect someone and tell them about what is really happening on Earth. Giving them great insights into all sorts of subjects, but they do not.
It looks like what is happening on Earth has to be left alone to play out. It looks like that it is now, without the various 'gods' interfering, a learning experience for us. These problems we are encountering are perhaps preparing us – helping us to gain wisdom.
In one of my own collection experiences this group that picked me up clearly knew me, I was connected with them. They could have told me some important Truths about his planet, and they could have easily fixed some physical ailments I had at the time, I know they have the technology. But they did not. Again they seem to have restrictions.
Again, to me it seems like this 'experiment' / 'plan', or whatever it is, has to play out. It is like it is a test for each race on this planet, each Soul group. Are you going to lie down and be subjugated, or stand up and be counted and try to save your people? It moulded the Germans into a group of people that could survive in the Cosmos. It looks like they passed the test… so to speak.
As well as this, to know what is Truly good for a people or race, long-term rather than short-term, needs much wisdom as well as some foresight. Struggle and conflict tests a Soul – it forces you to raise their consciousness and gain knowledge, it forces and inspires you to become more wise. Too much comfort and peace often breeds laziness and a lack of consciousness.
As a Soul you learn your lessons and evolve through experience. You don't learn much through being told something. Through experience, consequence and resolution you gain wisdom and evolve.
Other Dimensional Interference / Influencing
Though physical interaction by off-planet groups is not allowed, have some groups been influencing and contacting people via other realms / dimensions? Has a malevolent group been assisting and influencing a certain (((Tribe))) of people on Earth, as they do not want any wise and gifted breakaway groups moving out from Earth into the Solar system and creating settlements and civilizations? Do Jewry and this possible off-planet Reptilian group have some type of connection?
Form what I have seen in these other dimensions / realms there is targeting from that level. There are entities in these dimensions that are malevolent. Individuals are targeted. I am targeted.
I used to have a girlfriend, someone who was not interested in these topics at all (I wasn't at the time either), who would tell me of the strange entities she had seen in full waking consciousness, often when she was depressed (a large worm-like fluid being with a face – if I recall correctly – is how she described one of them). This was a teacher I used to work with. She was a very intelligent women and a gifted teacher – and definitely not some new age bullsh**ter looking for for attention. She also told me that when suffering from a bad case of 'depression' she would sense beings all around her. Interesting how we were drawn to each other – and it was one of those relationships how you meet and instantly you feel like you have known each other before, like long lost friends. Both of us were / are being targeted from these realms / other dimensions.
My experiences of strange entities were mainly through astral recall – but they also mess with me directly when I am sleeping – I even experienced an entity wrapping itself around me in an in-between state during sleep – difficult to describe. The astral out of body me has encountered various strange entities in these realms connected to Earth. I believe there are entities, or forces, that also target your dreamscape and affect your dreams.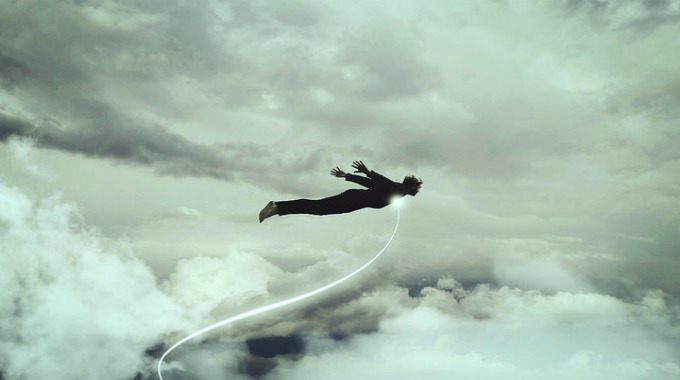 It is difficult to find images to go with the Astral, or Out of Body, topic as there seems to be so much nonsense written and shown on the internet. All these multi-coloured fantastical images you come across. And the realms are not some fantastical 'ethereal' places. These realms (whatever they are) connected to Earth, funnily enough, seem to be very similar to Earth – and can be pretty unpleasant at times.
Understanding these other realms and dimensions is difficult. We, as Earth Humans, do not have conscious access to these realms, but I believe some other physical beings do have the ability to consciously interact in these dimensions / realms, and keep hold of their memories and experiences in them. Us Earth humans are so cut off from it – perhaps this is why some of these entities have taken up residence in these realms / dimensions connected to Earth?
Something I want to mention: When you are being collected by ETs it affects your consciousness. In this period where I was having collections I was also having some semi-lucid OBEs, lucidity during remote viewing in in-between states, landscapes forming in my 3rd-eye as I was drifting off to sleep, and lots of recall of these other realms I was visiting at night. Raising my consciousness through meditation clearly helped in this recall, but the key seemed to be the contact I was having. It was not me, the Earth persona, initiating these metaphysical occurrences, it was the 'out of body me' / 'the more knowing me' initiating it all – it was just that my less knowledgeable Earth persona was getting plenty of 'bleed through' and recall of what I was up to. Hopefully that makes sense for you.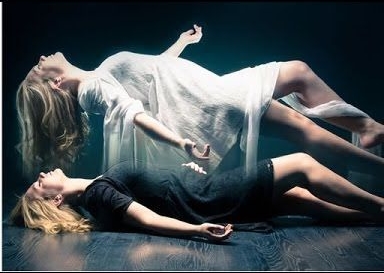 I think there are some people on Earth who are trained by some of these off-planet groups to be multidimensional operatives – there are some things I have seen that suggest this may be the case. It was also something that was talked about by these fake super soldier whistle-blowers – they said they were also multidimensional operatives – nearly all Ufology psyops seem to be based on intel (((they))) have acquired. I think there are some people trained on other levels to do this – not that they would necessarily realise this. There are whole realms out there connected to Earth…. there are cities… these are not just from our imagination. I am not talking about dreams – dreams are different… But if you 'astral' travel you interact with people you do not know, in strange cities… you can also end up in some other stranger realms and see unusual entities / beings… I have had lots of vivid recall. I have become fully lucid in one of these cities and touched the wall next me, actually touched it – and it was like touching a wall on Earth.
If you are entity that has taken up residence in these realms connected to Earth and you get something out of existing around humans, then you don't want them to evolve and gain the technology to enable them to access these realms, or even the abilities to access these realms consciously.
I always remember that interview the Jewish musician Bob Dylan did, where he says he made a bargain with the 'devil' (they edited the word 'devil' out, but that was what he said), which for him was to get where he is now and be successful… and how he is holding up his end of the bargain by doing this. He said he made the deal with the 'Chief Commander' of this world, and a world we cannot see. They way he said it – he seemed to be deadly serious. I can believe this. I have seen some things in some of these realms in the night, there is other-dimensional influence affecting this planet.
Is an other-dimensional force assisting Jewry? Did they help them gain so much power on this planet?
If I can have this communication occurring on another level, in other dimensions / realms, at night, from benevolent groups, then hostile Souls on Earth can also have communication on this level from off-planet hostile races in our Solar System.
Ideas and inspiration can be given to the astral / other dimensional you by beings that are connected to you. Which can then bleed through into your physical Earth self.
If you are the dominant physical group in our physical Solar System, then you probably don't want Aryan groups settling on planets and becoming advanced… so you will attempt to influence the quarantined 'plan' or 'experiment' to your benefit if you can… through other dimensional influence. So there may be that occurring as well.
If you look at Jewry's subversions they are trying to convince us to go against everything that is needed to survive out there in the Cosmos. They are very focused on subverting and destroying the most successful race on this planet, and the one most suited to life in the Cosmos.
A very unusual and somewhat perplexing situation we find ourselves in.
It is difficult to know the Truth unless we take back control of our Nations, from Jewry and their puppets, and actually get out there and explore the Solar System.
End.